On Tuesday night, the Santa Barbara County Department of Public Works unveiled a draft of a long-awaited initial study that might make walking to school in Montecito a safer experience.
Cold Spring School hosted the roll out meeting for an initial draft of the "Montecito Walk to School Project Initial Study Report," an engineering study in development since June and rumored to have cost around $50,000. A second public presentation of the report is scheduled for Thursday evening at Montecito Union School at 6 p.m. The public works department is seeking public comment on the report, before it is finalized. The report is nearly 150 pages long, and looks at problems, solutions, cost, funding and feasibility for walkways near Montecito's elementary schools.
County Supervisor Salud Carbajal was on hand for Tuesday night's presentation, along with Cold Spring School Superintendent Bryan McCabe and school walking route activists Don Miller and Tracey Willfong Singh. Christian Engelmann from Cal Trans attended and, both Public Works transportation manager Charles Ebeling and engineering technician Bert Johnson.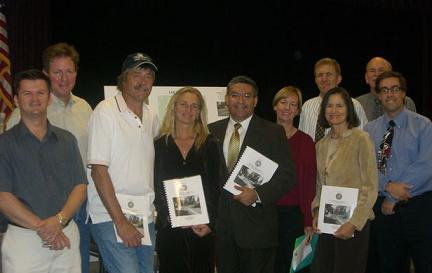 By J'Amy Brown