Handyman Services
Jack of All Trades 27 W. Anapamu St., Ste. 176, 708-5466
First off, his name isn't Jack, it's Jim Beltran, and he has a small staff that helps him help you. "But I carefully supervise all the workers I use," said Beltran. "I think we won because we're very popular and we do lots of work and people vote for us."
Finalist- Quality Contractor Referrals
Appliance Store
Appliance Repair
Sears 270 E. Hwy. 246, Buellton, 686-5130; 1009 N. H St., Lompoc, 736-1675; 3845 State St., 569-6700; 200 Town Center East, Santa Maria, 346-7790
Those of us lucky enough to own appliances (rather than renting them or visiting the dreaded horrors of bewildering Laundromats) know the panic that ensues when a dishwasher, dryer, or microwave bites the dust. Sears seems invented to allay such anxieties-the easy credit programs it offers and reliable merchandise it sells makes replacement easy. And repair? In a throwaway world, it's nice to know that this service exists-it repairs all brands of most appliances-and, even better, your neighbors voted strongly to recommend them.
Finalists- Appliance Store: The Home Depot Inc.Appliance Repair: A-1 Appliance Repair
Hardware Store
Home Improvement Center 415 E. Gutierrez St., 963-7825
Gary Simpson and his family have been around the house for 38 years. For most people, a trip down to Gutierrez Street to pick up hardware, plants, carpentry items, and plumbing needs is a natural call, even in the age of big-box hardware suppliers, mostly because the staff in the red polo shirts can tell a spline from a handsaw, and won't laugh at you if you can't.
Finalist- Orchard Supply Hardware
Home Furnishings Store
Pottery Barn 110 S. Hope Ave., Ste. 8-28C, 687-6707
The first store opened in 1949, though three decades would pass before one opened in our neighborhood. Then it seemed the impeccable place to buy nice wineglasses for your friends to furnish that first-ever nice place after the college crash pad. Today it has everything, and, surprisingly, is owned by Williams-Sonoma. From funky elegance, it now majors in a softer, more comfortable prettiness, and young people might have to wait 'til matrimony hits before scoring a wineglass, table setting, or really nice drapes to go with the cush bedspread.
Finalist- Z Gallerie
Inexpensive Furniture Store
Cost Plus World Market 610 State St., 899-8311
The Basanti Chair is handmade in India and sells in this long-standing franchise world bazaar for $399. The Durana Storage Bench, "covered in yummy chocolate" (ahem, that's color, not food), sells for $249. A two-door glass cabinet made of veneer rubber wood sells for $299. It's not as cheap as a good thrift store, but it's brand new furniture. When it's time to lend respectability to domesticity, this is where our readers say they like to shop.
Finalist- 1 World Imports
Self-Storage
Patterson Self Storage 98 N. Patterson Ave., 964-0924
"We have a brand-new property that's part of the business now," explained property manager Jane Jewell. "And it's temperature-controlled and state-of-the-art. I would say that what makes us unique is we have music piped into the grounds and the elevators are clean. People sometimes say, 'My God, I feel like I'm at the Biltmore,'" Jewell laughed. "It's awesome that we won."
Finalist- A-American Self Storage
Antique Store
Summerland Antique Collective 2192 Ortega Hill Rd., Summerland, 565-3189; 2173 Ortega Hill Rd., Summerland, 565-2176
For those of us who remember Summerland as the exclusive domain of crazed surfers and equally demented bikers rubbing elbows with the polo set, it's hard to believe that Summerland Antique Collective has been open for business for 15 years. It's a brand-new world down there. With two locations and more than 40 dealers, this collective run by Joel and Georgia Berti is elegance in a little beach town.
Finalist- Antique Alley
Place to Buy Carpet/Rugs
The Home Depot Inc. 6975 Marketplace Dr., Goleta, 961-4746
This town isn't well-disposed to chains, as a quick perusal of this Best Of list will reveal. Home improvement's mostly left to old family-owned businesses, except for this big-box store. Home Depot advertises adept sales and installation, whether it's "pile or Berber, plush or frieze." And the skeptical, non-chain-store readers apparently believe it.
Finalist- Carpeteria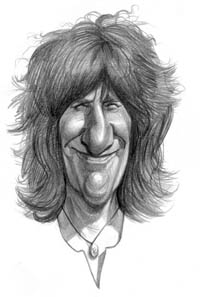 Joe Bluhm