Retirement Residence
Maravilla Senior Living 5486 Calle Real, 696-6000
If there is a spectrum of retired living situations that runs between care facilities and fun houses, Maravilla would resolutely lean toward the carefree joy department. Movie theaters, swimming pools, salons-heck, it sounds like the Beverly Hillbillies' take on California here in active living S.B. It's been voted one of the 50 best retirement homes in the country, and, even better, it's an Indy winner two years in a row.
Finalist- Casa Dorinda Retirement Residence
Study Spot
Santa Barbara Library 40 E. Anapamu St., 962-7653
It's tough to study in any environment short of a cloister. Distractions both active (the little brother, your cute roommate) and passive (television, stereo, or refrigerator) loom everywhere. Libraries are nice because they are fiercely monitored to remove the active distractions, and the closest you can get to a visual escape is the Internet-and that's a study tool, remember. The downtown library is comfortable, packed with reference materials, and almost like a monastery for your brain.
Finalist- Starbucks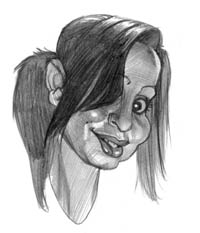 Joe Bluhm