In keeping with the half-mad Moroccan driving m.o., our taxi driver careened and caromed up the twisting road up to the Meredin Tombs, high up above the magical city of Fes. Well into our week-long Fes adventure, we wanted to get a bird's eye vantage of the concentrated, beehive-like intensity of the ancient city herself, to get some long-distance perspective, and had been told this was the place for it. Along the way, he pointed out the palace, the old Borj Nord fortress (now an arms museum) and one of the world's oldest universities, dropping us off in the peaceful hilltop site.
Once up amongst the ruins, inhabited by a few, lone grazing donkeys, we could see the sweep of the Fes al Bali, with minarets and mosques dotting the labyrinth far below, and hear the faint but clear, signature sound of the early afternoon "call to prayer." It was a memorable moment of calm, before descending back down to the Bab Guissa and plunging back into the thrumming thicket of the Medina, and the pace of Fes life in progress.
When traveling in another country, especially an other country such as Morocco, one can expect multiple moments of that certain Sense of Arrival. Those are the moments when you know the old reality has been left behind, and that you have come across the desirable encounter with an entirely new world of sensations and ways of being far from the hum of home. These are the moments which hook you into the wanderlust-y allure of traveling, a willful dislodging of bearings bidden by global curiosity.
Early in June, in Fes, an early, ground-level sense of arrival hit us on the taxi ride from the airport to the hotel, with all the crazed, logic-defying driving tactics and seat-beltless adrenaline rush we'd read about. But the most profound arrivals came by way of the magical Fes al Bali, aka the Medina, and the enchanting matrix of sounds from Fes' rightfully renowned, and 16th annual World Sacred Music festival, our primary reason for making this trek. But the secondary powerful sensations in and around this remarkable spot on the earth left memories which don't seem to subside willingly.
In the quite useful and also dangerously temptation-dangling tome 1,000 Places to See Before You Die (which incidentally, includes the Santa Barbara Mission), the Moroccan section understandably opens with a prominent double-header—Fes al Bali and the World Sacred Music festival. The latter, set in a locale ideally centered between Europe, sub-Saharan Africa, the Middle and Far East, and the Americas, is something to behold for any world music lover. Heeding the idealistic notion that music can move freely across borders and even broker a kind of peace otherwise hard to find in the realm of political and ideological conflicts, the festival maintains a purposefully broad stylistic, cultural and "sacred" focus.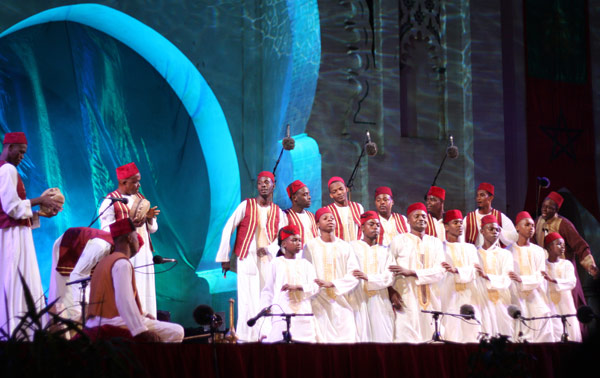 Peggy Grossman