On October 28, 2005, at Mission La Purísima de la Concepción, a couple hundred people came together inside the adobe walls of the centuries-old church to sit at one long, wooden table, with only flickering candles to light the scene. There was plenty for us to be excited about on the menu that evening ​— ​pumpkin soup with smoked boar, wine-splashed quail with oregano, roasted lamb with truffle tamales ​— ​and we all buzzed about the soon-to-be unveiled bottles of pinot grigio, chardonnay, and pinot noir from the brand-new Alma Rosa Winery.
But the real reason so many had converged on the outskirts of Lompoc that crisp autumn night was for a man, not a meal. This was the first time that Santa Barbara's wine country was celebrating the creation of the Sta. Rita Hills appellation, which had been federally recognized four years earlier, and we'd come to honor Richard Sanford, the man who proved that pinot noir grapes could thrive in that fog-enshrouded, windswept western end of the Santa Ynez Valley.
Today, the Sta. Rita Hills are considered one of the best places on the planet to grow the delicate, delectable grape; pinot is one of California's most sought after varietals; and the wine business has become one of the most important industries on the entire West Coast. But Sanford's impact was wider still: Since 1983, he'd been growing his grapes organically, forging what he calls a "new paradigm in agriculture," decades before sustainability was in vogue. In this one-of-a-kind setting ​— ​that candlelit affair in La Purísima church hadn't happened before and hasn't since ​— ​we all took part in a royal roast of the one-of-a-kind Sanford, a true living legend.
"That was really the beginning of him recognizing what impact his choices have made on the region," recalled his daughter, Blakeney Sanford, who remembered "giggling a lot" that afternoon with her father as they got ready because being placed atop a pedestal was never part of his plan. "It's still hitting him. He's going, 'Whoa, it's pretty amazing to be a pioneer.'"
The accolades haven't ceased, and this past February, Sanford was the first person from the entire Central Coast of California to be inducted into the Vintners Hall of Fame, joining a list of about 40 mostly deceased men and women from the wine world's history books. Longtime journalist Steve Heimoff, who writes for Wine Enthusiast and is one of the 75 experts polled for Hall of Fame nominees each year, credited Sanford both for pinot's popularity and the rise of the Sta. Rita Hills. "Either one of those would have made him a very important historical figure," said Heimoff. "Both of them together make him over-the-top historical."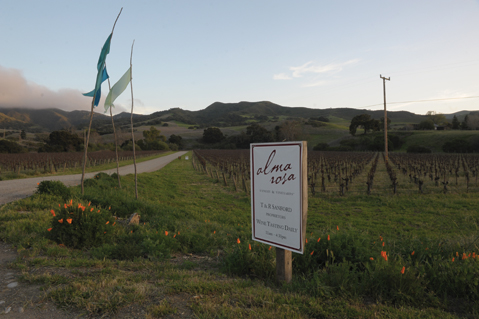 By Paul Wellman