Cover Story
Father Kelly's Curse
Mixed Feelings Surface in Sex-Abuse Settlement
At first, Andrew Ruiz was relieved. But his relief quickly gave way to frustration, followed by anger. Ruiz was initially happy not to take the witness stand, not to answer difficult questions about a painful past. And content not to endure the agonies of a protracted trial with no certain outcome. A rawboned man with sad, piercing eyes, elaborately tattooed arms, and a direct, deliberate manner, Ruiz is one of 508 men and women who recently settled claims of sexual abuse with the Los Angles Archdiocese, which presides over Santa Barbara, Ventura, and Los Angeles county Catholic churches. All together, they will be paid $660 million. That settlement was announced July 15, just two days before the first of many sex abuse trials were scheduled to begin on July 17. Ruiz-who has yet to receive his settlement check-said there are some things that can never be undone. Money, he said, can't erase the past; certain memories will never go away. Tapping the back of his head with the finger tips of his right hand, Ruiz said, "It's all still in here."
Ruiz, now 52, sued the archdiocese in November 2003, claiming that Father Matthew Kelly, the once iconic pastor of Santa Barbara's Our Lady of Guadalupe, had molested him 30 times back when he was 12 and 13. Ruiz was the first of seven men from Santa Barbara to bear witness against Kelly, who until then had enjoyed a near legendary status throughout Santa Barbara's Eastside, which he served for nearly 30 years. Since filing his lawsuit four years ago, Ruiz, an electrician, has actively prepared for his day in court. He and his attorneys-R. Thomas Griffith and Tim Hale, from Santa Barbara-have been consumed by depositions, interrogatories, and a blizzard of dueling legal motions over what evidence could and should be made available. "But when it finally came time for the showdown," Ruiz said, "[the archdiocese] said, 'Here's some money. Take it. Just go away.'"
If Ruiz was the first to step forward to accuse Father Kelly-who died in 2002-Robin Cook would be the last. (In 2002, the California Legislature passed a special law that allowed one year from the law's passing for sexual abuse victims of the Catholic Church to sue, even though the statute of limitations had long ago expired.) Like Ruiz, Cook also expressed frustration about the settlement. A fiercely outspoken, barrel-chested 51-year-old with black hair and a Fu Manchu mustache, Cook claimed Kelly got him drunk and raped him in 1969; he was then 13 years old.
Had Cook's case gone to trial, it would have hardly been a slam dunk. For starters, Cook is claiming he repressed memories of his rape for years. It all came back last fall, he said, after seeing a TV news story about the accusations against Father Kelly. Although California law allows repressed memory syndrome actions to be filed, Cook's attorneys concede they know of no cases where such claims-legally controversial-actually prevailed at trial. But even so, Cook said he wanted to go to court. "I wanted the jury to see me spill my guts," he said. "This was the worst thing that ever happened to me. I wanted to get it out. I needed to get it out."
But for Andrew Ruiz, Robin Cook, and even Father Matthew Kelly there would be no moment of truth. No day of reckoning. No vindication or repudiation. Settlements are good at making huge problems vanish overnight. Settlements happen behind closed doors where the quality of evidence is not publicly scrutinized. The credibility of witnesses remains untested. And, perhaps most critically, ultimate responsibility is never assigned. Settlements leave fundamental questions of guilt or innocence profoundly unanswered. And in some cases, that's exactly the point.
In the settlement with the Los Angeles Archdiocese, Kelly's seven accusers received, on average, $1.1 million each. But that amount varies considerably among accusers with a high of $1.85 million and a low of $200,000. However, both Cook and Ruiz insist the case was never about the money. "What I really wanted was for people to look at me and say, 'Robin, it's okay,'" said Cook. "'You were only a kid.'"
For Ruiz, the ideal outcome would have been for the church to dispatch someone to talk to his mother, to apologize for what happened. His mother, Ruiz said, had harbored doubts about Father Kelly. Even back then, she'd heard stories. But she checked with her own father, an intensely devout Catholic who lit votive candles to the saints every night on his own personal altar, and he assured her it was okay. After all, Kelly was a man of God. "For a mother to have a son who was molested by a priest, what do you say?" Ruiz asked. "'We screwed up. We're sorry.' That would have been nice."
In fact, Los Angeles Archdiocese Cardinal Roger Mahony has been exceptionally vocal in his public apologies. In announcing the settlement nearly two months ago, Mahony likened the victims to video cassette tapes and expressed his deepest wish that he could "erase" the pain they'd endured at the hands of their priestly predators. But neither Cook, Ruiz, nor their attorneys place much stock in such Mahony pronouncements. Instead, they dwell on how, for years, the cardinal and the archdiocese vigorously fought to protect the personnel files of predator priests. They contend the church is still covering up the extent to which the archdiocese shuffled problem priests from parish to parish without ever warning the parishioners. And they point out how even now, under the terms of the settlement, the archdiocese has never actually admitted that Father Kelly did anything wrong. What kind of an apology, they ask, is that?
No Trial by Fire
July's settlement announcement brought to a close the second explosive sex abuse scandal to roil Santa Barbara. The first, and certainly more notorious, case involved the Franciscans and St. Anthony's Seminary, where youthful seminarians and singers from some of Santa Barbara's most prominent families endured a wide range of sexual misconduct dating back 50 years. Litigation against Santa Barbara's Franciscans finally concluded earlier this year with a cumulative payout of $26 million.
But the public uproar generated by allegations against the Franciscans, which first surfaced 15 years ago, helped motivate the California Legislature to pass that special law in 2002. When Ruiz read about the St. Anthony's case, he called his friend, R. Thomas Griffin, who also happened to be an attorney. Griffin then called Timothy Hale, an attorney with Nye, Peabody & Sterling, who has spent the past eight years pursuing almost exclusively allegations of priestly pedophilia.
Had the charges against Father Kelly gone to trial, it's impossible to predict what the outcome would have been. Based on the transcripts of pretrial depositions-released in redacted form as part of the settlement-it's highly likely that attorneys for the archdiocese would have waged an aggressive attack on the credibility of Kelly's accusers. Fully half of the claimants indicate they had repressed memory syndrome. One actually remained close friends with Kelly-even taking family vacations with the priest-until Kelly's death in 2002. Only after attending Kelly's funeral did the memories come rushing back.
For Cook, it was seeing Hale on TV talking about a sex abuse case that prompted his claim. "At first [memories] came a little bit at a time," said Cook of his flashbacks. "Pow! Pow! Pow! After a few weeks I managed to put together all the pieces." As compelling as Cook is in person, no doubt attorneys for the archdiocese would have argued that such testimony-while legally admissible-should be regarded with intense skepticism.
As for Kelly's accusers who say they never forgot, the archdiocese might have pointed to the extensive criminal histories of many of the claimants. Hale expressed confidence these accusers would have been depicted as money-grubbing ex-cons, drunks, dope addicts, and hustlers had the archdiocese not settled. And certainly, there are facts to support such claims. One of Kelly's chief accusers, Rudy Perez, remains incarcerated in state prison. And Ruiz acknowledged he spent 26 years in and out of prison on a host of petty criminal charges, fighting a losing battle against drug addiction. But for the past 12 years, he said he's tried to stay on the straight and narrow, holding down a steady job.
The Prey and the Priest
Of the seven claims against Kelly, all but one involved Latino kids. All came from broken homes with absent or abusive fathers. Cook never knew his father; neither did Ruiz. All, according to attorney Tim Hale, were seeking some sort of paternal attention and affection. Unfortunately, Father Kelly had a keen eye for lost souls and was practiced in the art of grooming his victims. In the 1950s, Father Kelly would take kids to his cabin in the Santa Ynez Valley off Paradise Road. There he'd offer them money in exchange for yard work. He'd also let them smoke, drink, and work out with the weights and boxing equipment there. Later, in the 1960s, Father Kelly began befriending young teens with the lure of music. Ruiz remembered being introduced to Father Kelly by an older friend. "I didn't have a father and he seemed interested in me," he said. "He let us listen to Cream and other psychedelic music. He was cool."
Soon, Ruiz would go to the cabin with other boys. Later, he would find himself as the only guest. On the drives up to the cabin, Ruiz said Kelly would stop off for smokes and booze. Ruiz would be allowed to indulge in both. Ruiz said he was confused and overwhelmed by Kelly's sexual advances. "I was only a kid. I'd never been with a girl. I didn't know if it was weird or normal, bad or good. I didn't know," he said. Ruiz also noted that Kelly was not just a big man, but physically imposing, stern, and more than a little intimidating. Kelly, Ruiz said, was never violent. "But he didn't seem like the sort of guy you said no to." After the encounters, Ruiz said, Kelly paid him $20. It was always in one-dollar bills.
Like other abuse survivors, Ruiz wonders why he didn't cut off contact with the priest after the first incident. "I carried a lot of guilt and shame about this. Did I let it happen? Was I responsible?" he asked; but then answered, "I was just a kid. I don't blame myself."
By the time Cook met Father Kelly in 1969, Kelly was well established as an Eastside institution. Big and strong, gruff and tough, Kelly was first assigned to Our Lady of Guadalupe back in 1942. Aside from a five-year break in the early 1950s, that's where he would serve until 1970. An early write-up in a church publication described the young Kelly as "gifted with a deep understanding of and a genuine love for the youth problems and for the Mexican people in particular." The accompanying photograph shows a serious young man, graced with piercing blue eyes and slicked-back hair.
He quickly emerged as a one-man social service agency, making sure the needy families of Santa Barbara's Eastside were not overlooked by the city's charities. And he gave special attention to young boys who gravitated toward trouble. According to one breathless account, Kelly managed to clear up the parish's "and the whole city's" juvenile delinquency problems. He created the Blue Jackets, a church-based club, where young dudes could hang out and talk. Father Kelly also worked a special deal with the owners of the Mission Arena, a boxing club located where Mission Laundry now stands, so that poor kids could watch the fights. In exchange for free tickets, Kelly's charges would clean up the arena. And he was famous for taking his altar boys up to the Santa Ynez River. "He took good care of us," said Stan, a 70-year-old former altar boy. "He was pretty stern, a man's man, but he was one of my favorite priests." Stan said he never heard one whisper of the accusations that would first surface in 2003. "And we [the altar boys] would talk," he said. "It surprised me to death."
Cook, whom Father Kelly met in 1969, was a slightly built 13-year-old only child growing up on Santa Barbara's Eastside. Cook's father was a tall Swede who disappeared shortly after his birth; his mother was a short Mexican with whom Cook would frequently butt heads. Attending Franklin Elementary School for three years, Cook found himself picked on by many of the Mexican-born kids in his class. "I was a short, fat, round kid, and the name Robin sure didn't help," Cook recalled. Cook's mother moved him to a school of her Seventh-Day Adventist faith for the next four years, where he learned to read the Bible and struggled, unsuccessfully, to control his temper. When the principal there sought to make a point by poking his index finger into Cook's chest, Cook swatted the principal's hand away. For that-and Cook's accompanying fusillade of profanity-Cook was expelled. "I wasn't always the bad kid," he said, "but people sure thought I was."
Cook first encountered Father Kelly while hanging out with friends who lived next to the Our Lady of Guadalupe rectory on Jennings Avenue. "He was 'Cool Father Kelly' to us," Cook said. "He could look out his window and see us playing in the backyard." It was through one of these friends that Cook said he and Kelly first met. "He'd invite us up and at first we'd play Bible trivia games," Cook said. "He'd ask a question, and since I'd read the Bible three times, I always got it right. That's when Kelly started paying more attention to me." The priest then upped the ante, according to Cook, offering the kids wine-or, as Kelly liked to call it, "The blood of Christ." Then Kelly mixed the drinking with the Bible games. "If you got a question wrong, you had to take a drink," said Cook. "It didn't take me long to figure out I'd better get the wrong answer."
Cook alleged Father Kelly also began sneaking him into the confessional, allowing him to listen in as Cook's neighbors confessed their sins. "It was a small space in there, and I'd be on the ground with my head on his lap [so as not to be seen]," Cook said. Cook estimated this happened between five and 10 times. (In the Catholic faith, few confidences are held as sacred as that between a priest and penitent. For Kelly to have acted as Cook charged constitutes a grievous betrayal of personal trust and church law.)
One night, Cook said, he and his mother got into a row. She kicked him out of the house. It was too late, he said, to call on any of his friends, so he showed up at the Our Lady of Guadalupe rectory and knocked on Father Kelly's door. Kelly invited him up, and once there, Cook said, proceeded to ply him with "the blood of Christ." Lots of it. Cook said Kelly then pulled out an old-fashioned electronic massage machine, the kind used at some barber shops for shoulder rubs. "'Do you want to feel good?'" Cook said Kelly asked. After massaging Cook's shoulders, Cook said Kelly asked, "'Do you want to feel better?'" He then instructed Cook to lie down and began massaging Cook's leg. "Then he said, 'Do you want to feel really good?'" and placed his hand on Cook's groin. "All of a sudden, it's all wet down there," Cook said, "and I jump up." Cook said Kelly told him not to worry, that he had some underpants Cook could wear while Kelly washed his boxers. They were very loose, Cook said, and had to be held up with his hands.
Cook said at that point he either passed out or fell asleep. But when he woke up, Cook said Kelly had his hand pressed against his neck, pinning him to the bed. "He was whispering stuff to me. He started telling me about how I have to pay penance for belonging to the wrong religion," Cook said. Then Cook said Kelly removed his shorts and sodomized him. Afterward, Cook said Kelly told him to get up and go.
Cook went home, he said, and slept on the couch. He said there was blood in his stools for the next month. "It really hurt. It hurt to move. I told everyone I injured my knee so they wouldn't ask questions," Cook said. At the time, Cook said he told no one. "He was Cool Father Kelly," he explained. Cook said Kelly would show up at his house on Saturdays when his mother was attending Seventh-Day Adventist services. "He'd knock on the door and say, 'Robin, are you there?'" Cook recounted. "I'd huddle in the corner and pretend I wasn't."
Cook said he stopped hanging out at the rectory after the incident. He experienced a sudden growth spurt, discovered football and girls, and moved on. And Father Kelly, as it happened, was turned out not long after Cook split. On November 6, 1970, 21 parishioners at Our Lady of Guadalupe signed a petition complaining that Father Kelly was a "sick man," that Our Lady was a "sick parish," and that both needed help from the archdiocese. They complained that Kelly was aloof, distant, and that the altar boys found him too scary to work with. They noted, too, that church attendance had dropped, and that under Father Kelly, First Friday masses had been discontinued. Kelly was soon transferred to a new parish, St. Marianne's in Pico Rivera in southeastern Los Angeles County, where he served for seven years. After that, he moved to Santa Paula, where he was pastor of St. Sebastian's until his retirement in 1987. No allegations against Kelly have surfaced from either of these two parishes.
Sordid Tales
But what happened at Our Lady of Guadalupe, according to attorneys Hale and Griffith, is a sordid tale that could have been avoided had Kelly's fellow priests listened to explicit warnings about Kelly's pedophilia. They claim that as early as 1958, two young men notified Kelly's assistant, Father Edward Landreau, that Kelly was touching young boys inappropriately. One of the "John Roes" who sued the archdiocese in 2003 claimed he personally told Landreau at the time that Kelly had molested him at Kelly's cabin. "I was shaking. I started to tell him that Father Kelly would ask us to be naked in the cabin, or that he would ask us to be in our underwear, and that Father Kelly was touching me in areas I did not like," John Roe testified during the deposition. "He [Landreau] told me he would look into it, to try not to go to the cabin."
But during his own deposition, Landreau denied that conversation took place. "I do not remember anyone saying that," he said while under oath. Another man-also a former student at Our Lady of Guadalupe School-claimed he also told Landreau that Kelly was touching boys inappropriately. Landreau again denied ever hearing such a claim, and described the individual making it as "the terror of the neighborhood" as a child, noting that he spent considerable time behind bars.
Attorneys Hale and Griffith claimed there were other warnings to which the archdiocese turned both a blind eye and a deaf ear. In the early 1960s, a young Spanish priest assigned to Our Lady of Guadalupe said he complained to archdiocese auxiliary bishop, Timothy Manning, that Kelly was both mentally ill and a serious drunk. Under oath at the recent deposition, he described Kelly as walking "like a zombie" he was so inebriated. He also claimed Kelly would hole up alone in his room for days on end, refusing to answer knocks on his door or phone calls.
This same witness, who left the priesthood shortly after his dealings with Kelly, also testified he expressed concern that Kelly was taking young boys from the neighborhood to a cabin he owned in the Santa Ynez Valley. But he also stressed under oath that at the time, he never imagined anything sexual was taking place. "I know there was something wrong and was not normal," he said, "but never the word 'pedophilia' came out in my mind."
His warnings, the priest claimed, went not just unheeded, but affirmatively ignored. According to his testimony, Manning responded to his concerns by stating, "If I was to get rid of every priest who is alcoholic or has psychiatric problems, one-half of the parishes will have no priests." (Manning died in 1989 and therefore could not respond to such claims.)
This witness left the priesthood not long after making the allegations. Had the Kelly cases actually gone to trial, it's likely-based on the tone and tenor of questioning by the archdiocese's attorney Bless Young-the archdiocese would have sought to impugn his credibility by pointing out how the young priest had been caught having sex with the wife of a parishioner. Hale noted that the ex-priest married the woman in question shortly thereafter, and they remain married today, 30 years later.
It's also likely that the bulk of the archdiocese's rebuttal would have rested on the testimony of five retired priests who worked with Father Kelly at Our Lady of Guadalupe at various times. Based on the sworn statements they made during deposition, Kelly was nothing less than a great guy and a conscientious priest. None of the five ever recalled seeing him drunk or even drinking heavily; none expressed concern about him going off to the cabin alone with young teens. Some seemed aware of Kelly's association with young teens; others less so. Sure, there were disagreements from time to time, they testified, but nothing of substance.
And for the Prosecution
Despite this formidable wall of unanimity, Hale contended the priests' testimony would have actually worked against the archdiocese. "If you were in the room and saw their body language and witnessed their defensiveness and their extreme discomfort, you would understand why we weren't afraid to take this case to a jury," he said.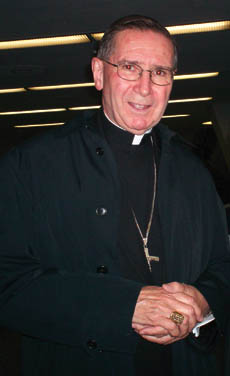 Hale said he would have hammered the priests' credibility by citing the Doctrine of Mental Reservation. That doctrine, Hale said, holds that it's okay to lie or not tell the whole truth in the interest of protecting the church from scandal. Tod Tamberg, spokesperson for Cardinal Mahony, released a written statement dismissing the Doctrine of Mental Reservation as nothing more than "a centuries-old theological discussion," that's "not accepted church teaching" and "isn't even found in the Catechism."
During his deposition, however, Father Landreau admitted that he studied the doctrine while in seminary. Under oath, he likened it to saying someone had a nice dress, when in fact the dress was ugly. When Hale asked if the doctrine was "related to not bringing scandal to the church," Landreau replied, "Of course." Hale pressed Landreau if he would be able to admit invoking Mental Reservation during his deposition. Landreau replied for him to do so "would be pretty stupid."
Harder for the archdiocese to dismiss are the two collections of photographic slides of nude boys linked to Kelly. The first was found by people living next door to Kelly's Santa Ynez cabin in about 1965. According to the neighbors' testimony, their children found an open envelope addressed to Kelly on the ground by the bushes in front of their cabin. The envelope contained many slides of naked and semi-nude young teens, all boys. Some of the boys were shown with erections. The neighbors claimed they reported their finding to the postmaster at the time, but never confronted Kelly or any of his superiors with the slides. They also testified that they saw Kelly drunk on many occasions. Later, when Kelly sold his cabin in 1983, the subsequent owner would also discover a metal box containing slides of nude and semi-nude boys. Hale and Griffith contend that Kelly, who owned a camera, took many of the photos in his Santa Ynez cabin.
Perhaps the final nail against the archdiocese-at least according to Hale-is an email written by Cardinal Mahony on April 3, 2002, two days before Kelly's death and almost 18 months before the first lawsuit was ever filed against him. In the email, Mahony notifies three subordinates that Kelly's death appears imminent. "Since I will be gone next week, that may be a blessing," Mahony wrote. "It may be best if someone else were to handle his funeral anyway, given his past difficulties."
The exact nature of these "past difficulties" Mahony never details. Hale contends this email constitutes the smoking gun proving that Mahony-at some point-had become aware that Kelly was a problem priest. Throughout the Kelly controversy, the archdiocese has consistently maintained that until the first lawsuit was filed in 2003, no allegations of a sexual nature had ever been leveled against him. Responding to questions about this email, Mahony's spokesperson Tamberg wrote, "I have no idea whether this email exists. But I'd say that if it does, it shows extreme sensitivity on Cardinal Mahony's part to those who accused Kelly of abuse."
In closing, Tamberg wrote, "The alleged abuse took place nearly half a century ago. Competing claims and denials, the death of witnesses, including Father Kelly, and the passage of time mean there can never be a full and impartial determination of the facts of these cases. Nevertheless, the archdiocese believes it is important to continue to extend pastoral care and concern to all those who have come forward in these and other cases."
Reflecting on the settlement, Cook said he's still disappointed the trial won't happen, but expressed sympathy for the many witnesses for whom the trial would be an excruciating ordeal. "The settlement means money, it means security. But does it make your pain go away?" he asked. "No. I don't think so. But talking about it has helped a lot."
Cook, now a small-business owner, conceded his life has had its fair share of ups and downs. Some, he said, would have occurred even if he had never met Kelly. But for some of his woes, Cook regards Kelly as "the nail in the coffin." But he said the act of standing up to Kelly-and speaking out-has helped him pull out that nail.
As for Ruiz, he, too, is moving on. But he never forgets, he said. "A lot of lives were touched by that man, and a lot of lives were ruined." Pointing to his head again, he said, "It's always there."