Columns
Happy Birthday Montage!
Column Hits One Year Mark and Continues Dishing the Montecito Message
Welcome to the one-year anniversary edition of Montage. Let's say it has been a year of Montecito chills, thrills, and spills – sprinkled with just the right amount of poison pills. While I found the year enthralling and entertaining, this prescription sometimes made me feel faint. Thinking maybe the big top was getting too crowded, or spinning too fast for this old clown, I sought your opinion to help me find balance. I am happy to report your response was flattering and inspirational – and the sound I heard was way more than one hand clapping. I offer for your amusement, one response that inspired me:
"Dear Montage,
It doesn't matter how big, rich, even sumptuous the circus is; whether it has one, two or multiple rings…a circus is a circus. It is quite transient, and it only exists to provide us with the entertainment that our mid-sized SB community may lack of, otherwise. What do you mean too blinding to go on? Enjoy the show! Laugh with it, at it, and turn your back knowing that whatever it presents means nothing more than what meets the eye, neon lights, bling-bling, and publicity. There are many of us, Montage fans, who would hate not to have a real, truthful, and at times a little sarcastic account of what's going on in Montecito."
And so, with that kind of reply, I must do what any good trooper would do: Slap on my crease paint and head for the stage, because, at all costs, the show must go on.
NOW, PLEASE TAKE YOUR SEAT: Nominations are being accepted until October 1 for the Board of Directors of the Montecito Association, the 61-year-old grandmother of all homeowners associations. Candidates must live in within Montecito's zoning boundaries, and typically have experience on a Montecito Association committee or with another community-interest group.
So far this year, the Association seems to have hosted a game of musical chairs. The most recent resignation is past president Bob Collector, who quit in August to pursue other interests. "I decided to leave the board for a number of reasons, mostly personal," he told Montage. "Not being in leadership or on the land use [committee], I saw the new team was well-established, so decided to take a break. I still care deeply about the MA and the community." Collector joined the board in 2003 and served two terms as Land Use Chair and one year as president.
Lou Weider has been selected to fill out the remainder if Collector's term. A UC Berkeley accounting graduate, Weider is a CPA. He has been a resident of Montecito since 1996 and, in 2003 and 2004, he served on a citizen's group that studied underground utility options for Montecito. Weider has been on the Jewish Federation Board for six years and was appointed by Supervisor Salud Carbajal to the Mental Health Commission; he is also on the board of the Mental Health Association. As the victim of a home break-in robbery several years ago, Weider said he is interested in safety and protection issues in Montecito. He said he also looks forward to using is business and accounting skills to help MA's administration team.
Darlene Bierig has also joined the board to fill the vacated seat of Andy Arnold. Darlene holds a MA in planning from UC Berkeley and BA in geography from UCSB. Darlene is the CFO for Canessa Capital, a real estate investment and development firm. She moved to Montecito in 1986 and has been active at Montecito Union School, where she was elected to the board of trustees and served as its president. Darlene has also been active on Montecito Association Beautification Committee, as the familiar face handing out the clean up duties. Darlene is also well known in land use and social circles as the wife of Montecito Planning Commission's Bob Bierig, but unfortunately, Darlene tells us, the two have decided to go their separate ways.
The Association's seats up for election in 2008 will be those of Dick Shaikewitz, Deirdre Hanssen, Dana Newquist, and David Myrick. Also up for grabs is the seat of J.W. Colin, who is filling out the term of Ralph Baxter, who resigned mid-year. Jim Wolfe was elected in 2007, but resigned after his first meeting, and the seat of DeAnna Wassom also remains vacant. The recent death of MA vice president Barry Siegel vacates another seat.
This year for the first time in decades, the Montecito Association ordered pretty blue printed stationery, rending a much more professional look than the standard black and white computer-generated form it has used in the past. But, given the pretty un-stationary board with its high rate of turnover, the pretty stationery was rendered pretty useless pretty fast. The Montage crystal ball sees a re-consideration of the fancy printed parchment in MA's future.
LIVING LEGACY: Monday's memorial for Barry Siegel, MA's vice-president and co-founder of COAST, was in itself memorable. Held at Trinity Episcopal Church, Supervisor Salud Carbajal gave a eulogy. Mayor Marty Blum was there along with Santa Barbara City Council members Das Williams, Helene Schneider, and Grant House. County Director of Public Works Scott McGlopin was on hand, along with many COAST board members who came to pay their respects. That included his longtime friend Alex Pujo, who was accompanied by wife June and gave a eulogy.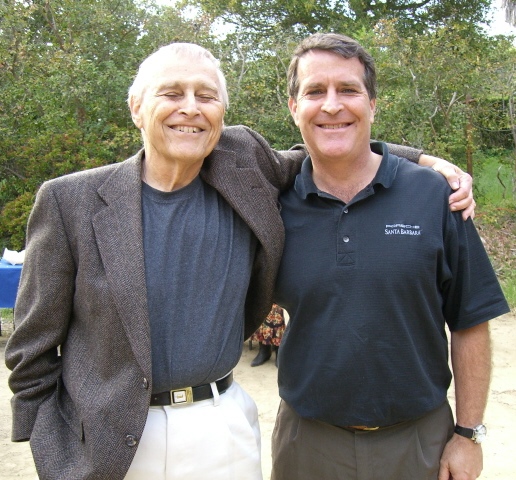 The Montecito Association was out in full-force too. Past president and current first vice president Diane Pannkuk presented another eulogy on behalf of MA president Bill Palladini, who is traveling in Italy. Current MA Board members Dana Newquist, Mindy Denson, J.W. Colin, and Gene Sincer were there along with past board members Bob Collector, Sally Kinsell, Joan Wells, and Steve Traxler. MA's executive director Victoria Greene was among the more than 100 people attending the ecumenical ceremony that included, along with the eulogies, Jewish prayers sung by Chaplain Yael Gott, a musical version of "This Is My Country," and a violin rendition of "Danny Boy" performed by Doug Clegg and Kate Wallace.
With Martha, Barry's wife of 51 years, sitting in the front row surrounded by family, the most poignant moment came when Barry's two sons David and Tom remembered their father. They shared unknown traits and information like Barry's 40-year journal-keeping habit, his 14-year battle with cancer, and his nomination to head Indian Guides because he was simply "the best father." From his sons' perspectives, we got to see Barry's true legacy. We knew he'd done well, leaving the world and Montecito a better place.
Following the ceremony, an inspired Salud Carbajal announced he has put into motion the idea of re-naming the Ortega Ridge /North Jameson bike path in Barry Siegel's honor. Barry was an alternative transportation guru and advocate, and Montage can attest Barry was instrumental in getting that bike path built. Montage is so enthusiastic about Salud's idea, that I promise to be one of the first to pedal my electric bike over that hill – because, Barry, the legacy of what you stood for lives on to inspire!
IT'S MY PARTY SO I"LL DO WHAT I WANT TO: After a year of columns – well, 77 of them to be exact – it's about time that Montage presents the best of the best. So here are my favorite – some I liked for the news value, other for the turn of the phrase. Let me know your choices, as they all remain posted on line for your viewing pleasure at Independent.com/montecito. You can also find them on file at the Montecito Library magazine section in hard copy. Here are the Top Ten:
10) News-Press Shame Overshadows Party Report: Read how fear of legal reprisals from the big, bad daily taint this party report, from June 19, 2007.
9) The Village's Two Faces: Just how two-faced can Montecito be? Learn in this column, from November 7, 2007.
8) Voices Raised in Montecito: A report on the roar that led to the unseating of planning commissioners, from January 10, 2007.
7) Ty Selling Miramar to Caruso?: Montage got the scoop first, and it was picked up by news outlets in L.A., from January 22, 2007.
6) Montecito's Fire Danger: Montage proved prophetic with this advisory tale, from May 15, 2007.
5) Mapping the New Miramar: The inside scoop on Rick Caruso's first plans for the dilapidated, abandoned inn, from June 12, 2007.
4) Chainsaw Don Wants Fire Plan: Man with saw gets officials to think about evacuation plans, from June 27, 2007.
3) Zaca Fire Copter Crash: Montage was on the seen when a chopper went down, from July 8, 2007.
2) Chief Kevin Wallace on the Zaca Fire: Montecito's chief talks facts as fire rages, from August 16, 2007.
1) When Oprah Met Obama: The back story to the fundraiser and photos of inside her pad, from August 28, 2007.