Film & TV
Feast of Love
Morgan Freeman, Greg Kinnear, and Radha Mitchell star in a film written by Allison Burnett and directed by Robert Benton, based on the novel by Charles Baxter.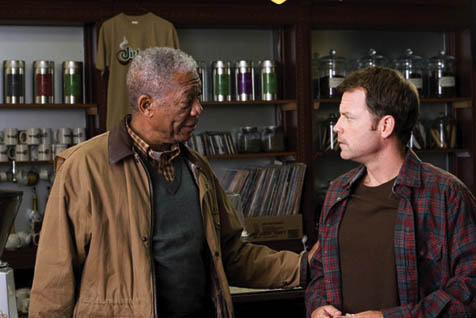 With its clever, comfy maze of interactive romantic subplots, Feast of Love walks that precariously fine line between musings on the fickle nature of romance and the stuff of melodrama, sometimes veering right up to the boundary separating the two. Somehow, though, it keeps its wits and wisdom in check, tugging on heartstrings without abandoning the filmgoer's discerning intellect-or libido. In other words, it's a necessarily complicated and sexy reflection on love and life in Portland.
Knotty ensemble pieces such as this require a delicate hand in connecting the parts, and the balance between disparate-and sometimes desperate-characters supplies the dramatic core. Veteran director Robert Benton knows how to deal with this emotional landscape, with a filmography including the artistic yet sentimental Kramer vs. Kramer, Nadine, and Nobody's Fool.
Morgan Freeman is the film's anchor, as a professor and wise elder suffering from his own family woes, but still deeply in love with his wife. In the muddy midlife zone, there is kindly coffee house owner Bradley Thomas (Greg Kinnear). He plays the terminal nice guy, serially unlucky in love because of his innocent and trusting nature, but also guilty of insensitivity to his partners. The key femme fatale in this narrative mix is Diana (played with an impressively dark seductive power by Radha Mitchell). At one point, Diana sizes up Bradley's attraction by reasoning, "the absence of disqualifiers is a rare and beautiful thing."
Also in the picture, from the youthful end of the spectrum, are star-crossed young lovers (Toby Hemingway and Alexa Davalos). Poor Fred Ward plays the script's sole cardboard character, as a knife-flashing, drunken sod and cartoonish bad guy. Otherwise, a palpable human heart, melancholy, and eroticism steadily energize this movie, leaving the viewer to agree with Kinnear's assertion that love, for all its cruelties and scarring caprices, is "the only meaning there is to this crazy dream we're all
trapped in."