Sports
Rundown Features S.B. High Standout Roberto Nelson and Three Christmastime Tournaments
Prepare for Prep Basketball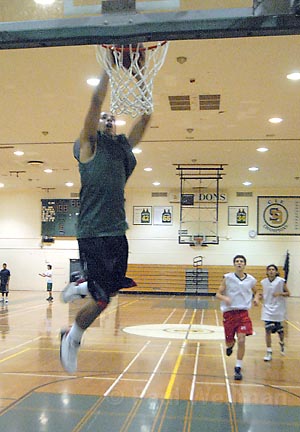 If you see Roberto Nelson on the street, chances are he'll be dribbling a basketball.
"I carry a ball everywhere," said the Santa Barbara High junior, a 6ʹ3Ê° guard with a national profile. "I'm working on my handles."
Nelson's willingness to work on all phases of his game is one reason that Dons coach Chris Hantgin calls him "the best player I've ever coached." Hantgin puts him in a class with such erstwhile standouts as Shantay Legans, Mike Garrett, Rob Ramaker, and Jon Korfas. As for his future potential, the coach drops some even bigger names: "I envision Roberto as a big, physical point guard in the mold of a Baron Davis or Jason Kidd." With that reputation come stratospheric expectations, but both the player and coach prefer the focus to be put on the team.
"You've got to keep your teammates involved," Nelson said. "You might need somebody else to make an important shot." He is averaging more than five assists per game this season, but the scoring touch is there, too. In an 82-65 victory over Righetti last week, Nelson had 45 points, 13 rebounds, and five assists while playing lock-down defense.
Hantgin said, "I'm going to do the best job I can to help keep the pressure off Roberto. We need to share the load. With this team, I think we can do that." Nelson talked up his teammate Willie Reese-Jordan, a 6ʹ5Ê° senior. "He's going to show everybody he can play."
Nelson scored nine touchdowns as a receiver and defensive back for the Dons football team in the fall. "I like playing both sports," he said. "Football gives me toughness." And he may try his hand at a third sport in the spring. "I've been practicing golf," he said. "It's the hardest sport there is."
He is facing a uniquely tough situation this season. For the first time in his basketball career, he does not have his father Bruce Nelson on the floor with him. The elder Nelson was not rehired as a Santa Barbara assistant coach after he was charged with sexual assault at a rehabilitation center where he worked. He is out on bail awaiting trial. "My dad keeps me out of it," Roberto said.
"It's a difficult time, a scary time, but Roberto is handling it," Hantgin said. "We all have to get used to different roles-Bruce as a parent in the stands, and Roberto and I no longer having him on the bench."
There is a lot of prep basketball action on tap during the holidays, with three big tournaments in town.
SBHS GIRLS' TOC: The star-studded Tournament of Champions, an S.B. fixture since 1979, has featured such players as Lisa Leslie, Marion Jones, Sue Bird, and Diana Taurasi. This year's edition began Wednesday. Thirty teams are on hand, with games starting at 3 p.m. today and going all day Friday and Saturday at the Santa Barbara, San Marcos, and Dos Pueblos gyms. The host Dons are in the high-wire Gold Division. Some of the standout teams are Troy, Perris, Pacific Hills, Del Oro, Santa Monica, Ventura, Palmdale, and Buena, the defending champion. Dos Pueblos is a top contender in the Green Division. The championship games will be Saturday night, December 22, at Santa Barbara's J.R. Richards Gym.
JIM BASHORE HOLIDAY CAGE CLASSIC: Carpinteria High is hosting this boys' tournament, named in memory of a former Warrior coach. The semifinals are at 6:30 p.m. and 8 p.m. today, and the championship game is due to tip off at 6 p.m. on Friday, December 21. One of the outstanding players is Carpinteria's own Jacob Ranger, a 6ʹ5Ê° senior who is averaging 30 points per game. "He is the best player in the history of the school," Warriors coach John Ward declared.
SBHS HOLIDAY CLASSIC: Fans will be able to see the host Dons, San Marcos, Dos Pueblos, and Bishop Diego in action during this post-Christmas tournament. Early-round games will be played at both Santa Barbara High and the renovated San Marcos gym. The Royals will take a nine-game winning streak into the tournament. The 24-team field also includes Clovis West, Pacific Palisades, Corona del Mar, Upland, and defending champion Santa Monica. The finals will take place December 29.