Living
"Stuff the Bus" Event Gathers Christmas Bounty
Politicos, Businesspeople, Volunteers Team Up for Charity
Local politicians, police officers and business people gathered forces Wednesday morning to deliver donated toys to families of low-income housing at Peoples' Self-Help Housing on Ladera Street. Beginning their journey at the Metropolitan Transit District (MTD) headquarters on Olive St., a convoy of police vehicles, a decorated MTD bus and a shuttle filled with community members traveled up State St., making stops at businesses that teamed up with Peoples' Self-Help Housing to lend their support to the "Stuff the Bus" charitable cause.
At Payless ShoeSource, the first stop, Santa Claus and Mayor Marty Blum warmly greeted families and children who were donated new shoes. According to Payless district manager James Redd, Payless donated over $500 in new shoes and gift certificates. Smiling, the families joined Santa Claus on the bus and the motorcade proceeded to Starbucks on the corner of Victoria St. where former mayor of Carpinteria Dick Weinberg and State Assemblymember Pedro Nava – as wekk as several Starbucks, MTD and Peoples' Self-Help Housing employees – volunteered to carry an abundance of bags and boxes filled to the brim with donated gifts to the MTD bus.
"I heard it was happening and I was glad to join. It's such a great thing for the kids," said Blum, who appeared eager to help carry several bags of donated toys. The convoy collected volunteer employees from Starbucks and continued on its path up State St., stopping at Community West Bank on the corner of Arrellaga St., where City Councilmember Helene Schneider made a cameo appearance, assisting the growing number of volunteers who collected more bags and boxes from the bank.
"If every person just bought one extra toy to donate [they] can make such a wonderful difference in a kid's life," said assembly member Nava, adding he felt it was important for police officers to become involved in such events to help create a more integral community. "We're really going to put some sparkle in these kids' Christmas."
Families at the Peoples' Self-Help Housing center on Ladera St. greeted the motorcade as it arrived filled with holiday gifts. Executive director of Peoples' Self-Help Housing Jeanette Duncan spoke to the participants, extending her thanks to all who gave support, listing the shops and business who donated space for gift drop-off boxes. County Supervisors Salud Carbajal and Janet Wolf initiated gift-wrapping, followed by Blum and volunteers from Starbucks.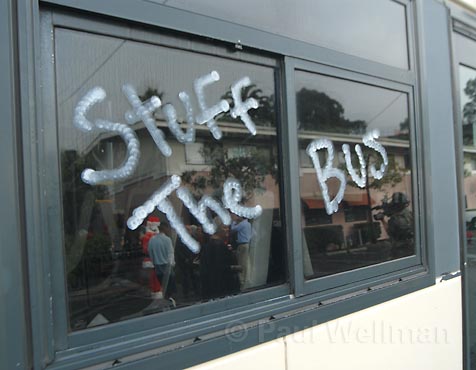 The wrapped gifts will be sorted and donated to over three hundred low-income families housed by Peoples' Self-Help Housing throughout Santa Barbara County on Christmas day. Katie Farbo, program coordinator for Peoples' Self-Help Housing, said thanks to the overwhelming support of volunteers the even cost a surprisingly low $5000, including the $2500 of gift certificates donated to teenagers between ages twelve and eighteen.
A non-profit organization, People's Self-Help Housing has been developing affordable housing for low-income families within the Central Coast community for thirty-seven years. Allied with Metropolitan Transit District, Payless ShoeSource, Starbucks Coffee Company and the Santa Barbara Police Department, this is the third year Peoples' Self-Help Housing has hosted "Stuff the Bus."