Sports
Dos Pueblos' Kiley Neushul Puts Other Water Polo Teams in the Deep End
To the Water Born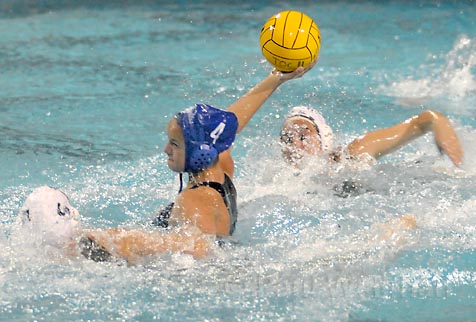 Kiley Neushul was to the water born. Her parents, Peter and Cathy, both played water polo at a high level. She took up the sport at the age of seven and now, at 14, she is a phenomenally accomplished player. At last summer's U.S.A. Water Polo Junior Olympics in San Jose, the Santa Barbara Water Polo Club (SBWPC) had two championship girls teams-the 18-and-younger and 14-and-younger-and Kiley was a standout on both.
Neushul is a freshman at Dos Pueblos High, where she is on the varsity water polo team with several of her club mates. They include sophomore goalie Sami Hill, who was co-MVP of the Junior Olympics 18s with Kelly Easterday (a Santa Barbara High grad who's now at UCLA); and Tiera Schroeder, another sophomore, whose uncle is two-time Olympic medalist Terry Schroeder.
Santa Barbara High coach Mark Walsh thinks the Chargers are a dream team-in a manner of speaking. "They're giving me nightmares," Walsh said.
Walsh is used to seeing his girls at the top of the heap. The Dons have won 11 consecutive Channel League championships and eight of 10 CIF divisional titles, but Dos Pueblos is primed to supplant them. The two rivals meet at 3:15 p.m. today (Thu., Jan. 17) at the Santa Barbara High pool.
Dos Pueblos took over the top ranking in CIF Division II after its stunning triumph last month in the Newport Harbor Tournament-something Santa Barbara has never accomplished-and Chargers coach Danelle Little said this will be a day of reckoning.
"[Mark] Walsh is going to come up with a great game plan," Little said. "He knows our players. The girls are going to be amped up for this one."
As coach of the SBWPC 18s team during the summer, Walsh had Neushul on his side. "She's unbelievable," he said. "She gets the spatial aspect of the game. She's athletic and crafty. I've never seen anything like it. Most of my girls don't start until the ninth grade. Kiley has played more games than all my seniors combined."
The Dons and Chargers were cohosts of the Santa Barbara Tournament of Champions last weekend. Both won three of four games against an array of highly ranked teams from Los Angeles and Orange counties. Dos Pueblos was derailed in its quest for another championship by a 4-1 semifinal loss to Corona del Mar. It was a game that exposed the youthfulness of the Chargers-they panicked a little under pressure. They came back and claimed third place with a 7-5 victory over Foothill, the top-ranked team in Division I. Amanda Redfern, another sophomore star, scored twice, as did senior Angelia Bottiani.
"The key to this team has been our seniors," Little said. "Even the girls who don't get into the water [during games] are needed to get us ready."
It is serendipity that along with this team and its bright future, Dos Pueblos also boasts a premier facility-the Elings Aquatic Center with a brand-new Olympic-sized pool, which is the result of years of fundraising. Santa Barbara's girls will play a return match there on February 5.
NATIONAL CHAMPION: Mark French and the UCSB women's basketball coaching staff should keep an eye on La Colina Junior High eighth grader Jessica Escalante. She wants to play college basketball, and on Sunday she proved to be a clutch performer. In front of a crowd at the RCA Dome in Indianapolis, Escalante won the NFL Punt, Pass, and Kick national championship for girls 12-13 years old. She nailed the last event, a place-kick, to finish far ahead of her competition with an aggregate distance of more than 330 feet. Along with the other winners, Jessica took a bow on national television before the fourth quarter of the Chargers-Colts playoff game.
HOOPLA: UCSB's women "J-Rocked" the house late in their improbable 59-58 overtime basketball victory over Cal State Fullerton last Saturday afternoon. For most of the game, the cold-shooting Gauchos could not hit the broad side of an aircraft carrier. But they came to attention after Fullerton took a 46-36 lead with five minutes remaining. A 3-point basket by Sha'Rae Gibbons ignited a 12-0 surge that put UCSB momentarily on top. The visiting Titans went back ahead 50-48 with half a minute to play. Gaucho center Kat Suderman then sank a short hook shot off the glass to send the game into overtime. That's when senior guard Jessica Wilson, known as J-Rock, took over. She had six rebounds in the extra period and scored on two driving layups to give the Gauchos a 57-53 lead. Suderman's two free throws made it 59-55 with five seconds left, enabling UCSB to survive a long 3-pointer by Fullerton in the last second.
It was the third time the Gauchos rallied from dire circumstances to pull out a victory at the Thunderdome. They erased a 13-point deficit to beat USC in overtime, and they scored nine straight points in the final minute and a half to nip Pepperdine. The trend is thrilling to spectators but alarming to UCSB coach Mark French, who does not believe the magic is automatic. "The basketball gods giveth, and the basketball gods taketh away," French said, warning that if his team continues to be outplayed for the majority of a game, "there will be a time when the ball bounces the other way." The Gaucho women's next three games are on the road, starting with a 4 p.m. showdown Saturday at Cal Poly. Both the Gauchos and Mustangs are 4-0 in the Big West thanks to a schedule that has so far pitted both teams against the lower tier of the conference.
Fans who trek to San Luis Obispo on Saturday will also be able to see the UCSB men's team in action at 7 p.m. against Cal Poly. The Gauchos were revitalized last weekend by an 87-72 victory at Cal State Fullerton, an upper-tier team among Big West men.
Santa Barbara Sports Schedule: January 17-24, 2008
Thursday, January 17
High school girls water polo Dos Pueblos at Santa Barbara, 3:15 p.m.
Friday, January 18
College swimming Cal State Northridge at UCSB, 1 p.m.
High school boys basketball Ventura at Dos Pueblos, 7:30 p.m.; Santa Clara at Carpinteria, 7:30 p.m.
Saturday, January 19
High school boys basketball Inglewood at Santa Barbara, 6:45 p.m.
College men's volleyball Cal State Northridge at UCSB, Robertson Gym, 7 p.m.
Every Monday
Santa Barbara Athletic Round Table press luncheon, Harry's Plaza Cafe, noon
Monday, January 21
High school boys basketball Nordhoff at Carpinteria, 7:30 p.m.
Tuesday, January 22
High school girls water polo Ventura at Dos Pueblos, 3:15 p.m.
High school girls basketball Ventura at Santa Barbara, 7:30 p.m.; Buena at Dos Pueblos, 7:30 p.m.
Wednesday, January 23
High school boys basketball Dos Pueblos at Santa Barbara, 7:30 p.m.; Oak Park at San Marcos, 7:30 p.m.
College basketball SBCC at Ventura College (women, 5:30 p.m.; men, 7:30 p.m.)
Thursday, January 24
College basketball Pacific at UCSB men, 7 p.m.; UCSB women at UC Davis, 7 p.m.; Concordia at Westmont (women, 5:30 p.m.; men, 7:30 p.m.)
High school girls water polo Ventura at Santa Barbara, 3:15 p.m.; Buena at Dos Pueblos, 3:15 p.m.
High school soccer San Marcos at Dos Pueblos boys, 5 p.m.; Dos Pueblos at San Marcos girls, 5 p.m.