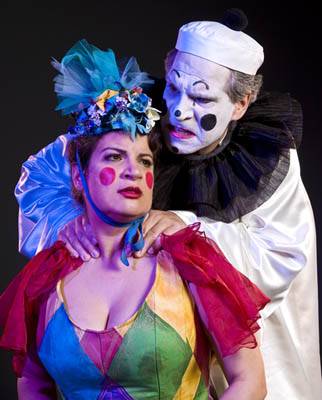 Hearts will break and tears will flow as Opera Santa Barbara opens its Italian Passions Festival next week at the Lobero. From February 23 to March 9, a double bill of Mascagni's Cavalleria Rusticana and Leoncavallo's Pagliacci will alternate with Donizetti's L'Elisir di Amore. Maestro Valery Ryvkin, Opera Santa Barbara's artistic director, will hold the baton for all three productions, which feature beautiful arias, intense feelings, and a remarkably talented cast. "There was a double reason for choosing these operas this year," according to Ryvkin. "First, they are so much fun. The first two-Cavalleria Rusticana and Pagliacci-are everything that opera is: murder, passion, blood, everything! Second, it's a chance for me to work with Allan Glassman, an old friend and a wonderful singer. L'Elisir di Amore is a marvelous companion to the first two. It's in the verismo style, like the others, but it's much lighter, and absolutely comical and charming."
More than ever, the festival has brought together some extraordinarily people. As Ryvkin said, "We have a lot of winners here. It's an exquisite cast, from all over the country, and we've got two excellent stage directors, Linda Brovsky and Vernon Hartman." Among the many stars will be Barbara Divis, soprano, who will reprise the role of Nedda in Pagliacci that she performed with Opera Santa Barbara in 1999, and Malcolm Mackenzie, baritone, who will perform double duty as Alfio in Cavalleria Rusticana and Tonio in Pagliacci. For every favorite singer returning to Opera Santa Barbara, there's a new talent making a thrilling debut.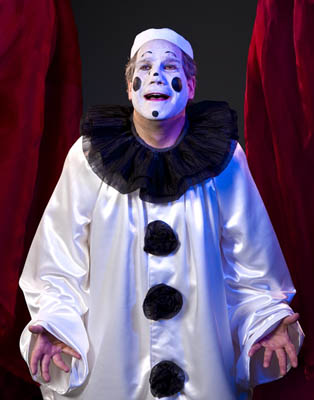 Mackenzie isn't the only trouper performing two operas in one night. In a feat of artistic skill and endurance, Alan Glassman will sing the lead tenor roles in both Cavalleria Rusticana and Pagliacci. Although the two operas have been paired frequently (Leoncavallo decided to write Pagliacci after being inspired by Cavalleria Rusticana), few tenors attempt both; the roles are both technically challenging and extremely familiar to the audience, so there is no room for error. Placido Domingo, for instance, performed both in one bill only when he was much younger. The pressure of performing a role this famous is tremendous. "Everybody knows 'Vesti la giubba,'" said Glassman, referring to the famous aria in Pagliacci, when Canio, the clown, sings of the agony he feels underneath his comical exterior. "Of course, it was a signature role for both Caruso and Domingo, and that makes it challenging."
The two operas of the double bill-often called "the Cav and the Pag"-bring the audience into a society in miniature. Cavalleria Rusticana, as the name implies, takes us into a rustic world, where sentiment runs high and money runs low, and chivalry (the "Cavalleria" of the title) has a curious meaning, considering the hero's poor behavior. Turiddu is nearly the opposite of chivalrous as the opera begins, but later on, his sense of honor puts him in a hopeless fight. Pietro Mascagni, its composer, understood both high and low society (he and Puccini shared a room as poor students), and knew that country life, too, has a code of honor. Along with Glassman as Turiddu and Mackenzie as Alfio, the Opera Santa Barbara production will feature Layna Chianakas as the forsaken Santuzza, Victoria Hart as her confidant, Mamma Lucia, and Tihana Herceg as the temptress Lola. With this cast, the beauty of the music will rival the power of the drama.
In Pagliacci, composer Ruggero Leoncavallo invites us backstage to see the world of the commedia dell'arte, the traditional Italian comedy of stock characters and situations. Opera Santa Barbara's production sets the opera in a time a little closer to the present than the original version-moving it from the 1860s to the late 1940s-but the tension between the realistic backstage drama of revenge and the artificial buffoonery of the comedy remains. In the opera's shocking climax, the actors start having an actual fight in front of an audience that thinks they're just clowning, then realizes in horror that they are not. With Glassman as Canio, the betrayed clown, Divis as Nedda, his faithless wife, Daniel Narducci as Silvio, her lover, and Malcom Mackenzie as Tonio, the instigator of all this plotting, the Opera Santa Barbara production will surely produce fireworks.
If you prefer an actual comedy to a comedy-within-a-tragedy, Gaetano Donizetti's L'Elisir d'Amore, played on alternate nights, will certainly fit the bill. Robert McPherson will perform as Nemorino, a handsome and gullible villager from a village in Campagnia, near Naples. The opera takes place in the 1860s, when Garibaldi united Italy and its people gained a renewed nationalist interest in peasant life and traditional Italian art forms. Nicolai Janitzky will play Sgt. Belcore, a recruiter for Garibaldi's army and Nemorino's rival for the love of Adina, who has promised to marry Belcore merely to make Nemorino jealous. Fortunately for the lovers-and for lovers of comedy-Dr. Dulcamara, a huckster played by Michael Wanko, arrives on the scene with a love potion that Nemorino believes will make him irresistible. The potion doesn't really work, but coincidence, good humor, and true love win out in the end.
Although the performances are certainly the main events in the festival, Opera Santa Barbara has a number of fascinating and enjoyable occasions planned around them. On Tuesday, February 26, and Tuesday, March 4, you can dine to music as the casts will perform highlights from the operas at Tre Lune in Montecito-reservations strongly suggested. At 10 a.m. on Saturday, March 1, and Saturday, March 8, you can have a backstage tour of the sets, costumes, and staging at the Lobero. At noon on Wednesday, February 27, and Wednesday, March 5, the singers will present free concerts in Victoria Hall Theater as part of the Brown Bag Bravissimo series. More events, including Italian films, wine tasting, cooking lessons, and masterclasses, are planned. Opera Santa Barbara has truly become a festival-let the celebration begin!
4•1•1
Opera Santa Barbara presents Mascagni's Cavalleria Rusticana and Leoncavallo's Pagliacci (double bill) Saturday, February 23; Friday, February 29; and Saturday, March 8, at 7:30 p.m.; and on Sunday, March 2, at 2:30 p.m. Performances of Donizetti's L'Elisir d'Amore are on Saturday, March 1, and Friday, March 7, at 7:30 p.m.; and on Sunday, March 9, at 2:30 p.m. All performances are at the Lobero Theatre (33 E. Canon Perdido St.). Call 963-0761 or visit lobero.com or operasb.com.