Sports
Rincon Classic Turns 25
The Queen's Birthday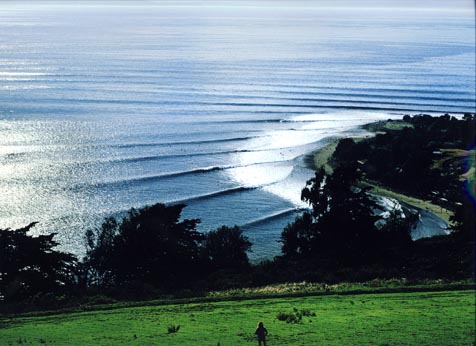 Thus far, the 2007-08 surf season has been a damn fine experience for Santa Barbara County wave riders, with storms rolling down the Channel with surprising consistency, lighting up our beloved point breaks, fanning liquid stoke across our rock reef shelves, and breathing life into our semi-secret sand bottom nooks and crannies. With any luck, this procession of well-angled northwest swells will continue this weekend as the crown jewel of 805 surfing, that majestic rock-strewn Queen of the Coast that juts out perfectly into the Pacific at the end of Bates Road, plays host to the 25th annual Rincon Classic.
Members of our local surfing tribe-male, female, big, small, old, and young-will descend upon the world-famous right-hander for two days of surfing action, competing for not only some $30,000 in cash and prizes but also, and perhaps most importantly, a year's worth of bragging rights in what has become one of the most rootsy, feel-good, and revered surf contests in the entire state.
When the starting horn blows just past 7 a.m. on Saturday morning and the Boys Division hits the water for the first heat of the event, a tradition born nearly four decades ago by Tri-County surfers will be carried on. In the early 1970s, the Surf-n-Wear crew (the Santa Barbara surf shop institution that has since become the Beach House at the bottom of State Street) started an annual series of competitions held at Hendry's Beach in S.B., Hammonds in Montecito, and the Rincon down Carpinteria way. As time went on, this now legendary string of contests-put on by notable Santa Barbara wave sliders like Roger Nance, Jeff White, and Bruce Fowler-was boiled down to a once-a-year Rincon-based showdown known the county over simply as "The Classic." For 17 straight years, the contest went off in conditions of all types, allowing for some of the South Coast's most successful competitive surfers, such as Tom Curren, Davey Smith, and Chris Brown, to cut their teeth and make their mark at home before going on to both national and international stages.
The Classic was derailed in 1995; after all, running a full-scale surf contest is both a relatively thankless and financially draining endeavor. But sometimes in life you've got to go away to come back, and that is exactly what happened in 2001 when Chris Keet, S.B. native and owner of Surf Happens Surf School, resurrected the contest. In a manner perfectly in synch with the Surf-n-Wear contests decades before, Keet had been running the Santa Barbara Surfing Series-a string of area events aimed at younger amateur surfers-since 1987 and, after former Classic organizer Roger Nance gave his blessing, not to mention heaps of advice along the way, the beloved Rincon event rose from the ashes. "When I was a kid, I was afraid of The Classic" recalls Keet. "All my heroes surfed in it, it went down at the premier spot, and it was a real hallmark of the industry. I'm honored to just try and carry on that tradition."
In the years since Keet assumed the helm, the Classic has continued to provide a much-needed forum for up-and-comers, with Bobby Martinez, Killian Garland, Tarik Kashoggi, and Aaron Ernst all showcasing their talents over the years. Perhaps most notable were Garland's victories in both the Pro and Junior divisions of the 2004 edition when double-overhead perfection rolled into the Point.
While this year's event had a false start late last month when it was postponed due to foul weather, the annual celebration/competition promises to deliver the goods this weekend with names like Demi Bollesteri, Decker McCallister, Bo Stanley, Brandon Smith, and Ryan Peterson all looking to earn their place in Santa Barbara surfing history. This year's Classic will not only help raise money for ocean-minded nonprofit Heal the Ocean as well as the Santa Barbara Foresters Hugs for Cubs program, but it is also looking to score major eco karma points by going green. Traditional trophies are being replaced by hand-crafted and functional works of art such as guitars, ukuleles, drums, hand-painted plates, ceramic waves, and solar-carved pieces of driftwood. Also, recycling efforts are being increased two-fold during the event thanks to the earth-friendly advice of GreenProject Consultants; the tree-destroying entry forms of years past have been replaced by online sign ups. The GreenProject crew is even going to stick around for the weekend and host a booth showing off the latest and greatest in eco-sensitive surf products. With his eyes on the forecast charts, Keet checked in earlier this week: "The waves are looking pretty good for Saturday and Sunday, and the weather looks great, too. We're stoked for it."
4•1•1
The Rincon Classic runs 7 a.m.-5 p.m., Saturday, March 8, and Sunday, March 9, with the bulk of the finals taking place during the mid to late afternoon on Sunday. The afterparty and awards ceremony will take place at Santa Barbara Maritime Museum at 6:30 p.m. on Sunday night. For more info, visit surfhappens.com.