Theater
Picasso at the Lapin Agile
At the Rubicon Theatre, Saturday, April 5. Shows through April 27.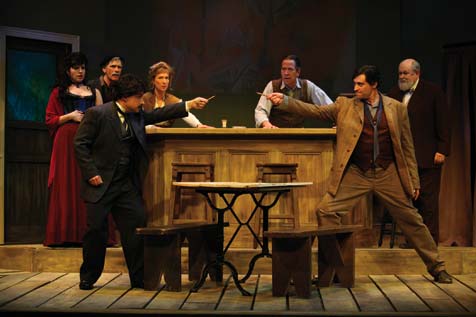 Several of Rubicon Theatre's most beloved regulars are on hand for this production, and their performances, along with that of Paul Provenza as Pablo Picasso, are fabulous. Jamie Torcellini conjures up an endearing and wise-cracking Albert Einstein, Nancy Nufer makes a wonderful Germaine, and Joseph Fuqua steals every scene he's in from the entrance as the forgotten genius Schmendiman. The action all takes place in the Lapin Agile, a decidedly humble Parisian bar circa 1904. Picasso and Einstein are depicted as young men, each equally aware of his genius and obsessed with winning the favors of the opposite sex. As the love interests, both newcomer to the Rubicon stage Amie Farrell and Rubicon stalwart Alyson Schuster have great presence, making the fact that these great men are infatuated with them entirely believable.
The plot, such as it is, develops when Picasso's reputation as a womanizer and Einstein's happy-go-lucky self-assurance collide. There are any number of splendid jokes, as one would expect from author Steve Martin, and lots of opportunities for zaniness and horseplay. At one point the actors face off as though to fight a duel armed only with pencils. Much is made of a drawing that Picasso has given to Farrell's character, and an art dealer who is called upon to judge it declares it very good, but recommends that the woman get it signed if she really wants to ensure its value. Einstein displays his creativity in an opening speech about the likelihood that the woman he is meeting will show up, despite the fact that he is in the wrong bar at the wrong time.
The play began its life as a parlor game involving Steve Martin and Tom Hanks and snowballed from there into a seemingly unstoppable force, winning an Obie on its way to becoming one of the most often-produced short plays of the new century. It's easy to see why when someone with the talent of Paul Provenza takes the Picasso role. He is all intensity and passion, with his physical poses sometimes subtly mimicking the Cubism of his canvases. Yet in the final analysis, there is something lacking in Martin's script. It's clever, and the characters are occasionally interesting in themselves, but by the time Elvis appears, the point has been lost. Whatever these men were up to at the beginning of the 20th century, it had nothing to do with Elvis, and only someone whose perception of genius has been thoroughly neutered by Hollywood could imagine these three looking at the stars together to see who gets top billing.