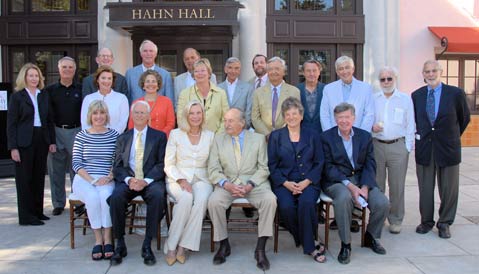 The Music Academy of the West occupies some of the most coveted real estate in the world. Perched high above the ocean on a Montecito bluff it shares with the Four Seasons Biltmore, the Santa Barbara Cemetery, Ty Warner, and a handful of other very lucky homeowners, the Music Academy has taken a structure built in 1972 and known until now as Abravanel Hall and completely redesigned it. The new theater, which is named Hahn Hall after major donor and patron of the arts Stephen Hahn, cost $15.5 million and took just 10 months to complete.
Hahn Hall seats 350 in spectacular fashion, with a raked floor, lots of legroom, and gorgeous rose upholstery with dark wood trim, all beneath an acoustically engineered ceiling of intricate geometric cut-out patterns. In addition to creating this marvelous new room for listening, the Music Academy has also re-imagined and renovated the approach to the building, which has a handsome new fa§ade and a substantial increase in the number of parking spaces, which now total 290.
At Tuesday's ribbon-cutting, the mood was upbeat as Music Academy president NancyBell Coe and board chairman James E. Davidson addressed the assembled crowd of patrons and well-wishers. Among the additional beneficiaries of this new space will be Camerata Pacifica and UCSB Arts and Lectures. Both organizations will be presenting chamber music series in Hahn Hall in the 2008-2009 season. Camerata Pacifica's Adrian Spence was present to thank and congratulate his friend Stephen Hahn and to get a look at the elegant new home for his highly regarded group. Another off-season tenant for Hahn Hall was announced by the Music Academy just last week-the Metropolitan Opera's live broadcasts in HD, which will be shown there beginning September 22 with a gala performance featuring Renee Fleming in La Traviata. These broadcasts, which are ordinarily made available through movie theaters, will be spectacular in the plush luxury and acoustic brilliance of Hahn Hall.
The opening of Hahn Hall was celebrated with a private gala for Music Academy patrons last Saturday. Already, the hall has seen its first public performance-a piano master class with veteran Music Academy faculty member Jerome Lowenthal on Monday-and the introduction of the 2008 Voice and Vocal Piano Fellows on Wednesday, featuring Warren Jones and Marilyn Horne.
The season's first picnic concert is sure to be exciting. That takes place in Hahn Hall at 7:30 p.m. on Thursday, July 3, and will feature an array of compositions for soloists and ensembles drawn from Music Academy fellows.