Arts & Entertainment
Dandy Warhols Release New Album on Their Own Terms
Bandmates Peter Holmstrm and Courtney Taylor-Taylor Weigh In On Earth to the Dandy Warhols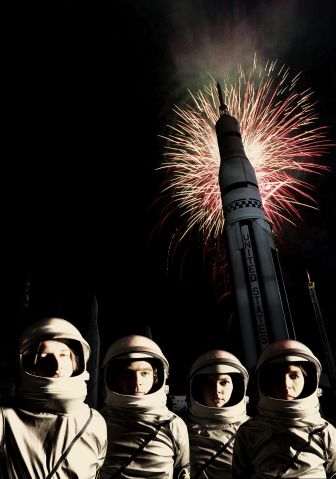 It's true the Dandy Warhols haven't played Santa Barbara since 1997. "We opened for [The Brian Jonestown Massacre], and it may have actually been in Isla Vista," recalled Peter Holmstrm, guitarist for The Dandy Warhols. "It was right around when our third record, Come Down, came out and [it] was the first stop on our tour." A lot has changed since then. In 1997 the careers The Dandy Warhols hoped to one-day reach were dreams yet to be realized. Eleven years later, with the release of Earth to the Dandy Warhols, released on their very own label, the band's success is undeniable.
Against their previous work, Earth to: is somewhat striking and stands out as what could easily be considered their most versatile and inspired effort to date. Yet the album embodies creative evolution without ever vacillating from the Dandy's signature, heavily distorted, and experimental rock-revival sound. Their fourth release, Thirteen Tales from Urban Bohemia, almost always seems to be present, and throughout the 13-tracks listeners get glimpses of the Beatles (circa the White Album), the Rolling Stones (think 1979's "Miss You"), Jimi Hendrix, and occasionally the Beach Boys, if only for split seconds.
"It's always exciting to see how a new album will be perceived," Holmstrm explained. "We spend years making a record. How will people see it? What will they get out of it? Interpretation is pretty cool."
Regarding the concept behind Earth to the Dandy Warhols, lead singer Courtney Taylor-Taylor explained, "There are usually a few concepts floating around when we make a record, but at the end of the day we're there with one song at a time and only our gut instincts to guide us. I think it was Michelangelo who said he gets a chunk of marble and he starts chiseling away till he finds the statue. That's how it is for me on a good day – on the best day – just trying to get the muck out of the way of the music."
"This record is a strange one," Holmstrm continued. "It was supposed to be our last with Capitol [Records] and didn't end up being on it. We didn't plan on it being a fresh start." The band's long battle with Capitol ended without a war when management changed hands at the label and the band was lifted of their contractual agreement. "Amazing," Taylor proclaimed of the circumstances. "No fight, no bad feelings, just 'Ok bye.' Then I went on vacation for two months in Europe – my first vacation ever. The dark cloud had lifted."
With the rain gone and a clearer vision of the band's future on the horizon, the new record came into view in a way that only a band with the luxury of success could have afforded – a self-produced album over which they had entire creative control.
"We work with people we can work with," Holmstrm revealed. "And [we] have creative control over everything. All our videos are shot at The Odditorium. We brought movie directors there. It's nice to help edit during rough cuts so that it turns out as good as we can possibly make it, and we're as happy as we can possibly be. We've definitely earned it."
The Odditorium is a recording studio, concert venue, and video soundstage all in one. It resides in Portland, Oregon and is collectively owned by the band. But more importantly, The Odditorium is The Dandy Warhols' version of Andy Warhols' Factory; a place where artists come together and aren't judged, but instead are encouraged and inspired to create. It's hard to believe that whole thing started simply as a way to meet people.
"That's one of Taylor's famous quotes," Holmstrm laughed. "We wanted to meet people with similar music taste to go drinking with." But once the duo got going (they were joined later by keyboardist and percussionist Zia McCabe and, much further down the road, Taylor's cousin Brent DeBoer on drums) the perspective shifted quite a bit. "Most people aren't interested in exploring new sounds and only like what's given to them," Holmstrm confided. "I'm not satisfied."
Having seen such prosperity in the past 11 years, including touring with David Bowie and opening for The Rolling Stones, the "pinch me idea" behind Earth to Dandy Warhols seems appropriate. "I don't recall when the album title came about, but it summed up where we were and our relationship to the world:" Taylor explained.
"Some of these songs had titles and were kicking around since the beginning," Holmstrm noted. "But they weren't finished and got re-worked."
Taylor, the prime songwriter of the band, elaborated on this point: "Almost half the songs were started before the last record. A couple were even demo recorded with Massive Attack several years ago. Coincidentally, some of them are about a great gal I used to date who moved to Santa Barbara," he recalled. "Although I don't think any of those made it to this record: All of our records have songs which were started long before. I'm not a 'sit down and write a song guy.' I'm a 'live life with an open mind and songs will come' type guy."