Sports
SBHS Basketball Star Commits to Oregon State
Roberto Nelson did not figure to want to play basketball for a team that lost 21 straight games last season until he met Craig Robinson.
"I love him," Nelson said of Robinson, hired last April to coach the Oregon State Beavers. "He's a great guy."
Nelson, a 6'3″ senior guard at Santa Barbara High, made a verbal commitment Tuesday to play for Robinson next year. He said it's got nothing to do with Robinson's brother-in-law, presidential candidate Barack Obama. "I can't vote yet," said Nelson, who won't turn 18 until March.
Nelson reportedly had offers from UCLA, Florida, Ohio State, USC, and Tennessee, but he said, "It's a safer bet that I'll get playing time at Oregon State. I want to be the guy."
Ranked in the nation's top 50 by most recruiting services, Nelson confirmed his intentions Tuesday after Robinson visited Santa Barbara High. "He came to my classes and football practice," Nelson said. "He showed a lot of support coming out here."
Nelson is a two-sport star for the Dons, who open their football season Friday night at home against Oxnard. He is a wide receiver, safety, and backup quarterback for the football team. But his future lies in basketball.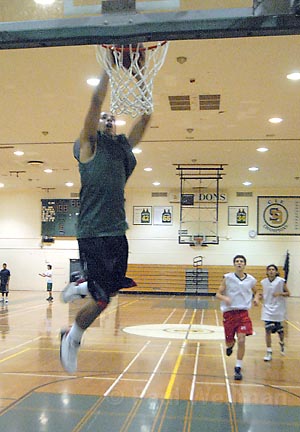 Mark Massari, who is taking over as UCSB's new director of athletics this month, was indirectly involved in Nelson's recruitment. As a senior associate athletics director at Oregon State for six years, Massari was responsible for fundraising to upgrade the school's athletic facilities, and he took part in the hiring process that brought Robinson, the brother of Michele Obama, from Brown University in Rhode Island to Corvallis, Oregon.
Jay John was fired as coach of the Beavers last season as they staggered to a 6-25 record, 0-18 in the Pac-10.
Nelson's commitment will not be binding until national letter-of-intent signing day in November.