Best Of
Burgers to Bistro
Best of 2008
Pizza
Pizza Delivery
Rusty's Pizza Parlor Eight locations, 564-1111
Rusty's began its business in the heart of Isla Vista during the year of rebellion, 1969. Since then, though, the pizza place has moved out into the mainstream locales of the city; in fact, there are eight locations stretching from the Kmart shopping center south to Carpinteria. Rusty's claims a lot more than community saturation with great pizza delivered hot and fast, noting its educational outreach programs and the numerous jobs it offers our fellow townspeople. The feature that gets less attention are those big rooms downtown and by the beach that Rusty's will let you use for free for everything from kid's birthdays to reunion meetings of former I.V. firebrands after softball games.
FINALISTS
Pizza: Giovanni's
Pizza Delivery: Pizza Mizza
New Restaurant
Matador Restaurant 714 State St., 965-1307
"We've only been open since April; that's why this is such an honor for us," said owner Joanie Vazquez, who credits the success of Matador on the freshness of its concept. "It's a tapas place and a Latin steakhouse. We encourage sharing with the tapas so it has a fun ambiance, too. At least that's what people are telling me," she said. And they're backing it up with their Best Of ballots as well.
FINALIST
Fresco Cafe North
Carpinteria Restaurant
The Palms 701 Linden Ave., Carpinteria, 684-3811
For more than 50 years, this grill-your-own place has been a big hit in little Carpinteria, as well as the perennial choice of our readers. Meals begin at a mere $9.95 for teriyaki chicken but only go up to about $19.95 for filet mignon. That's about half what it costs in Montecito steakhouses. And even though you probably won't see Carol Burnett at The Palms, you will eat well and that's a rare treat at these prices.
FINALIST
Zookers
Isla Vista Restaurant
Freebirds World Burrito 879 Embarcadero del Norte, Isla Vista, 968-0123
"If you had told me when I was a senior eating lunch at Baba's Falafel that for the next 21 years I would be making my living selling burritos in that same spot, I would have said you are crazy," laughed Mark Orfalea, whose cousin started a little business called Kinko's right across the street. But it's the kids in I.V. lining up at 2 or 3 in the morning who are really crazy for Orfalea's wares. "We've been very fortunate, and it's the community I have to thank. No, I didn't start a business called Freebirds and make it into this thing-we started it."
FINALIST
Woodstock's Pizza
Goleta Restaurant
Beachside Bar-Cafe 5905 Sandspit Rd., Goleta, 964-7881
"It's awesome to win," claimed Erik Triple, who manages the 23-year-old sunny pierside Goleta eatery that serves mostly seafood to its mainly local customers. "Longevity is our secret, and I say that because nearly all of our business is repeat customers. We try to keep them happy, and I guess it's working," Triple said.
FINALIST
Natural Cafe
Montecito Restaurant
Montecito Cafe 1295 Coast Village Rd., 969-3392
When you consider the competition, Montecito Cafe's long reign as readers' favorite becomes even more impressive. From the Plow & Angel atop San Ysidro Lane to the much-improved Biltmore kitchen perched over Butterfly Beach, the restaurant's tiny and rather humbly conceived little spot in the Montecito Inn stands like veritable David with a slingshot bearing terrific chicken breasts, rich buttery sauces, a very nice steak festooned with mildly hot peppers, and a (who knew?) fanatically worshipped coconut cake against the best-trained and gaudiest-resumed chefs in the county. Good on them, we say. It's a little nicer than comfort and a lot cheaper than most of the other frequented spots in this upscale suburb. It just goes to prove, to paraphrase The Simpsons, nobody ever got wealthy picking up big checks.
FINALIST
Lucky's
Appetizers
Stellar Service
Palace Grill 8 E. Cota St., 963-5000
This slice of Louisiana-style cuisine has ruled the celebration dinner circuit in town since Reagan was in the White House and Wham! were considered New Music. Chief among the appetizers-washed down, no doubt, with Cajun martinis-are the popcorn shrimp with flavorful sauces and the Chicken Tchoupitoulas-as tasty as they are hard to pronounce. The Palace implements a team-waiter system so you are never far from a desire gratified. Celebrations that come here continue 'til closing time.
FINALISTS
Appetizers: Milk & Honey
Stellar Service: Opal Restaurant & Bar
Sunday Brunch
Buffet
Hotel Bar
Four Seasons Biltmore Hotel1260 Channel Dr., 969-2261
In many ways, it's the crown of creation around here: It would be the first place you would consider for a serious anniversary dinner, a big birthday, or where to take a meeting with some preternaturally rich possible financier. The atmosphere is quintessential Southern California-the sunset behind palm trees seems somehow more promising here. The food has improved vastly from an already-fine base and the bar staff glide in an out of the room with libations as if they stepped out of a P.G. Wodehouse novella. Never forgotten by the readers, the Biltmore lives on as a legend even, the promise of democracy wrapped in the somber grace of success.
FINALISTS
Sunday Brunch: El Paseo Restaurant
Buffet: Flavor of India
Hotel Bar: Canary Hotel
Cheap Eats
Restaurant for Eating Alone
Veggie Burger
Natural Cafe 5892 Hollister Ave., Goleta, 692-2363; 508 State St., 962-9494; 361 Hitchcock Wy., 563-1163
Places like this used to dot the avenues here from Isla Vista's Sun & Earth down to hippie Montecito's health food rice 'n' veggie joints. But that was 30 years ago, and, to tell the truth, a lot of those places were nowhere as good as the three Natural Cafes that now draw crowds nearly every afternoon and night. Prices are very reasonable-though not as cheap as a fast food outlet-and the low-hassle order at the counter service cuts out a lot of unnecessary, "Hi, my name is Keith and I'll be your waiter tonight," kind of fuss. It's informal, nutritious, and surprisingly tasty considering it's all healthy and stuff.
FINALISTS
Cheap Eats: Taco Bell
Restaurant for Eating Alone: Sojourner Cafe
Veggie Burger: Sojourner Cafe
Sidewalk Cafe/Patio
Paradise Cafe 702 Anacapa St., 962-4416
"I think that most Indy readers tend to be longtime Santa Barbarans," opined Paradise Cafe owner Randy Rowse, who's been at the helm there since 1983. "And most longtime Santa Barbarans know about the Paradise. It's not that we don't like tourists, but our customer profile is mostly locals and it's just a place where locals hang out."
FINALIST
Natural Cafe
Chinese Restaurant
Take-Out Chinese
China Pavilion 1202 Chapala St., 560-6028; 1070 Coast Village Rd., Montecito, 565-9380; 415 N. Milpas St., 966-1088
Peter Chen's spreading dynasty has taken the city by storm these last few years, and S.B. has a number of good Chinese restaurants, finally. China Pavilion's chefs' off-menu cuisine is stunningly delicious, especially with genius interpretations of seafood like lobster and scallops. But the beef stew is a revelation as well, particularly when combined with Shanghai dishes like mashed fava beans. The regular menu continues to please lunch and dinner crowds downtown and in Montecito; and there's the brand new buffet on Milpas Street (same owner, slightly different menu), with sharply flavored versions of old favorites from kung pao chicken to spicy basil beef. So, gourmet or chowhound, in the restaurant or home in front of the big screen, China Pavilion is the auspicious choice.
FINALISTS
Chinese Restaurant: Mandarin Palace
Take-Out Chinese: Panda Express
Seafood Restaurant
Restaurant with a View
Clam Chowder
Bloody Mary
Brophy Bros. Restaurant & Clam Bar 119 Harbor Wy. (breakwater), 966-4418
This is one of the few ocean-view eateries in our fine town that isn't either too pricey or too touristy. Brophy Bros. rules the roost as a place where fresh fish actually make contact with those who purvey them to customers. They serve fresh, high-quality stuff, from shucked clams to catch of the day filets grilled in the busy kitchen. It can be a bit rowdy-though not dangerous-and the spicy, potent Bloody Marys add to that sense of reckless abandon. But the view is magnificent, the staff is friendly, and the fish and the clam chowder in a bowl will make you happy to live seaside.
FINALISTS
Seafood Restaurant: Enterprise Fish Co.
Restaurant with a View: Beachside Bar-Cafe
Clam Chowder: Enterprise Fish Co.
Bloody Mary: Tupelo Junction Cafe
Tapas Bar
Milk & Honey 30 W. Anapamu St., 275-4232
The very idea of this place is the drop in, the spontaneous nosh, and, above all, the movable feast. In the hub of Santa Barbara's new dining center of the universe, which is Anapumu near Chapala, Milk & Honey gets its rave reviews for coconut mojitos, quesadillas with apples and gruyere, and lots of interesting stuff stuffed with chorizo. A festive place where parties begin, end, or just continue, Milk & Honey has been voted best twice in the two years they've been open.
FINALIST
Cafe Buenos Aires
French Restaurant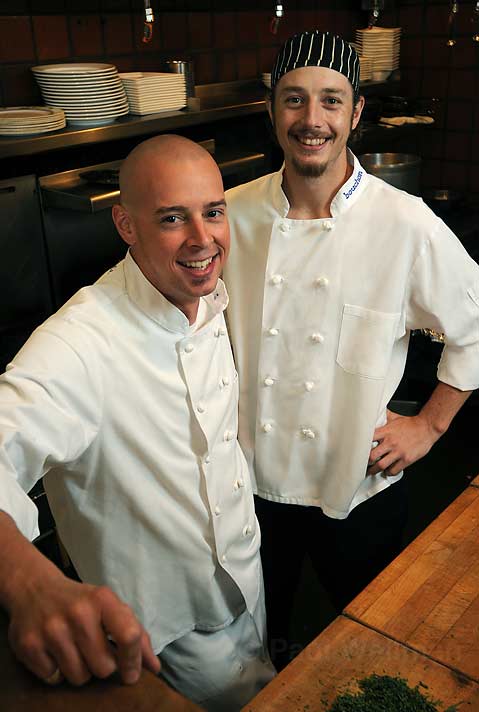 bouchon 9 W. Victoria St., 730-1160
More impressive because, strictly speaking, this isn't a French restaurant. "We're happy to win anyways," laughed Jennifer Brodt. Even though there are numerous French dishes, from escargot to crme br»lee, the place fancies itself a prime exemplar of California-French or wine country cuisine. "A lot of the food we serve pairs well with the popular varietals grown near here," explained Brodt. "But we're happy that the public recognizes what Mitchell Sjerven, the owner, has done, like all of us who work here do-and that's dedication, great attitude, and passion about great food," she said.
FINALIST
Mimosa Restuarant
Italian Restaurant
Ca' Dario 37 E. Victoria St., 884-9319
"I've never been there," confessed Ca' Dario manager Chauncey Kim, "but most of the people who have been say that our food tastes just like food you would get in Italy." Ca' Dario's owner Dario Furlati leans toward family-style Northern Italian cuisine, according to Kim, who is happy the restaurant was picked. "It's nice to know that we're not just crowded, but that customers think enough of us to vote us the best," said Kim.
FINALIST
Pascucci
Indian Restaurant
Flavor of India 3026 State St., 682-6561
For 15 years, Flavor of India has kept its doors open on upper State Street serving a popular lunch buffet and full menu to a packed house all day long. The Goshen family explore cooking from all over India and specialize in real tandoori cooking with a charcoal-fired stove, and a loyal customer base willing to trek up State Street for a rich tradition of satisfying subcontinent cravings.
FINALIST
The Taj Cafe
Japanese Restaurant
Sushi Restaurant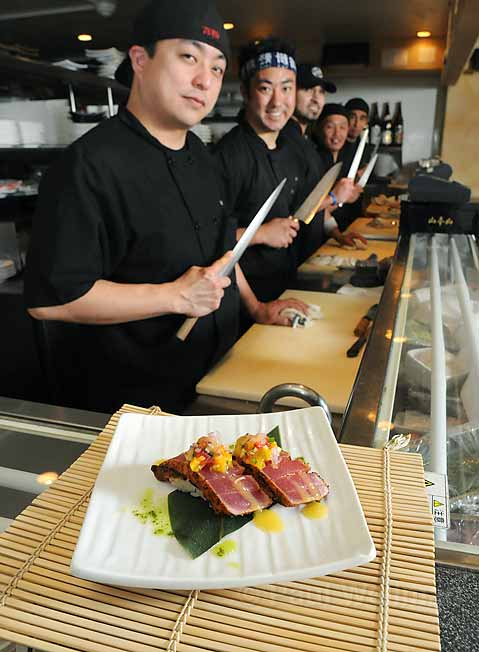 Arigato Sushi 1225 State St., 965-6074
The famed Fodor's guide gets it pretty right: "You have to wait sometimes 45 minutes for this trendy, two-story restaurant and sushi bar-locals start lineup early for the casual atmosphere and wildly creative combination rolls." The only problem with Fodor's analysis, of course, is that it's hard to call something trendy when it's been a citywide rage for more than 15 years. People used to line up in the early 1990s when the place was small, and now they bulge out onto State Street. It's not just a scenester's delight, though-the quality is consistently high and the challenge to your taste buds provided by the often unexpected menu combination makes every trip to Arigato an Adventureland ticket, very worth the wait.
FINALIST
Sushi Teri
Mexican Restaurant
Salsa
Take-Out Mexican
Los Arroyos Mexican Restaurant 14 W. Figueroa St., 962-5541; 1280 Coast Village Rd., Montecito, 969-9059
Grateful and honored to win again, the Arroyo family, in nine short years, has managed to put a pretty big stamp on the one genre of food this city need not feel self conscious about. There are great Mexican chefs working in Italian restaurants in this town. However, Los Arroyos manages to ensnare customer loyalty with its obsession with freshness born in the kitchen that constantly produces from-scratch sauces, salsas, and all the other ingredients-from pork shoulder to hominy-that define the kind of cooking a lot of us, whether gringa or Mexicana, seek out for comfort and muy picante joys.
FINALISTS
Mexican Restaurant: Rose Cafe
Salsa: Rose Cafe
Take-Out Mexican: Ruby's Cafe & Spirits Lounge
Steakhouse
Holdren's 512 State St., 965-3363
This is another style of restaurant that has plenty of great competition-from funky-delicious, reasonably priced joints to swank-set watering holes that just happen to serve outrageously high-end, aged-to-perfection steaks. Holdren's, it must be admitted, is in the precise middle of this range. It's a family-owned business in possession of the old site of Joe's Restaurant (see Stiffest Drinks), which gives it a wonderful undertaste of nostalgia for anybody older than 40 wandering around for a great meal downtown. Great steaks, Kobe burgers, a selection of exquisite sauces, and an earned atmosphere of solid Santa Barbara values: good food at a well-tempered price.
FINALIST
Chuck's of Hawai'i
Restaurant for Dessert
Caesar Salad
Caterer
Fresco Cafe 3987-B State St., 967-6037
"Lots of places have great Caesar salads," said Jesse Brouillard, co-owner of Fresco's, who bought the business from his parents and has been running it since 2006. (His parents started the biz in 1995.) "But we're particularly proud to win for our desserts, because that's such a big thing around here." Carrot cakes, cupcakes (trendy as hell, Brouillard admits), and the all-time favorite-a flourless chocolate cake-are all made on the premises fresh each day. With everything from salads to red velvet cakes, it's no wonder people like their catering, too.
FINALISTS
Restaurant for Dessert: Sojourner Cafe
Caesar Salad: Pascucci
Caterer: Country Meat Market
Thai Restaurant
Your Place Thai Restaurant 22-A N. Milpas St., 966-5151
With the widespread proliferation of Thai cuisine in this town, you might think that Your Place occasionally would be bumped from first place in our readers' poll. Never yet, however. This cozy little lower Milpas Street eatery was the first Thai restaurant to open in town more than two decades ago and it has been the undisputed Best Of champion ever since. Casually fine with a hopping, lively atmosphere, Your Place has become as familiar to the town as its name implies.
FINALIST
Zen Yai Thai Cuisine
Restaurant to Be Seen In
Lucky's 1279 Coast Village Rd., Montecito, 565-7540
Carol Burnett, T.C. Boyle, Joe Cocker, Joe Walsh, Oprah Winfrey, John Cleese, and Ivan Reitman. Sure you can see many of these people-regular customers when in town-many nights at this posh steak eatery. But wait'll they get a look at you.
FINALIST
Elements Restaurant & Bar
Barbecue
Woody's Barbecue 5112 Hollister Ave., 967-3775
In the epicenter of two minor urban areas-Santa Barbara and Goleta-Woody's has long held forth as the place where major wood-smoke carnivorous consumption has survived-no, prospered-during onslaughts, food fads, and vegan preachin'. As well known for their hamburgers as the major hunks of sauce-smeared ribs, Woody's is frequently employed as a place where triumphant sports teams celebrate and late-night diners go to refuel after town carousals. There has been competition, including major chains, but Woody's has been the one since long ago when Ronald Reagan's Secret Service guys dubbed it a 12-napkin masterpiece.
FINALIST
Santa Barbara Chicken Ranch
Deli
Sandwiches
South Coast Deli 1436 Chapala St., 560-9800; 185 S. Patterson Ave., Goleta, 967-8226
"Cool," said manager Erynn Henson, and then thought better about it. "Whoo-hoo," she added. Henson believes that this longtime sandwichery owes its fame to two attributes: "We're fresh and we're delicious," she said. "Our most successful sandwich is the South Coast Turkey but our paninis are topnotch, too."
FINALISTS
Deli: Cantwell's Market
Sandwiches: Panino
Hot Dog
Costco 7095 Marketplace Dr., Goleta, 685-3199
Costco hot dogs are perhaps the best value for insta-nutrition in this whole health-crazy town. Admittedly the Hebrew National wiener on a bun is neither haut cuisine nor what some pundits might describe as "good for you," but what do doctors and nutritionists know, much less people who torture geese until their livers swell. This is a $2 meal that satisfies a Saturday big-box shopping afternoon depletion of both calories and cash. And you don't even have to join the club to put mustard on their dog.
FINALIST
Lettuce B. Frank
Burger
The Habit 5735 Hollister Ave., Goleta, 964-0366; 216 S. Milpas St., 962-7472; 628 State St., 892-5400; 3890 La Cumbre Plaza Ln., 687-5200
This might be fast food, but it's really not the most convenient burger in any neighborhood. There's a shop in Goleta-the first one-and another in a small, busy parking lot on Milpas Street, another right by the Metro Theatre way downtown, and the newest store in the corner of La Cumbre Plaza. Let's face it: to satisfy a Habit habit, you must travel and brave numerous fellow habitues. But it's clearly worth it; combos are priced just over $5, and the habituated readers have picked as the best the Habit-brand charbroiled hamburger consistently for the last decade.
FINALIST
In-N-Out
Burrito
Super Cuca's Taqueria 2030 Cliff Dr., 966-3863; 626 W. Micheltorena St., 962-4028; 6547 Trigo Rd., Isla Vista, 961-0020
The term "belly bomb" is not essentially offensive unless pronounced in a derisive fashion. Hardly anybody would level such a crass tone of voice against Super Cuca's burritos even though by sheer measured megatonage of size and content, they should be considered the culinary equivalent of ballistic missiles. They are large with a near-infinite variety of filling and sometimes combustible material: beans, rice, cilantro, cheese, onions, chili verde, carnitas, marinated chicken, and steak. Delicious, explosive deals priced well below the national defense budget.
FINALIST
Freebirds World Burrito
Breakfast
Cajun Kitchen Five locations
America invented jazz, cartoons, rock 'n' roll, and perfected the full English breakfast consisting of eggs, smoked meat, potatoes, and toast. Even better, say some, is the Southern variation, which replaces potatoes with grits and smothers all in red eye gravy. All of the above (except cartoons and music) can be had at Cajun Kitchen with a number of other accessories like andouille sausage, chili verde omelets, cereal, French toast, and fruit. These are just a few reasons the readers pick Cajun Kitchen year after year as the best reason to say "good morning" to America.
FINALIST
Sambo's
Late-Night Eats
In-N-Out Burger 4865 Calle Real, Goleta, (800) 786-1000
This is an obviously great spot to eat late at night because it's open, fast, and delicious. Furthermore, the denizens of the infamous Southwest-only hamburger franchise are usually in a state of relaxed inhibitions quite suitable to the show-offy habit of ordering the well-known secret burger options, such as 2X4, animal style, Flying Dutchman, or the almost completely bizarre "protein-style" burger. It is not our place to judge you for not ordering off the menu at a fast-food store. We just want you to remember that the munchies own you until you do something about them, and readers insist this is a good place to purge such urges.
FINALIST
Edomasa
Pasta
Pascucci 729 State St., 963-8123
Numerous Italian places have more authenticity; Pascucci has flair. Not little buttons on the wait staff aprons but a penchant for rich flavor. Most of the sauces are laced with cream, yet all are full-flavored and though the portions are not gigantic they are very satisfying. Pascucci boasts about buying locally-the meat from Shalhoob, produce from Tri-County Produce or Farmers Market, and they even buy their coffee from the Santa Barbara Roasting Company. Which reads like a list of Best Of Santa Barbara winners. So, in addition to the reasonable prices and delicious fare, Pascucci is a winner, no doubt, because they use food mostly from the best.
FINALIST
Ca' Dario