Best Of
Butchers to Bakers
Best of 2008
Butcher Shop
Shalhoob Meat Company 220 Gray Ave., 963-7733
"Nice," said L.J. Shalhoob, co-manager and grandson of the founder of the meat business begun back in the 1970s, which now seems like it's always been here. "That's part of our secret; we totally take care of the people in our backyard," he said, pointing out Shalhoob's involvement in events like high school football snacks-that's them on Friday night Don home games. "I like the fact that people can come in here and get just one steak from a million-dollar business, and we deliver free for $50 orders, which doesn't make us any money. But I'm pretty sure the quality doesn't hurt us either. We're totally glad we won," Shalhoob said.
FINALIST
Country Meat Market
Gourmet Food Store
Salad Bar
Lazy Acres Market 302 Meigs Rd., 564-4410
The Mesa purveyor of healthy and gourmet groceries has been insisting for a long time that the two ideas absolutely are not diametrically opposed. Take the salad bar, for instance, where you can heap crisp lettuce with garden tomatoes, and then top that with either fresh sprouts or baked cloves of garlic, tomatoes or curried chicken (you get the idea). As a dealer of fine wines, abundant crafted cheeses, and meats and seafood from free-range chicken to diver scallops, it's hard to find better proof that stuff that's good for you can make you feel impeccably good when you're stuffed.
FINALISTS
Gourmet Food Store: Trader Joe's
Salad Bar: Savoy
Ice Cream Shop
McConnell's Ice Cream 201 W. Mission St., 569-2323; 7034 Marketplace Dr., Goleta, 968-0780; 1412 N. H St., Ste. E, Lompoc, 736-0020
"Hard work and attention to detail, a nice clean shop, and fantastic help are our secret," said owner Bob Moss, who admits that his ice cream and frozen yogurt are fairly fantastic, too. "It never gets old, winning this award," he added. "Especially when it's unsolicited, when it comes from your customers."
FINALIST
Cold Stone Creamery
Fresh Bread Shop
Our Daily Bread 831 Santa Barbara St., 966-3894
"How lovely to win," said Laurie Zalk who co-owns with Ze'ev Zalk the now 27-year-old business around the corner from the only slightly older Sojourner Cafe. "I'm happy, of course, because we consider ourselves to be a community baker, and it's nice to know that even after this long in the business people in the community appreciate us." The store, well-bred and on a roll, turns 28 in January, and hardly anybody has taken their longevity for granted.
FINALIST
D'Angelo Bread
Fresh Fish Market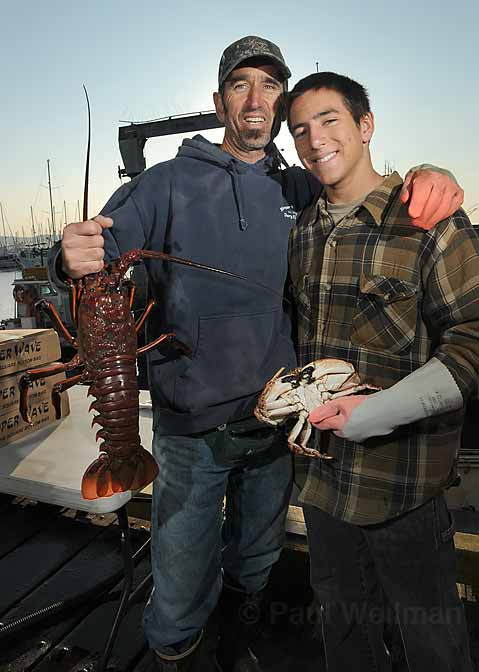 Santa Barbara Fisherman's Market 117 Harbor Wy., Ste. A, 965-9564
This fresh-smelling shop tucked into the corner of the harbor specializes in from-the-boat-to-you service. "We're ecstatic about winning," said owner Brian Colgate, who wants everybody to know that the store also supplies more than 30 restaurants and professional chefs and that they are constantly adding items to make your search for sparkling seafood a lot less like a fishing expedition.
FINALIST
Kanaloa Seafood
Pastry Shop
Fresh Cake Shop
Jeannine's American Bakery & Restaurant 1253 Coast Village Rd., Montecito, 969-7878; 3607 State St., 687-8701; 3305 State St. (in Gelson's Market), 569-3222; 15 E. Figueroa St., 284-0028
Once upon a time, they sold cookies on liquor store counters. Today, the Jeannine's empire includes the most popular see-and-be-seen coffee counters on Coast Village Road, an always busy sandwich shop uptown on State Street, a sparkling pastry and confectionery spot in Gelson's Market, and the recently opened site downtown on Figueroa. Oh yeah, and the Hardey family sells pastries and other freshly baked goods, too. Bet you could even get a nice cookie with all of that.
FINALIST
Anna's Bakery
Juice/Smoothie Bar
Blenders in the Grass 8 locations
Smoothies are the kind of food that people who don't like to eat like to eat-which is important because sometimes the need for sustenance far outweighs finicky aversions to comestible stuff. Blenders is great because it provides a soothing deliciousness reserved for indulgences like malted milks, but actually delivers vitamins and minerals and such to all kinds of bodies, picky or omnivorous. And consider the varieties: blueberries, chocolate, bananas, yogurt, coffee, ice cream, and milk to name a few. Makes you hungry for a drink.
FINALIST
Daily Grind Coffee & Tea Station
Bagel Shop
Jack's Bistro & Famous Bagels 5050 Carpinteria Ave., Carpinteria, 566-1558; 53 S. Milpas St., 564-4331; 3981 La Cumbre Rd., 563-2524
In Paris, there allegedly is a law that a baguette can cost no more than one euro-effectively ensuring that a reasonably resourceful human should be able to survive. Here, we have bagels, which cost just over a dollar-making it cheaper than a baguette-and, for no extra cost, said bagel provides a tiny sense of available Jewish identity for everyone, no matter your race, creed, or sexual preference. If that's not democracy, then what is? Besides, with three locations (Carpinteria, Milpas, and La Cumbre Plaza), the city's favorite bagel is affordable, convenient, and, according to our readers, trs noshable.
FINALIST
Bagel Cafe
Produce/Greengrocer
Farmers Market
See the Week listings for days and locations, or call 962-5354
Call it Slow Food, Localism, or just a great place to see your friends; anyway you slice it, the farmers' market movement clearly helped revolutionize and redefine American communities in the last 20 years. Here in Santa Barbara, we've always been pretty close to fields and orchards, though nothing as concerted as the daily moveable feast of these markets held from Montecito to Goleta has made so much fresh produce as readily available. From sparkling seasonal flowers to oyster and crafted cheeses, the stalls with their ubiquitous banjo pickers trump sterile aisles and Muzak any old homegrown day of the week.
FINALIST
Tri-County Produce
Health Food/Nutrition Store
Coffee by the Pound
Wine Shop
Trader Joe's 29 S. Milpas St., 564-7878; 5767 Calle Real, Goleta, 692-2234; 3025 De la Vina St., 563-7383
The chain that now seems indispensable to our lives has not been invulnerable to the ratcheting forces of recent economic woes. But as a TJ's employee recently reminded me in a conspiratorial conversation, "We raised our prices-and everybody here was anguished about it; just imagine how bad things have become." We prefer to shop at a store that has three convenient locations and stocks the kind of foods from fair-trade coffee to gourmet wines and cheeses that even alternative health food grocers barely match in quality and come nowhere near to in value. Meanwhile, there are the vitamins and minerals that all those other goodies mentioned above sometimes don't supply. Trader Joe's does, and the readers consider their efforts to do so simply the best.
FINALIST
Health Food/Nutrition Store: Lazy Acres Market
Coffee by the Pound: Peet's Coffee & Tea
Wine Shop: Wine Cask
Doughnut Shop
Spudnuts 220 W. Carrillo St., 899-2779; 3629 State St., 569-3719
If there is a funnier-named corporate chain in S.B.-since the days when Butts Buick competed with Hemann Chevrolet-we don't know it. Still, there's nothing resolutely funny about this doughnut, which apparently derives its power from potato flour or mashed potatoes in the batter, depending on which Internet-divulged secret recipe you believe. The fact remains that funny name or not, Spudnuts wins every year, and you don't need to be a police officer to know that's some tasty evidence.
FINALIST
Eller's Donut House