Best Of
Roses to Rings
Best of 2008
Place to Buy Intimate Apparel
Victoria's Secret 651 Paseo Nuevo, 962-1023
Can you write about a place like this without salacious puns or entendres extending to the twice or thrice multiplied power? It'd be a slip of the tongue to bust yourself for even brief lapses into panting or, as some might aver, lacing your observations with sheer titillations. Ahem! I'm back now. Seriously, this is a really fun store, for man or woman to browse, and the readers prefer it, um, hands down over all the other unders stores.
FINALIST
Tropical Affair
Florist
Victor the Florist 135 E. Anapamu St., 965-3075
Since 1930, the pretty neon lights at the corner of Anapamu and Santa Barbara streets have shown the way to bouquet pleasures. Three generations of family have run the place according to RaeAnne Alvarado, granddaughter of founder Victor Sourmany. "I grew up in this store," said Alvarado. "We've always been concerned with customer service. I really think you can say it's a tradition."
FINALIST
Riley's Flowers
Bridal Shop
Ana Maria's Bridal Boutique 3891 State St. #107, 687-5054
"I think the reason people like us is because we personalize our service," said store manager Veronica Cabello. "Weddings make for very stressful times and we like to make every bride feel welcomed. We're friendly, not snobby, and we want the bride to feel that we will be with her from the moment she walks into the store until the dress goes home with her. We're very happy we won."
FINALIST
MaryLinn's Bridals & Tuxedos
Wedding Cake Shop
Henning's Cake Boutique 28 W. Figueroa St., 965-6107
Back when this was a little town, Henning's was the specialty shop everyone went to for everything from cowboy birthday cakes to multitiered wedding masterpieces. Now that the town has grown up, it's a pleasure to realize it hasn't gotten too big for either a frosted cake or the Henning's people who've been layering delectable desserts for more than 40 years.
FINALIST
Montecito Confections
Tuxedo Rental
Mission Tuxedos 135 W. Mission St., 569-3334
For more than 20 years, this well-stocked shop has helped (mostly) men through the traumatic realization that they will never be as slick as James Bond-at least on an everyday basis. But for those rare occasions when one is called upon to look like a Baccarat expert in Montenegro, or at least a half-way confident groom, Mission Tuxedos offers style and fit options that can turn most humble couch-dwellers into black tie bon vivants.
FINALIST
King Tux
Place to Buy Jewelry
Bryant & Sons, Ltd. 812 State St., 966-9187; 1482 E. Valley Rd., Ste. 37, Montecito, 565-4411
If we weren't talking about stuff like star sapphires, platinum, and flawless chunks of diamond, you might think of this place as a neighborhood convenience store. They have it all, from friendly intention baubles to stones that will move the most stubborn of heart and forgive the most major of sins. Run now by the son, the Bryant clan has maintained a sharp eye on the changing fashions of icy blingery and, in these trying times, might hedge your inflationary woes a little too.
FINALIST
Fibula Jewelry & Gallery
Romantic Restaurant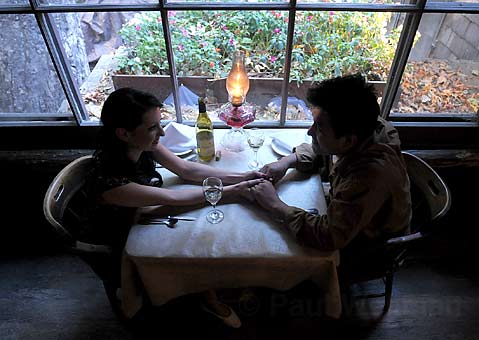 Cold Spring Tavern 5995 Stagecoach Rd., 967-0066
"We're very excited about winning," said server Krysa Dorr. "It's such a beautiful place up here. Every table has a nice view and it's dark with little kerosene lamps. People sometimes think this is a biker hangout, but that's the bar, and the restaurant offers really fine dining-everything from steaks to game, like venison and wild boar. This is a very romantic place."
FINALIST
Blue Agave
Bed & Breakfast
Upham Hotel 1404 De la Vina St., 962-0058
It always seems a little iffy, wondering why area inhabitants should authoritatively know what bed and breakfasts here are like; maybe it's a good idea not to even think about it. Just the same, with the astounding longevity of the Upham Hotel (it's actually a few years older than Stearns Wharf), it's not surprising to think that a few of us were sometime displaced from our comfy domiciles and sought temporary lodging at a place all of us knew was something close to home. The restaurant's very nice, too, which is knowledge that can often be obtained without sacrificing much innocence.
FINALIST
Simpson House Inn
Limo Service
Taxi Service
Rockstar Taxi & Limousine 882-9191
The name says it all, according to the owners, who very much want you to think of those rare people who are transported around in utter luxury when they pick you up. Actually known for great rates, reliable drivers, and good driving music, Rockstar is just right for anybody who ever needs somebody else to take them out on the road.
FINALISTS
Limo Service: Executive Limousine & Coach
Taxi Service: Yellow Cab
Wedding Planner
Pure Joy Catering 710 E. Haley St., 963-5766
"That's so exciting; I'm very excited. I can't wait to tell my staff," said Pure Joy owner Lynette La Mere, displaying emotion appropriate to the promise in her company's title. In business now for eight years, La Mere's first concern has been catering with a mind to creative responses: "Not one of those white-meat weddings," she laughed. In the meantime, Pure Joy has accumulated a panoply of inventive wedding sites ("over 50 locations"), including ranches and a beachside place to plight thy troth forever. "It's what we do and we do it full-time," said La Mere.
FINALIST
Jill La Fleur
Place for a Wedding Reception
Santa Barbara Zoological Gardens 500 Ni±os Dr., 962-5339
"Maybe people don't think of it right away, although people who have been to weddings here do," said Katharine Buford, assistant director of marketing and events at the famed Child's Estate grounds of our city's zoo. "It has mountain views as well as ocean views. In fact, it has a private estate feeling, without the private estate price tag," said Buford, who notes that the zoo recently began construction on an impressive new dressing room for brides. "We are very happy to have won again."
FINALIST
Four Seasons Biltmore Hotel
Sunset Cruise Boat
Whale-Watching Tour
Ocean Charter Boat
Condor Express Sea Landing, 301 W. Cabrillo Blvd., 882-0088
You could say that the sea is their oyster, since the folks at Condor Express have been ushering us and our out-of-town guests from the picturesque harbor out to the plentiful wonders of the Channel Islands and all nautical points between since 1973, when, as Captain Fred Benko likes to point out, the entire population of Grey whales was a small fraction of what it is today, thanks to a generation of more responsible stewardship. Benko's boat can assist in matters romantic (sunset cruises) or scientific (up-close-and-personal views of cetaceans). And after all these years, they've proven themselves safe in the water, too.
FINALIST
Double Dolphin
Wedding Photographer
Jose Villa Wedding Photography 688-8654
Believe it or not, lots of professional photographers hate to do weddings, but we have it on good authority that Jose Villa loves doing them. In the half-dozen years he has zoomed to the head of the S.B. class, Villa has traveled all over the world to snap a nuptial or portrait of a glowing child. For two years in a row, he's been named the best.
FINALIST
BB Photography