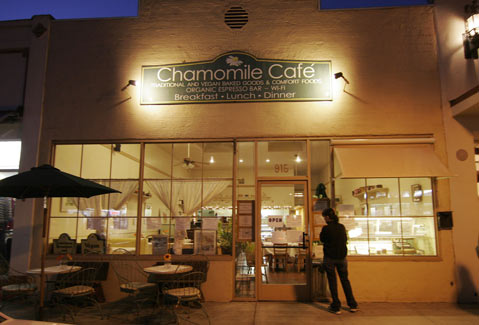 The days are getting shorter, the nights cooler. It was sweater weather, even, for a couple of days there. Time to start thinking about comfort food. Fortunately, a restaurant in Carpinteria serves down-home comfort food at dinner time. The food is rich, the portions are large, generous on the gravy : and it's vegan.
Yep, you read that right, vegan. Most of us would not put the word vegan in a sentence about comfort food-even those of us who have been vegans. But at the Chamomile Cafe, vegan and comfort food go together like, well, garlic mashed potatoes and "meat" loaf.
Dinner at Chamomile Cafe was recommended by a friend who isn't vegan, or even vegetarian; she just eats there because the food is yummy. Having eaten there now, myself, I can safely say that-unless you have a psychological block whereby you must know that a land animal has been slaughtered in order to enjoy your food-there isn't anyone who wouldn't leave the place feeling utterly satisfied.
The menu includes some of the more interesting international dishes you might expect to find at a vegetarian restaurant: curried pakoras, mole poblano, tofu panang. But the specialties are ones that don't sound vegan at all: "meat" loaf, shepherd's pie, and piccata.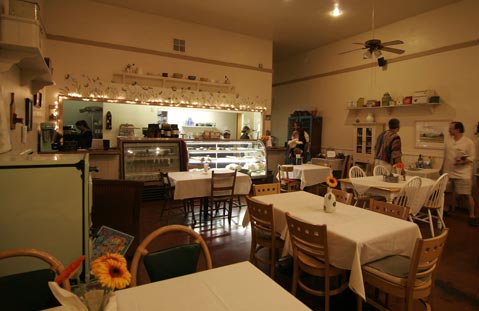 At a recent dinner, we started with onion rings, which were both crisp and succulent, complemented by a tangy vegenaise-based dipping sauce. The piccata was made out of gardein-a garden-based protein that mimics chicken. It lay on a bed of garlic mashed potatoes, covered in sauce, capers, and artichokes, a real piccata-lover's piccata. The spinach that accompanied it is among the most flavorful I have ever eaten.
Also served with those amazing potatoes, the "meat" loaf was a true miracle, crusty almost to the point of blackness on the outside and exceedingly tender, but not mushy, on the inside. I don't remember ever having actual meat loaf that could have matched it. Although we did not get to sample the lasagna, it must have been something; a couple seated near us had driven up from Canoga Park just to have it.
Given Chamomile Cafe's reputation as a bakery, you'd expect amazing deserts. We were not disappointed. The vegan pumpkin pie was wondrously subtle and creamy. And the rugelach, well, let's just say thank goodness they made another batch after they had run out earlier in the day.
Everything served at the Chamomile Cafe is made in-house. You don't need to know much about food to realize that each dish is the result of long hours of determined and thoughtful experimentation. Owner and head chef Deeahna Arrieta confirms that the cooking is a labor of love, "I am a very determined person. I always have something in mind, and I won't stop until I feel like I have gotten there."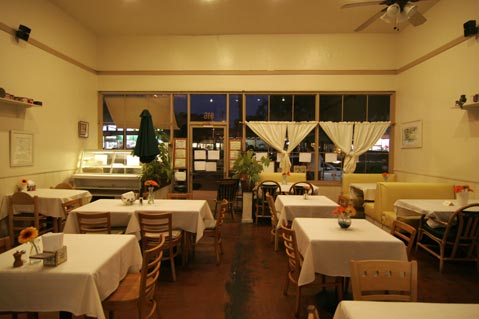 Arrieta's path toward veganism was through her heart- literally. After a long period of eating too much of her own creamy, buttery food, she had her cholesterol tested. It was 341. Her doctor recommended going on medication indefinitely, which was hard for Arrieta to accept. She asked if she could change her diet, but the doctor insisted it was too serious for that. Still, she had to give it a try, and gave up all animal products for six months before returning to the doctor to be tested again. This time her cholesterol was 195. The doctor revised his recommendation. "He said, whatever you are doing, it's obviously working."
In the meantime, though, Arrieta had been researching veganism and had become educated about the treatment of animals. So even when her health allowed her to eat meat, she no longer felt comfortable doing so. "I don't tell other people how to eat. Every person has to be convinced in their own heart of what is right. For me, I couldn't do it any more."
Her approach at the restaurant is pragmatic. At dinner, the cafe also serves wild salmon, for those who aren't converts. Although the place is always vegan- and vegetarian-friendly, the lunches and breakfasts aren't strictly vegan, or even vegetarian. About half of the baked goods are vegan, though the staff has stopped making a point of which items are and are not. Unless someone expressly asks for something vegan, they let customers enjoy their animal-free products in blissful obliviousness.
Chamomile Cafe has been in business six years and has been serving vegan dinners for a year. Arrieta is looking forward to moving into Santa Barbara, which she sees as a market more likely to support an all-vegan restaurant. "If I don't do it, I know somebody else will soon."
As we left, we heard an elderly woman who was eating there for the first time insist to her companion that, although she had nothing against vegetables, she just didn't like tofu. She had come to the right place. I don't think there was any grumbling after the food arrived.
4•1•1
Soothe your inner vegan at Chamomile Cafe and Bakery (915 Linden Ave.). Call 566-5954 or visit chamomilecafe.com.