Living
Mission Creek to Get Fish-Friendly
Channel Design Would Let Trout Swim All the Way Through Town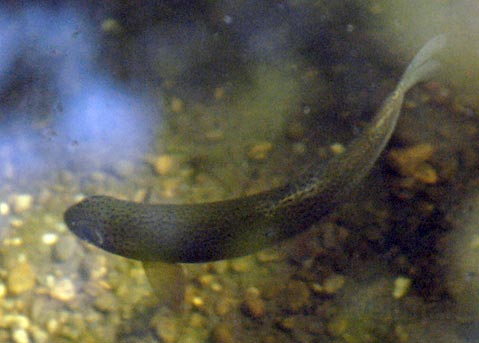 So that endangered Southern California steelhead trout can swim upstream as far as Rattlesnake Canyon in the vicinity of the Santa Barbara Botanic Garden, the City Council agreed to support a unique modification of the concrete channel lining Mission Creek. A channel-within-the-channel will be "the longest concrete channel anybody has ever tried to get fish through," said Cameron Benson, Santa Barbara City's Creeks Restoration Manager. It will, according to restoration activist David Pritchett, give the fish access to an additional four miles of fresh water habitat, including decent spawning grounds and "perennial pools of cold, deep water full of buggy food sources for a resident trout population in Rattlesnake Creek."
The modification consists simply of a narrower conduit within the existing channel, four feet wide and 30 inches lower than the present channel bed, to provide a stream deep enough for the fish. Side pockets at regular intervals, where the water would be nearly still, will allow the trout to take rest stops. These changes would be made to the 0.8-mile concretized stretch extending from Ortega to Canon Perdido Street, and a 0.3 mile segment in the Oak Park neighborhood. Both have been concrete since the freeway was built in 1964.
Expressing some trepidation due to the design's never having been used in the real world, City Council members nonetheless voted unanimously to take responsibility for maintaining the new channel modifications for the next half-century, at an estimated annual cost of $15,000. The channel design, by Northwest Hydraulic Consultants, is conceptual at this stage, but has been tested on flume models. The Environmental Defense Center (EDC) anticipates that grants will fund about 90 percent of the design and construction costs, including grants from the Wendy P. McCaw Foundation and the Annenberg Foundation.
Brian Trautwein, an environmental analyst at the EDC – where Benson also worked before taking his current position with the city – has been working relentlessly to preserve and restore Mission Creek and make it more fish-friendly since at least 1989, when he founded the Urban Creeks Council. The ultimate goal is to remove barriers to steelhead migration all the way into the watershed's upper reaches.
City of Goleta engineers are now planning similar alterations to a stretch of San Jose Creek from Old Town to UCSB.