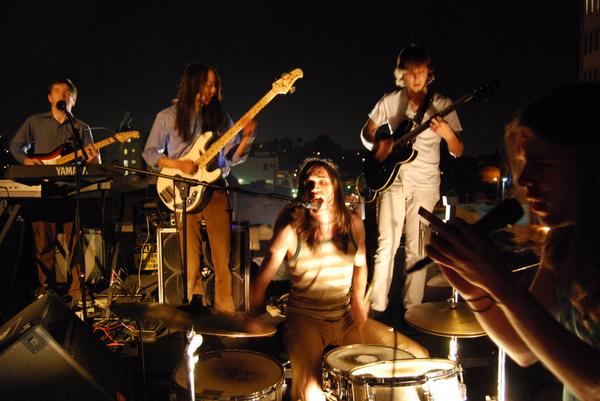 Ariel Pink is arguably one of the most underrated independent musicians currently on the scene. Known for being anything but usual, Pink began his career early on, looping tapes in his bedroom as a young kid. As an adult, his band, Ariel Pink's Haunted Graffiti, has worked hard to develop the dedicated cult following they now have. And this Friday, Ariel Pink's Haunted Graffiti is opening for indie giant Animal Collective at the Music Box in Hollywood, California. Witnessing either of these bands in such an intimate setting promises to be nothing short of exceptional (if only to tell your friends you were there) since they're slated to play larger venues (think the Wiltern) in the coming months.
Previously known mostly for his work as a lo-fi artist, Pink is trying hard to break away from that stigma. "Our records are lo-fi because there's not a lot of money behind them," he explained. "Lo-fi actually isn't an artistic decision for me. Every recording we've made uses a lot of attention to detail, and I do the best I can with what I have. I'm better now at producing," Pink continued. "But I'm trying to get the lo-fi tag off of me. I think the reason I've never been offered a major record deal is because [A&R reps] can't hear the songs; they don't take it seriously." And though he's growing squirmish in his independent label status, Pink still recognizes – and appreciates – the many benefits of working at that level. "The records come out exactly as I make them, as I assemble them, without any changes. [They're] just the way I imagined them, and that is really special. But the lo-fi presentation makes it something difficult for the money people to invest in," he concluded.
Pink was inspired as a teenager by the darker goth rock, oft attributed to groups like Bauhaus and the Cure, and has used that inspiration (though slightly) to become one of the leaders of the "freak folk" music movement. Other, more widely recognized freak folk artists include CocoRosie and Devendra Banhart. The genre that has become freak folk is still kind of an in-the-know scene, and Ariel Pink's Haunted Graffiti is attracting more attention and getting bigger with every live performance. "The most unpredictable part of my act is the live show," Pink confirmed. "The record is the same every time. Live might sound lo-fi and it might not – it kind of depends on the crowd and how I feel. My goal, or point of focus, however, is always sound. For this show, we're playing new, unheard songs. It feels like we've got a lot of momentum and are about to blow up. I'm really excited about this band."
The Music Box is a very intimate spot, located inside the Henry Fonda Theater in Hollywood. The venue is currently Ariel Pink's Haunted Graffiti's only California show listed until March, when they'll play Bottom of the Hill in San Francisco. For more information, or to listen to Ariel Pink's Haunted Graffiti, visit myspace.com/arielpink.