Sports
The Real Wrestlers
A Rundown of High School Wrestling in the Santa Barbara Region
In the movie The Wrestler, title character Randy "The Ram" Robinson is consigned to a life of outlandishly brutal playacting. He cannot resist plunging into battle with such props as barbed wire and concealed razors, assuring that bloodthirsty fans get their money's worth and shower him with adulation.
For high school athletes like Zach Belway, being a wrestler is something quite different. Adorned only in tight-fitting suits, they fight each other within a framework of rules inside a bare circle some 30 feet across. The sport is a way of building their toughness and confidence for later, bigger challenges in their lives.
"For someone who wants to go out in the world, it's the best thing there is," says Belway, a senior at San Marcos High "It's just you and your opponent, your desire and skills against his. You can't rely on or blame anybody else. Every match there's a hundred things you have to overcome. Life is like that. It's constantly kicking your ass."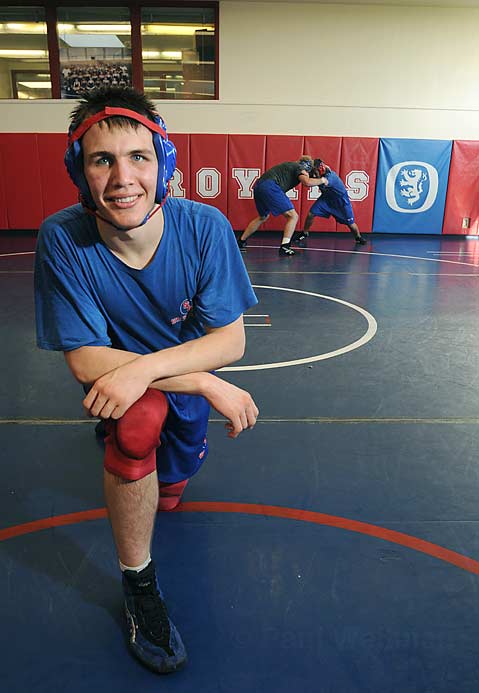 Belway definitely wants to go out in the world. He is one of the top students in his class with a 4.74 grade-point average and plans to attend Williams College in Massachusetts. He is interested in government. "It's culturally acceptable now to be in politics," he says.
For all its benefits, wrestling lags as a popularity contest. Local high school coaches struggle to fill all the weight classes on their teams. But they are a dedicated bunch, having been wrestlers themselves – each at a different school from where they're coaching. San Marcos coach Tony Becerra went to Santa Barbara High; Dos Pueblos coach Anthony Califano went to San Marcos; and Santa Barbara coach Jesse Plowman went to Dos Pueblos. Bishop Diego's coach, John Sandoval, wrestled at Hawthorne in the L.A. area.
"Wrestling is not a marquee sport," says Califano, in his 11th year at Dos Pueblos. "It's hard work, it's individual, it's combative, and there's a weight factor – you have to be disciplined to monitor your weight. There are more kids walking around campus that quit wrestling than any other sport. I never have to cut guys from the team."
Becerra has been coaching at San Marcos for nine years. "It's hard to get 'Generation Y' to commit to wrestling for a full year," he says. "It's hard, it starts to become a grind, and their parents allow them to jump out."
A winning tradition helps Dos Pueblos continue to turn out strong wrestling teams. The Chargers had numerous CIF and state champions during the three decades they were coached by Mike Hart, who has been inducted into the California Wrestling Hall of Fame. San Marcos can point to Alex Mack, the All-America lineman at Cal who was the 2004 CIF heavyweight champion for the Royals.
Dos Pueblos heavyweight Nick Wagner was a CIF divisional champion this year, while Connor Dorais of the Chargers was a runner-up at 160 pounds, and Belway of San Marcos also took second place at 171 pounds. Dorais and Belway went on to place in the CIF Masters meet and qualified for the State Championships last weekend at the Rabobank Arena in Bakersfield.
"These guys work for four years," Califano says, "and their reward is a free ticket to Bakersfield."
Belway went the farthest in the state competition, winning three out of five matches to earn a top-10 finish, quite an achievement for a young man who was sidelined by chronic fatigue syndrome last year. "He's the exact opposite of what you expect a wrestler to be," Becerra says of Belway. "He plays the piano and is a computer whiz. He has a big smile on his face, and then he goes out there and tears them apart. I call him the Baby-Faced Assassin." Belway's won-lost match record for the year was 48-8.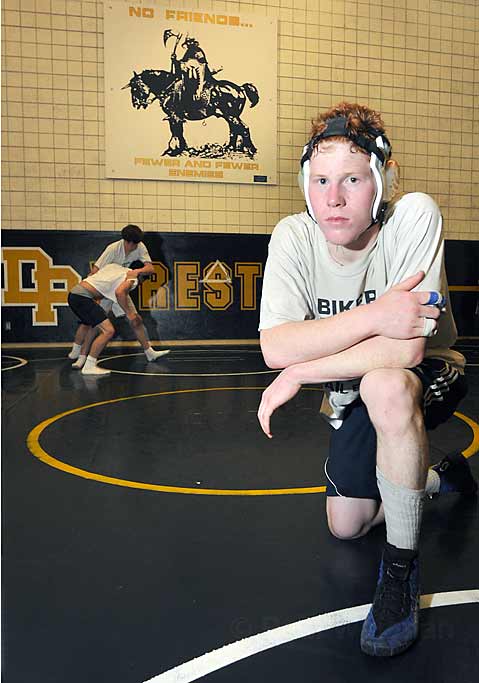 Dorais went 2-2 in the state finals, pinning two foes in the consolation round before he was eliminated. The Dos Pueblos senior has to deal with a case of fibromyalgia that causes constant discomfort in his upper body. "He has a high tolerance for pain," Califano says. "He got beat up in his freshman year, but I knew he'd be strong. He has a certain tenacity that you can't coach."
A controversial incident at the Channel League Finals caused Dorais even more pain. Ventura's Isaac Archibeque lifted Dorais over his back and slammed him to the mat. Landing on his head, Dorais was temporarily unconscious, and an ambulance was summoned. "My parents were pretty scared," Dorais says. "They were glad I was wrestling because they thought football was too dangerous." Scans at the hospital showed that Dorais had escaped serious injury. He had lost the match to Archibeque by default, but a review determined that the Ventura wrestler had executed an illegal move, and the league title was awarded to Dorais. He compiled a 45-6 record as a senior.
"I got beat up for three years before I could give out beatings," Dorais says. "It was fun to go through the toughest sport there is. It definitely made high school easier for me. I gained focus through wrestling." Dorais intends to go on to college. Lynchburg (Va.) is his top choice.
Santa Barbara High's wrestling program received an injection of enthusiasm when Plowman took over as coach this past year. "I tell kids this is going to be the hardest thing they ever do," he says. "Going onto the mat, knowing there's a tougher guy there, and you gotta do it. It will make them stronger when they're adults looking for a job."
Plowman spent five years in the Marines after he wrestled under Califano in high school. "The Dos Pueblos wrestling program was a lot tougher than Marine Corps training," Plowman says. "I was a lean, mean, fighting machine." He says, "It takes three years to make a wrestler. I want to establish a program that lasts, so I'll be here a while." Sophomore Jake Hirsch, who finished second in the Channel League at 135 pounds, is one of the reasons Plowman has high hopes for the future.
Sandoval has to beat the bushes to keep Bishop Diego's wrestling program going. The Cardinals had just four wrestlers in the 2008-09 season, three seniors and a junior. Two of them qualified for the CIF. Sandoval echoes his colleagues when he says, "It takes a certain breed to be a wrestler. It takes a lot of determination, because you aren't going to be good overnight."
Becerra says the San Marcos wrestlers who stick it out have come to a realization: "This is now. They'll never get back high school wrestling. They can get back skateboards and surfing."