Sports
The Gauchos' Golden Guy and Gal
Jenna Green and Chris Devine Lead UCSB's Basketball Squads
Jenna Green and Chris Devine sometimes check up on each other between basketball practices at UCSB. "He'll say, 'You still hanging in there?'" Green explained. It is an encouragement as much as it is a question. Green and Devine are the Golden Gal and Guy of the Gauchos.
Both of them came to Santa Barbara in 2003-Green, a 6ʹ4Ê° shot-blocking center from San Jose; Devine a 6ʹ8Ê° all-state forward from Eagle River, Alaska. Both have worked their way toward the top of UCSB's statistical charts through sheer perseverance. Green had to come back twice from injuries that sidelined her in the 2004-05 season and last year. Devine had to wait two years to start his college basketball career because of injuries and surgery.
The sixth-year seniors are the go-to Gauchos for leadership and inspiration. Green, 23, pointed out the other day that she has spent one-fourth of her life as a UCSB student-athlete. She is the lone person in the women's program who participated at its peak-during the 2003-04 season when the Gauchos advanced to the NCAA's Sweet 16 against Connecticut.
"I was fortunate to be in that position, not only going deep into the tournament, but playing with teammates like Kristen Mann, Lindsay Taylor, Brandy Richardson, Mia Fisher, and Lisa Willett," Green said. "Not to mention the players like Diana Taurasi who we played against. To experience that kind of pressure was very beneficial."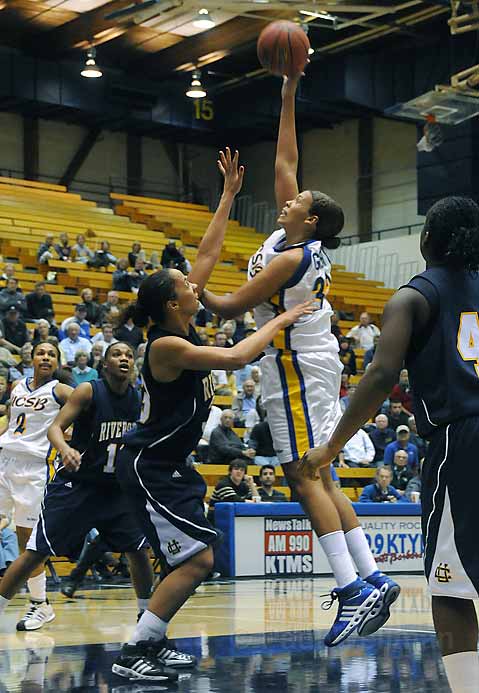 Green hopes to crown her career with a third trip to the NCAA tournament. The Gaucho women are two games away from punching their ticket. They must win a semifinal game at the Big West Basketball Tournament in Anaheim at noon Friday, March 13, and then the championship game at 1 p.m. on Saturday.
It is expected that the last teams standing will be UCSB (20-9) and UC Riverside (19-10). The Gauchos scored two hard-fought victories over the Highlanders during the regular season. Riverside's senior center Kemie Nkele is the Big West Player of the Year, but UCSB boasts two all-conference first-team selections: Green (her third such honor) and senior guard Lauren Pedersen.
It is the one-two punch between Green and the other players, Pedersen in particular, that has made the difference for the Gauchos. "Jenna is so coachable, so cerebral and tough," said UCSB's first-year coach Lindsay Gottlieb. "If [opponents] go one-on-one against her, she's going to score. If they double-team her, somebody's going to be open." Defensively, too, Green's inside presence complements the pressure the guards exert on the perimeter.
Green spoke highly of UCSB's other four seniors: Pedersen: "An absolute joy to play with. She's a coach on the court. She has great anticipation and does small things like getting her hands on the ball and creating turnovers." Sha'Rae Gibbons: "Our emotional leader. She's flat-out tough. I would want her behind me in a fight. She has a good sense of when to shoot." Whitney Warren: "Defense, defense, defense. With her athleticism, she can guard the point guards or the four players [power forwards]. When she goes to the hoop, there's no stopping her." Kat Suderman: "She's battled injuries to her knees and back and never given up. She's been a big defensive presence with quite a few blocked shots. Off the court, she's hilarious."
The statuesque Green concluded, "We are graduating five well-rounded, smart women"-which is just what Mark French, who coached the team for 21 years, and his successor Gottlieb want the Gauchos to be known for. Green is pursuing a master's degree in special education, focusing on at-risk adolescents. She may seek to keep playing basketball after college. "I'll see how my body feels," she said. It has taken a pounding this season; in one game she became so visibly exasperated that she incurred "the first technical foul of my life."
Chris Devine, 24, a business economics major, also has high hopes of finishing his college basketball career with a flourish. Since his first appearance in the 2005-06 season, he has started 107 of 109 games as a Gaucho and received an All Big West mention all four seasons-as a first-team choice this year.
The Gaucho men (15-14) have won seven of their last eight games to surge from ninth to fourth place in the regular-season standings, clinching their spot when first-year James Nunnally hit a three-point basket at the buzzer last Saturday for a 76-65 victory over Long Beach State. They would need to win three games to claim the conference tournament championship, which starts tonight (Thursday) at 8:30 p.m., and it was from just such a position in 2002 that the Gauchos won their only title in 10 years under Coach Bob Williams.