Outdoors
Jesusita Burn Area Trails Re-Open
Public Allowed Access to the Burn Area; Extreme Caution Advised
Update: Forest officials have confirmed they will be rescinding the order re-opening the trails as described below. As soon as this occurs we'll report it in the Independent. Sources say that residents in the Tunnel Road area were furious that any of the burned area trails were opened so soon, espcecially as homeowners there are still recovering from the fire's impacts.
Los Padres Forest officials announced today that trails closed during the Jesusita Fire have now been re-opened to the public. These include the Arroyo Burro, Jesusita, Tunnel and Rattlesnake Canyon trails. However, trail users should exercise extreme caution as many of the trails have suffered major damage.
This includes scree material that has sloughed down on the trail, making passage across some sections difficult. Tons of loose rock has also fallen onto the trails, making footing difficult and in some cases, there is still the potential for rockfall. Users should also be aware that brush and in some cases, trees, have fallen across the trails, adding to the difficulty.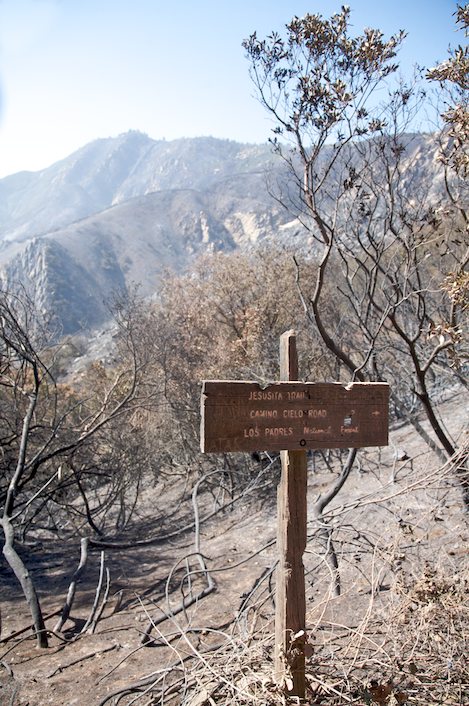 For those who do want to explore the burned area trails a few cautions are advised. Travel in groups and have at least one cell phone with you on the trail in case of difficulty. Without ground cover, the soil is much warmer than prior to the fire (on average the burned area soils are 10-20 degrees hotter than with cover) and there is little shade on many of the trails. This is especially a concern for those who bring dogs along with them. A personal recommendation: hike any of the burn areas at least once without your dog before you consider taking it along the next time.
More Information is available by calling Los Padres National Forest headquarters at (805) 968-6640 or Los Prietos Ranger Station at (805) 967-3481. Visitors are reminded that the Gap Fire area treated with hydromulch is still closed to use.
Trail Volunteers Needed: Over the next year, local trail organizations will be working with Los Padres Forest to help rehabilitate trails damaged during the Jesusita Fire. The Santa Barbara Trails Council (sbtrails.org) will be coordinating efforts to support the rehabilitation projects. SBTC encourages you to join with them to help rebuild the trails.
Adding your name to the volunteer list for the burn area rehabilitaiton projects is easy: simply email the Outdoor Guy here at the Indy (ray@independent.com) and let him know you want to help our trails.