Visual Arts
Views and Visions: Interior Space at Westmont College's Reynolds Gallery
Juried Group Show Runs Through June 26
In its fourth year, Montecito's annual Views and Visions juried group exhibition has taken as its theme "interior space." As with so many thematic groupings, the interest here lies not in the similarities between works but in the differences, and this is a theme that lends itself to widely divergent interpretations.
For example, who would have grouped in the same show Mary Heebner's delicate graphite-on-paper works with Dan Patterson's bright red steel box, whose apparently nonsensical words resolve into curse words with the press of a button? And yet both Heebner's Quiet series and Patterson's "Tourettes #5 (What if I Can't Help It?)" incorporate a nod to that which is hidden beneath the surface.
In the work of Dug Uyesaka, an x-ray of a spinal cord and the faint traces of scotch tape are stark reminders of human frailty, and the disconnection that results when what lies inside us is brought out into the light. In a kind of reversal, John R. Hood has taken elements of nature-seedpods, sand dollars, rolls of papery bark-and placed them in the wooden compartments of a curios cabinet, thus bringing the outside in.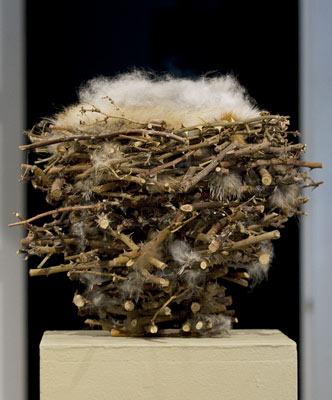 The show's featured artist is Westmont alumna Cheyenne Ellis, whose black-and-white photograph of gnarled oak trees, "Malibu, California," is shot from inside a glade, capturing the mystical quality of pale sunlight filtering through leaves. Across the room, Hilary Brace's untitled work is a window into a different kind of interior: a miniature world of whirling vapors, at once apocalyptic and heavenly.
Among the cash prize winners in this year's show are John Moses, whose acrylic painting "Red Door" plays with the geometry of confined spaces, and Nina Ward, whose vaguely equine sculpture "Bound Exterior" is a formal study of surface and interior.
Of all the works included in the show, none is quite so viscerally affecting as Martha Day's "Nest." Thorny rose branches encircle a bed of fur, a few stray feathers suspended in the soft, animal down. It's impossible not to think of the crown of thorns, equally impossible not to reflect on the nest as birthplace, a sacred interior where life itself begins.