Sports
Special Conditioning for Special Olympics
Athletes Get in Shape for Southern California Games-and Life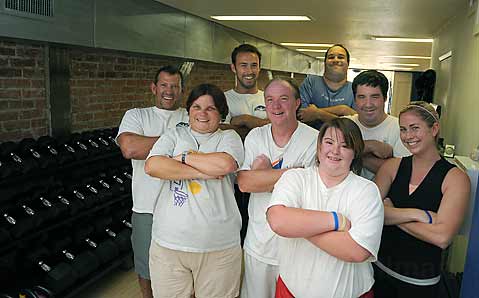 "Remember the rules," Macie Berlin said. "No stopping. No whining."
The five participants in the rigorous exercise session at Conditioning Specialists, an upscale fitness studio in the 1300 block of State Street, scarcely needed reminding. They had been doing this for five weeks and were now a team. Anyone who lagged would hear about it.
"They tell each other, 'Come on, keep going,'" Berlin said. "Jesse and I look at each other like, 'Wow.'"
As professional fitness trainers, Berlin and Jesse Brisendine usually work with individual clients who pay them in a quest for stronger and shapelier bodies. This weekly group session was different. The participants were Special Olympics athletes, and the trainers were working pro bono. Their payment was the joy of seeing people rise above their disabilities and doubt in their abilities.
The kindness of volunteers is the lifeblood of the Special Olympics, which is celebrating its 40th anniversary in Santa Barbara this week. The area program has two full-time staff members organizing the activities of 300 athletes who compete year-round in 10 sports. "We have 250 to 300 volunteers every year," said Ali Sprott-Roen, the regional sports manager.
Conditioning Specialists became involved this year. "Doug Holt [the studio's owner] wanted to give back to the community," trainer Breck Morgan said. "It's a good fit."
"It's a wonderful partnership," said Sara Spataro, regional director of Special Olympics. "Physical fitness, wellness, and health helps [the athletes] feel good about themselves, and it helps them compete better."
Berlin and Brisendine enjoyed the hour they spent with their group of five last week. "It's a rewarding experience," Brisendine said. "They're a fun group to work with."
The workout started with a vigorous warm-up routine: running in place, jumping and kicking to loosen the limbs. Then they went out the back door, where there was an open area next to the Arlington Theatre. Brisendine, whom Morgan dubbed "the sexiest trainer in Santa Barbara," had them take turns racing some 25 yards out and back. "When you finish," he said, "give the next runner a high five."
Each time Simone Dumont's turn came up, she took off like a cougar dashing after prey, and she finished with a ferocious hand slap.
"Simone is our hardest worker," Brisendine said. "She has that look in her face: I want to go as hard as I can." Shella Dumont said her 17-year-old daughter, who has Down's syndrome, "is getting in the mind-set of the importance of working out and being healthy." That enables her to participate in many activities, including theater, marching band, and junior varsity basketball at Carpinteria High.
After running, the group did stretching, jumping jacks, and repeated squats into a prone position. Ramon Hooper, the tallest and, at 40, the oldest of the athletes, exerted himself with a smile. He has been competing in Special Olympics for 27 years and recently was named the area Athlete of the Year. By his commanding presence, Hooper was the de facto captain of the team. His example kept the boyish Matt McPeters and Chris Evans from goofing off. The fifth athlete, Dana Dorsey, took delight in the activity. "She's our sparkle," Brisendine said.
Back inside the studio, the athletes hit the weights. They went through a circuit of mechanical exercisers and then pumped dumbbells with right, left, and both arms. Throughout the routines, recorded music set a persistent beat: Aerosmith, AC/DC, the Rolling Stones. "Let's finish strong," Berlin said as the hour-long workout came to an end. They did the "Y-M-C-A" dance to the Village People's anthem, as passersby curiously peered through the window on State Street.
In other settings, volunteer coaches have been training Special Olympics athletes for specific sports. Forty-four Santa Barbara area athletes will compete this weekend in track, swimming, gymnastics, basketball, and tennis at the Southern California Games at Cal State Long Beach. The annual torch run, performed by law enforcement agencies, was due to come through town on Wednesday.
"Participating in sports is so motivating to our athletes," Spataro said. "They love the feeling that people care about them."
Advocates of the Special Olympics, founded by Eunice Kennedy Shriver in 1968, say that the pageantry and the thrill of competition bring out the best in everybody who takes part. Beyond those events, their training enables them to live longer, healthier, and fuller lives.