Living
Flying High With Captain Kahn
Santa Barbara Woman Awarded for Aviation Excellence
Please make sure that your tray tables are locked and in the upright position and that all electronic items are turned off. Please locate the nearest exit door in case of an emergency. Prepare for take off.
This is what Karen Kahn has heard and said for over 30 years. Not only because she has been a plane passenger for all those years, but because she is a Continental Airlines captain.
The International Forest of Friendship, an organization that recognizes heroes in aviation, named Captain Kahn as the 2009 inductee. The Santa Barbaran's name will be put on a brick to line the walkway in Atchison, Kansas where a forest has been started to celebrate the aviators' accomplishments and contributions. Kahn joins 1200 previous honorees.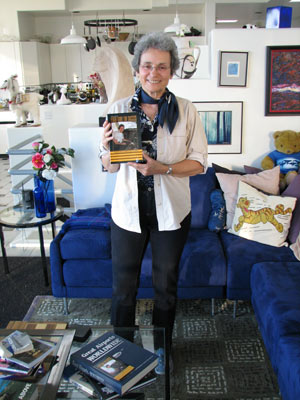 "I feel deeply humbled to be honored by such a prestigious organization. I find it incredibly rewarding to teach and encourage others how to find and honor their life's passion, as I did with aviation," Captain Kahn said in a written statement. She started her commercial flying career in 1977, one of the first four women hired by Continental Airlines.
"It's interesting because nobody in my family flies and they were very much against flying," said Captain Kahn. After dropping out of college and moving to San Francisco, Kahn met "an aviation enthusiast" in 1968 and shortly thereafter paid $5 for her first flying lesson. Eight months and many lessons later, Kahn was awarded her pilot's license.
A couple years after that, Kahn decided to teach instrument flying, which is flying in the clouds and relying on your aerial instruments to navigate. After taking the instrument test, and passing it with flying colors, Kahn was asked to teach instructors who gave the test.
Once her time as an instructor came to an end, Kahn continued to pursue her love of teaching aviation by forming a company with an associate of hers. The two women bought a plane and flew off each weekend to various locations to teach fliers how to pass the written part of their pilot's license exam.
Captain Kahn started her commercial aviation career by mere chance. She stopped by Continental on her way to Los Angeles one time and filled out an application for a pilot position. A couple days later, Kahn got a phone call for an interview.
"They had just started hiring, and that year they hired their first four women. That was 1977, and I was the fourth one hired there. And now, after sheer perseverance, 32 years later, I'm the only one of the original ones and the most senior one."
Even during the airline strike in the 1980s, Kahn didn't stop reaching towards the clouds.
"I spent a couple of years flying around corporate, which was a really good education. As I say, it really helped me appreciate airline flying. Once the strike was over I went back to work at Continental and a couple of years later upgraded to captain."
Through the years, Kahn said, since it is a male-dominated profession, she has learned to laugh at herself. She lets "90 percent of what goes in this ear go out the other." According to Captain Kahn, only three to four percent of all pilots today are women.
Besides flying, Captain Kahn has written several books for aspiring aviators about how they can move their careers forward, how to sell themselves for a job, and what to do once they have the job. She also speaks "honestly and impartially" about being a pilot to groups of young fliers.
Captain Kahn will next speak at the Aviation and Women in Europe conference, which will be help from Sept. 4-6 in La Ferrara, Italy.