Sports
The All-American Aqua Nut
UCSB Breaststroker Katy Freeman Named Big West Woman of the Year
BREAKING NEWS: Katy Freeman shattered the U.S. Open meet record while winning the women's 200-meter breaststroke Tuesday night at the King Aquatic Center in Washington. Freeman hit the wall in two minutes, 22.51 seconds – more than three seconds faster than the previous record. The time would have put her on the medal stand at the Beijing Olympics. Ashley Wanland of Illinois was the runner-up in 2:24.29.
Katy Freeman finished her UCSB swimming career with All-American honors and the university's Female Athlete of the Year award. She was the team's top scholar, with a degree in sociocultural linguistics and a 3.67 grade point average, and she has been selected for a future assignment in the Teach for America program. Last week, Freeman was named the Big West Conference Woman of the Year, putting her in a small pool of candidates for 2009 NCAA Woman of the Year award.
So, what did it take for her to become a Gaucho? How did UCSB coach Gregg Wilson persuade her to bypass colleges near her Bay Area home in Concord and come to Santa Barbara?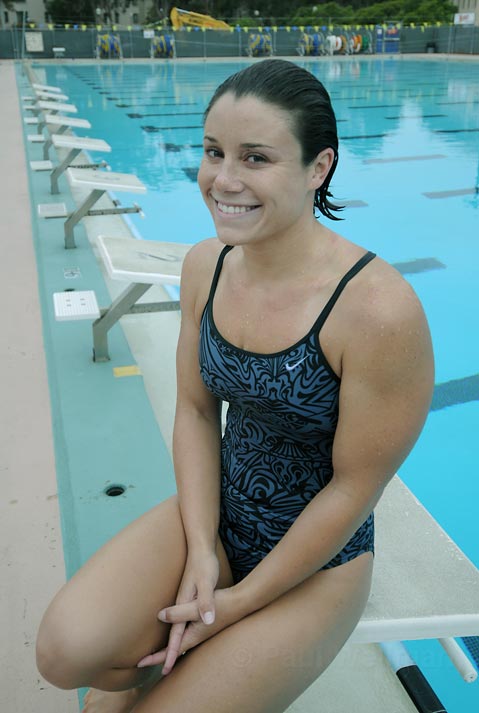 "I had to beg him," Freeman revealed. "I was lucky to find a coach willing to give me a shot. I didn't start swimming year-round until my junior year in high school." Before that, Freeman had spent half her life as a synchronized swimmer with the Walnut Creek Aquanuts.
When she became a breaststroker on the Carondelet High swim team, Freeman realized, "I liked it to be between you and the watch. When you have a disappointing performance, it's something you can work on. I like to know I'll see improvement if I work as hard as I can." In synchronized swimming, her effort was determined by a panel of judges, and too often she found that "you never get better because that's where somebody wanted you to stay."
Improvement came slowly for Freeman her first several months at UCSB. Then came the Big West Championships. "She went nuts," Wilson said. "She shocked everybody." Freeman won the 100- and 200-yard breaststrokes and was named the conference's Freshman of the Year. She would go on to win both events all but once in the next three years-she was second in the 200 as a sophomore-and she set a Big West record of 2:09.12 while placing eighth in the 200 breast at the NCAA Championships last March.
"Katy's focused, driven, and passionate," Wilson said. The coach compares Freeman's work ethic to that of Richard Schroeder, another late-blooming UCSB breaststroker, who went on to compete in two Olympic Games.
Freeman swam in the 2008 U.S. Olympic Trials and placed 10th in the 200-meter breast. At last summer's U.S. Open in Minneapolis, she qualified for the 2009 World University Games in Belgrade, Serbia. At that meet last month, she took fifth in the 200 and sixth in the 100 breast, and she earned a gold medal for swimming the breaststroke leg with the winning U.S. team in the 400 medley relay.
That last race cost Freeman $200. She purchased one of the controversial Italian-made Jaked polyurethane swimsuits. "I didn't want to be at a disadvantage," she said. "I got a used suit, and I can't even put into words what a difference it made. In the breaststroke, it's about how fast you can go while gliding between strokes. The suit lets the water flow right past you. My time in the relay was three seconds faster than in the individual 100."
FINA, the international swimming federation, allowed the new suits at last week's World Championships in Rome, where 43 world records were demolished, but they will be banned in January. ("I'm glad FINA took a stand," said Mary Jo Swalley, a longtime swimming official from Santa Barbara who is the head referee at this week's U.S. Open in Federal Way, Washington. "It's an economic issue as well as a fairness issue. We would have lost programs that couldn't afford the suits.")
Freeman is competing in the U.S. Open for Wilson's Santa Barbara Aquatics team. Besides the individual breaststrokes, she will swim in the medley relay with Gaucho teammates Naomi Javanifard, Katie Ure, and Anne Marie May. Javanifard recently won three silver medals in the Maccabiah Games in Israel. Another former Gaucho, freestyler Jason Lezak of Beijing Olympic fame, won four golds.
GAMES OF THE WEEK: The Santa Barbara Foresters will try to repeat as National Baseball Congress champions beginning tonight (Thu., Aug. 6) at Wichita, Kansas. Thirty-seven teams are vying for the crown. : The 49th annual Santa Barbara Golf Classic, a better-ball tournament, gets underway on Saturday at the S.B. Golf Club with defending champions Kevin Marsh and Todd Rogers of Las Vegas teeing off at 7:30 a.m. : Out of 68 soccer teams in the nationwide Premier Development League, the Ventura County Fusion and Chicago Fire PDL are the last two standing. They will square off for the championship at 7 p.m. on Saturday at Buena High in Ventura. The Fusion is loaded with Santa Barbara players, including Rodrigo Lopez; UCSB's Daniel Barrera, Bryan Byrne, and Alfonso Motagalvan; and Westmont's Dillon Barna. Fox Soccer Channel will televise the match at 7:30 p.m. on Tuesday, August 11. : Beach volleyball stars Todd Rogers (not the golfer) and Phil Dalhausser have returned home after winning tournaments in Austria and France with $86,000 in prize money. They will compete in the AVP Hermosa Beach Open this weekend. NBC will televise the men's final at 1:30 p.m. on Sunday.