Education
School Is in Session
Students Return as Storm Clouds and Silver Linings Persist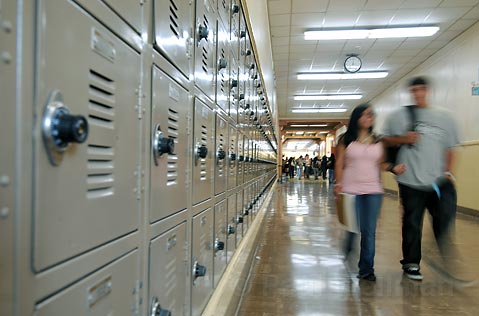 Summer officially came to a close this week for the roughly 15,000 kids and 2,500 employees in the Santa Barbara School Districts. But even as the annual August return of reading, writing, and arithmetic flooded campuses with its usual wave of optimism and high hopes for students and teachers alike, the tone was markedly more downbeat at the districts' board of trustees meeting on Tuesday night. Still righting the ship after making more than $4 million in budget cuts just a few months ago, the board not only received word this week that more cuts are imminent thanks to the fallout of the state budget signed into reality late last month, but it also, in a fiscally motivated move, voted to ban out-of-district transfers to high schools and junior highs effective for the 2010-11 school year. "It is difficult for all of us," explained Associate Superintendent Robin Sawaske, "but it really and truly is a fiscal situation."
California public schools secure much of their funding in one of two ways: Either the money comes from the state based on their average daily attendance (ADA) or it comes via the basic aid option, which relies on property tax values within district boundaries and tends to be devoid of the rollercoaster realities inherent to the ADA process. The latter has long been a desired means for the district, but it hasn't, until recently, been a possibility because basic aid is only possible when property tax monies surpass, on a per-pupil basis, the amount the state gives for ADA. But according to district forecasts, that could happen in 2010-11. By shutting out transfer students-and cutting down on daily attendance-the districts both pick up speed on the road to basic aid and ensure that, once the status is achieved, the district students will get the most out of the funding.
While the writing's long been on the wall for the transfer student policy change-including the elimination of elementary transfers last winter, effective now, and discussion of the secondary school shift last spring-Tuesday night made it official, with a 3-2 vote (Ed Heron and Bob No»l dissenting). As a result, roughly 370 students will no longer be welcomed come next fall. But certain exceptions-specifically for children of school employees, students in the 11th grade, sophomores who play a varsity sport (due to state rules about having to sit out a year after a transfer), and students enrolled in a special academy or course of study not offered in their home district-will spare some transfer kids the boot. There also will be the opportunity for students with "extraordinary hardship" to appeal the decision on a case-by-case basis.
But it wasn't all doom and gloom on Tuesday. Superintendent Brian Sarvis happily reported that, of the nearly 63 full-time teacher positions that were pink-slipped last spring, "All but one have been brought back." Furthermore, the board heard a fair bit of good news about last year's elementary and junior high school STAR English Language Arts and Math state-standardized test results. According to preliminary data-final results come in early September-elementary and junior high students, specifically the trouble areas of English-learner and socio-economic disadvantaged students, made across-the-board improvements.