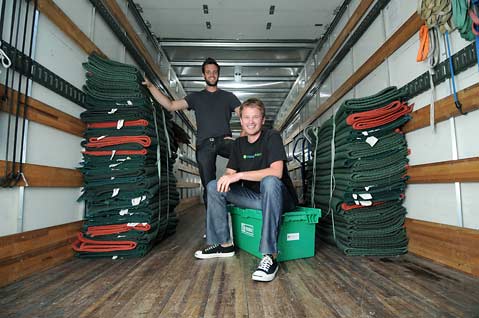 Nursery
La Sumida Nursery
165 S. Patterson Ave., 964-9944
Yet one more oldie-but-goodie, La Sumida has been pleasing people who plant since 1958. Even they have noticed the economy's a little withery on the vine this year, but surprisingly, it just helped move different areas of their leafy inventory. "People, we noticed, are buying a lot of edibles. We've sold a lot of fruit plants, vegetables, and blueberries-tons of blueberries," said La Sumida manager D Honer. "We hope people know about us from customers who've been coming here a very long time."
FINALIST: Terra Sol Garden Center
Real Estate Firm
Prudential California Realty
3868 State St., 687-2666
Apparently bigger is better when the readers think about property issues in this market of markets in sunny California. Reader loyalty may well be swayed by the fact that, according to Prudential, it has a 10 percent larger market share than its nearest competitor, which means there's more choice and, as any Prudential agent will tell you, customer service begins with offering something more than promised land.
FINALIST: Village Properties
Real Estate Agent
Daniel Zia, The ZiaGroup
1170 Coast Village Rd., Montecito; 3868 State St.; 637-7148
Teamwork is important to Daniel Zia, who works for Prudential, which, he notes, is a large company. But they've managed to weather this rocky market-both company and agent-by listening to what the buyer needs. "I guess my philosophy and Prudential's are the same: to put the client's interest above our own. That way, we've made a lifelong relationship and not just a quick buck," he said.
FINALIST: Chris Jones
Moving Company
Movegreen
747 S. Kellogg Ave., Goleta, 845-6600
Here's a first-ever appearance on our list of bests, though Erik Haney's ecologically minded company has been moving with a minimum of shaking for just about two years in Santa Barbara. "I think it's our dedication to be as green as possible mixed in with great customer service that got people to vote for us," he said. Movegreen uses biodiesel fuels, plants 10 trees after every job, and reuses and recycles the packing materials and containers they use. "We're very excited to win," said Haney.
FINALIST: Mammoth Moving & Storage
Self-Storage
Patterson Self-Storage
98 N. Patterson Ave., 964-0924
Patterson Self-Storage is more than just a place to go when you're downsizing-though there's more than enough of that going on nowadays. This friendly, personable place is also where sports enthusiast store equipment from boats to model airplane parts, where wine-lovers can keep their superb vintages in temp-controlled circumstances, and, finally, in times of transition, a way to keep your best belongings like rare books and art safe while life sorts itself out again.
FINALIST: Goleta Valley Mini Storage
Electronics Store
Best Buy
7090 Marketplace Dr., Goleta, 571-3999
The latest addition to the big-box Camino Real center way past the airport is Best Buy, a place where consumer electronics routinely are discounted. After the precipitous departure of CompUSA, the acquisition of gigantic television screens, computers, and other technological implements of life-enhancement briefly was left to long trips to Ventura or Santa Maria. No longer. Now you can finish that home entertainment system so you never again have to venture out into the harsh light of reality. But you could get a hot dog at Costco while shopping.
FINALIST: RadioShack
Antique Store
Antique Alley
706 State St., 962-3944
"Business has been really good for me," claimed Antique Alley owner Alan Howard. "Probably because we have entertainment value. We're unique on the street: People walking up State Street go in, and it's like taking a trip back in time. Besides, our prices are very moderate, too. I think the readers probably voted for us because we're well-priced and we provide a lot of fun."
FINALIST: Summerland Antique Collective
Place to Buy Carpet/Rugs
Carpeteria
5610 Hollister Ave., Goleta, 964-3551
Not to be confused with the nice little town just south of us, Carpeteria has long been the kind of go-to chain that lives up to its jingle-y TV advertising since 1979. Today, Carpeteria offers a Web site preview of all the different lines of carpet, tile, flooring, and linoleum coverings. It advertises low prices, and has a long reputation for carpet ends and scraps as well.
FINALIST: Pottery Barn
Gardening/Landscaping Service
Terra Cotta Landscaping
615 E. De la Guerra St., 252-0582
"I'm a local guy, a third-generation Santa Barbaran," said owner Jason Downs, who has been doing a lot of watering system installations. People are spending money now to save it later, he said. "I'm not too busy and I'm not too big, so I really listen to my clients," Downs said. "I'm not your average landscapist; I go a little further."
FINALIST: Kitson Landscape Management
Handyman Service
Jack of All Trades
27 W. Anapamu St., Ste. 176, 708-5466
Rarely do we extensively quote from winners' Web sites, but in light of recent L.A. advertising for "plumbers who smell good," we thought it behooved us to reiterate the Jack of All Trades credo: "You won't find a lot of sexy, interesting pictures of us replacing a broken garbage disposal, hanging window blinds, or repairing a broken garage door because they don't exist (there is nothing sexy about changing a garbage disposal). However, we will attempt to give you the information you might be looking for on a Web site for a handyman." So there. Put aside your x-rated fantasies, and remember that this crew does just about anything and gets voted Best Of year after year by the readers. Oh, and there's this important bragging point on the Internet ad, too: "Unlicensed by the State of California Contractors Board."
FINALIST: Mr. Handyman
Housecleaning Service
Silvia's Cleaning Service
612 N. Kellogg Ave., Goleta, 682-6141
To limit them to cleaning is absurd. They do that, of course, ranging from helping with move ins and move outs to construction sites. Which, by the way, implies they'll come clean your disheveled digs no problem. But they also do errands, elder care, and baseboards. So it's no wonder that the readers vote for Silvia's Cleaning Service year after year-messy bailout after messy bailout.
FINALIST: Queen of Clean
Carpet Cleaning
Naturalist Carpet & Upholstery Cleaning
884-1911
For six years now, the folks at Naturalist were biding their time, growing a customer base who supports a more ecologically sound approach to cleaning what's underfoot. Actually, they've been working very hard to expand a very loyal customer base. And now the moment is here, with a new hope for a cleaner America-sans both muddy and carbon footprints.
FINALIST: Coleman Carpet Cleaners
Hardware Store
Santa Barbara Home Improvement Center
415 E. Gutierrez St., 963-7825
If you sought a truly democratic forum in this town, you could do a whole lot worse than the Home Improvement Center at about 3 p.m. on any given Saturday. There, you would be likely to find men, women, people of every racial extraction, and most sexual preferences, too. Wealthy movie stars-Robert Mitchum used to frequent the place-as well as politicians, academics, journalists, and not a few professional gardeners and people in the building industry have been known to drop by. The reason they go there? Precisely because it is a gathering place like the Farmers Market is for foodie types-not necessarily the cheapest, but by far the friendliest, most efficiently assembled stuff we need.
FINALIST: Orchard Supply Hardware
Tile Shop
Buena Tile & Stone (formerly Tile Collection)
518 E. Haley St., 963-8638
One reason for slight confusion may be the fact that Ed Steed, who bought the Tile Collection business two years ago, left the old sign up while remodeling the showroom floor. "We did this to bring a strategic level of design to Santa Barbara," said Steed, whose Ventura store already had demonstrated to him the principle that even though the warehouses are full of varied items, the showroom should be edited enough to get customers looking in a narrowed-down area. And then, voil , the store can demonstrate its hidden holdings-as well as its many extras like trained designers and installers. "It's ease of shopping plus value-added services that got the votes," he said.
FINALIST: Tileco Distributors
Home Furnishings Store
Pottery Barn
110 S. Hope Ave., 687-6707
When the time comes and people go off to make a home, they may settle for cartons and boards and bricks at college, but eventually the urge to coordinate transcends the mere need to nest. Pottery Barn has great sales, but good prices rule year 'round. The chain offers extensive computer registry when those wedding bells ring, and friendly service and lots of variety to help when all you need is some napkin rings to make that dinner party sparkle.
FINALIST: 1 World Imports