Best Of
Little Creatures
Best of 2009
Toy Store
Kernohan's Toys
18 W. Anapamu St., 962-5353; 5739 Calle Real, Goleta, 964-6499
This is another one of those businesses that even old Santa Barbarians remember since they were kids. The big brown bear that sat outside the old State Street store meant a treat to kids of all ages since 1954. It may not be the same bear in the new downtown store or the long-standing Goleta venue, but the Kernohan's combo of pure fun plus fun and educational toys still stands as a playtime gold standard in the city.
FINALIST: Chicken Little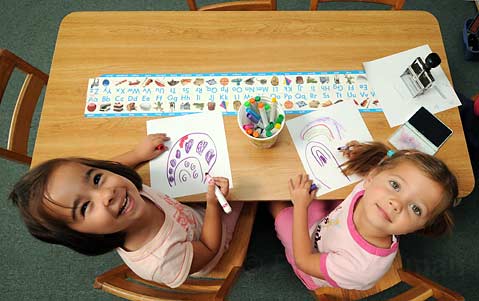 Daycare Facility
Evergreen Learning Center
7631 Evergreen Dr., Goleta, 685-7725
"I am elated and thrilled to have won," said Evergreen owner/director Loretta Smargon. "It's been a very great year for us. We have a waiting list of about 400 right now, a two-year wait. And all of this without any advertising." Evergreen's secret rests in the building of relationships, she explained. "We teach students to be respectful and to respect boundaries," she said. If kids learn that, no wonder the parents recommend it.
FINALIST: YMCA
Kids' Summer Camp
Zoo Camp
500 Ni±os Dr., 962-5339
Almost every year for the last decade, the readers have voted the Zoo Camp at Santa Barbara's Child's Estate as the best of that giant conglomeration of getaways. The activities include a lot of healthy respect for the animal kingdom as well as outdoor exercise and even a bit of education to round things out. When you think of it, our children are a species of wild animal, and, before they get too spoiled by civilization, it's probably a good idea for them to hang out with other amazing creatures from this planet.
FINALIST: YMCA
Children's Clothing Store
This Little Piggy Wears Cotton
311 Paseo Nuevo, 564-6982; 1470 E. Valley Rd., Ste. V, Montecito, 617-4337
Another one of those great ideas that began in Santa Barbara-kind of like ranch dressing, only cooler-This Little Piggy Wears Cotton now sports five stores and a healthy online shopping forum, too. Based on the principles outlined in its name with all the implied cuteness, This Little Piggy brings together well-crafted domestic and European children's clothes that are fashionable and good for them.
FINALIST: Old Navy
Pet Hospital/Clinic
White's Pet Hospital
532 E. Haley St., 966-1604
Another annual pick, White's Pet Hospital has served Santa Barbara since the Flivver was the car one used to cruise down Haley Street. Offering full veterinary services from serious health issues to grooming for hygiene and comfort, plus a long history of reliability, it's where we go to keep our best fur-bearing friends feeling fine.
FINALIST: San Roque Pet Hospital
Pet Boarding
Dioji K-9 Resort & Athletic Club
7340 Hollister Ave., Goleta, 685-6068
It took some time, but we finally got it: D.O.G. A light-hearted approach to the name is matched by an attempt to be totally transparent. Owner Jeannie Wendel brags that nothing is done in secret here: you can see the whole operation approaching the wide (10,000-square-feet) doggie-roaming grounds that include a wishbone-shaped pool. "The other good thing is that we never leave your dog alone," claimed Wendel, who said poochie sleepovers are joined by staff who bed down right near them. Talk about pampering puppies. "We were floored that we won after just a little over two years in business," said Wendel. Maybe some day they'll open Seeayetee.
FINALIST: Camp Canine
Pet Grooming
Little Dog House
5758 Hollister Ave., Goleta, 964-2446
For more than three decades on Hollister Avenue, the Little Dog House has untangled fur, deodorized post-skunk confrontation sufferers, and generally improved the overall appearance of animals in our town. Annabelle Hofmann somehow manages to crank out a lot of grooming every day while letting the beasts themselves run around happily inside her sparkling store. Everyone knows that a well-coiffed pet is a happy pet, and Hofmann does it without fleecing her customers.
FINALIST: Colleen's Pet Grooming
Pet Store
Petco
19 S. Milpas St., 966-7292; 3985 State St., 964-2868
This is a town crazy about its animals. We have major protests when the circus comes to town and even the sacred cow of Fiesta draws criticism from some activist quarters. Meanwhile, we don't mind shopping in a big animal department store to get deals for our four-legged best friends when possible. Petco is actually more than just a big-box stop full of seed and feed-it's neatly divided between pooches, kitties, aqueous creatures, and feathered friends, with just enough area leftover for the slithering kingdoms. The prices are good and the quality is high. They even have a doggy biscuit bar for those animals spoiled enough to live and fetch in Santa Barbara.
FINALIST: Lemos Feed & Pet Supply