Best Of
Sporting Life
Best of 2009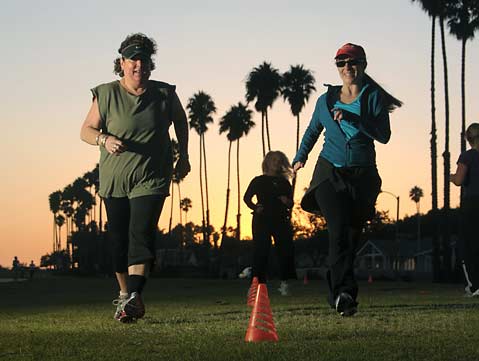 Health Club
Spectrum Athletic Clubs
6144 Calle Real, Goleta, 964-0556; 3908 State St., 563-8700; 21 W. Carrillo St., 965-0999
Health clubs come in all sizes and shapes, just like human bodies do. Some are fancy and padded with unexpected luxuries, like wine and beer bars. Others have the lean aspect of a prize-fighter, stripped down to the barest sweat-stained equipment-a barbell and a jump rope, say. But Spectrum has been doing no-frills, all-encompassing business for more than two decades here-it used to be known as Gold's-and combines the no-nonsense approach of scientifically engineered weight and cardio workout machines with newfangled approaches like Pilates and kickboxing to name a few. Variety is the spice of life, and Spectrum is trying to keep you around long enough to enjoy a lot of it.
FINALIST: S.B. Athletic Club
Campground
El Capitan Canyon
11560 Calle Real, Goleta, 685-3887
When you think of all the campsites from Davy Brown to Pendola, or from Jalama to Carpinteria, it adds glory to the readers' annual selection of El Capitan as the place they would rather pitch their tent or park their monster recreation vehicles. Whichever you prefer, El Cap offers a lot of the best. Lonely beaches, nearby canyons, pits to roast a brace of s'mores as well as a snack bar to satisfy your inner hot dog and hamburger fiend. There's even a luxury camping facility that offers weekly concerts just over the freeway, so if the "99 Bottles of Beer" singers get a little irksome, you can escape to a yurt and let the sea breezes blow away your civilization blues.
FINALIST: Refugio State Beach Campground
Fishing Shop
Hook, Line & Sinker
4010 Calle Real, #5, 687-5689
Here in the tiny strip mall that time forgot at the foot of San Marcos Pass is a really cool liquor store, a great little Japanese restaurant, and the perennial winner of our readers' affections for bait, tackle, and other forms of piscine-nabbing accoutrements. The proprietor, Mr. Yong Shin, has owned the only store that mattered since he opened during the Clinton years. Today, it still lives up to its encyclopedia of angling store name-in other words, its reputation has suffered no a-bait-ment throughout the years.
FINALIST: Big 5 Sporting Goods
Yoga Studio
Yoga Soup
28 Parker Wy., 965-8811
"What is happening in this studio is taking shape almost independently of what we are trying to do," laughed Yoga Soup's owner and chief teacher Eddie Ellner. "It's become a nice place to stop. We have a tea bar that's free; we often have fresh fruit, free; and there's a library, also free." Besides creating a great hangout, Ellner's proud of the way his "wonderful teachers" have drawn such community praise in a town, as he put it, "full of great yoga studios." "It's been a good year, and I'm most happy when people just walk in and say, 'What is this place?'"
FINALIST: Santa Barbara Yoga Center
Pilates Studio
IM=X Pilates Studio
3554 State St., 687-IMX2
Chanda Fetter likes to joke about working her butt off-it's what she does for others, too. But she's serious about the advantages her studio-the initials stand for "Integrated Movement means Exercise"-has as opposed to other Pilates providers. "We have a full menu, including reformer Pilates, mat Pilates, yoga, and spinning," said Fetter, who is an owner of the S.B. franchise and a registered teacher of teachers. The chain is big in New York, she said, but this site is one of two in this state, with plans to spread. Besides the high quality of instruction, it's the atmosphere that counts. "We're small enough that a nice social culture has developed at IM=X, too," she said.
FINALIST: Centerpoint Pilates
Martial Arts Studio
Martial Arts Family Fitness
122 E. Gutierrez St., 963-6233
Master Dave Wheaton began his martial arts training in Connecticut, learning taekwondo from a Korean man attending Yale. Many years later-and seven of them here in his studio-Wheaton now teaches hapkido. "It has the hard aspects of martial arts," he explained, meaning punch and kick techniques, "but there's also something soft and circular about it." Little wonder this self-defense with an introspective twist is successful. But Wheaton takes nothing for granted, crediting his great staff for pleasing the voters. "We are so grateful to be voted best martial arts studio again. We want to say thank you to Santa Barbara. We hope we can continue to serve the community."
FINALIST: Aikido of Santa Barbara
Dance Studio
Rhythm Dance & Fitness
5708-B Hollister Ave., Goleta, 965-0444
Tamarr Paul is a Santa Barbaran who began as a teacher at the famed Studio E, moved to Los Angeles, and attended USC, but decided after performing in videos and onstage to come back home and open his own studio. Meanwhile, he's made connections to the school system here, offering classes that can be taken in lieu of PE, and said his best advertisement is taking his own dance crew out to perform around town. Today, he said, more than 600 students attend classes ranging from hip-hop to street jazz. "We worked very hard to be recognized and we're very happy," said Paul.
FINALIST: Gustafson Dance
Outdoor Fitness Program
Body Boot Camp of Santa Barbara
708-6693
"We're absolutely happy to have won," said Body Boot Camp owner Rob Grayson, who has been toning bodies out near Shoreline Park since 2003. "It's going very well for us. We have a very dedicated clientele probably because we have wonderful coaches who treat everybody fairly and get great results."
FINALIST: Nite Moves
Camping Gear Store
Santa Barbara Outfitters
1200 State St., 564-1007
General Manager Lisa Bartlette admits it hasn't been the best sales year, yet insists that S.B. Outfitters have held onto their tent stakes here. "People have less to spend, so they try to get the best for their money. That's where we've done well. We consistently have been improving our stock. It was good to begin with-and we're even getting better," she said. "We're going for the higher end, and people seem to be responding."
FINALIST: Mountain Air Sports
Surf Shop
Channel Islands Surfboards
36 Anacapa St., 966-7213
"We're super stoked to win," said Channel Islands Surfboards Manager Pat Ecker. "We think it's the best surf shop in the world. I mean, we have more than 700 surfboards on the floor. I don't know anybody else who has that," he said, adding that they were all designed by ace shaper Al Merrick, too. The economy and the waves were both a little flat, but summer was great with lots of tourists. "More than half of our business is local, which makes us happy," said Ecker, "and we're looking forward to a really big winter."
FINALIST: Beach House Surf Shop
Swimwear Store
Bikini Factory
2275 Ortega Hill Rd., #B, Summerland, 969-2887
"Thanks for telling us the news," gushed Bikini Factory owner Linda Meyer, who has run the 46-year-old business since 1975. "And we are very, very grateful-happy to keep up the streak. I don't know how many years it's been, but every year there's been a category for bikinis, we've won it. Trust me-it means as much to me now as it did back then."
FINALIST: A Tropical Affair
Snowboard/Ski Gear Store
Mountain Air Sports
14 State St., 962-0049
We're pretty far from the slopes, but Santa Barbara is enough of a ski town to keep Mountain Air in business since 1980. (It first opened its doors in San Luis Obispo-a little closer to snow, maybe-in 1975.) During most of those years, Mountain Air has swept this competition, even after big, chain sports stores opened here. Known best for its ultra-researched line of equipment, Mountain Air keeps up with the trends, so you can get down with those faraway slopes.
FINALIST: Big 5 Sporting Goods
Bicycle Shop
Bicycle Bob's
15 Hitchcock Wy., 682-4699; 250 Storke Rd., Goleta, 685-6799
"Oh cool!" said the normally unflappable Devon Zaratzian upon learning that his shop had won the readers' poll yet again. "We've been fortunate this year, mainly because whenever spending is down, then our services kick in," he said. In other words, when people aren't spending a lot of money on new bikes, they're often bringing in their old faithful models to BB's for maintenance or repairs. Zaratzian's also looking forward to Whole Foods opening across the street. "They're into healthy stuff and so are we," he laughed. He's got one good reason to hope for the shop's continued success: "Bob's my dad," he said. "So I want things to go well here."
FINALIST: Hazard's Cyclesport
Skateboard Shop
Church of Skatan
26 E. Gutierrez St., 899-1586
Skateboarding is more like a subculture than an outdoor activity. There's a language, music, and garb associated with the culty sport, so there's no real reason why there shouldn't be an organized religion-or at least a church. Situated in a former house of worship, Church of Skatan's had a long run servicing the squads of mostly youthful hill-bombers and ramp-shredders who come up through this otherwise peaceful beachfront town. It's got everything the skater needs in paradise, and even seems to promise help for skating into the next world as well.
FINALIST: Surf Country
Place to Get Athletic Shoes
Santa Barbara Running
110 Anacapa St., 899-8802; 129 N. Fairview Ave., Goleta, 964-6700
They've won this category for three of the six years S.B. Running has been in business here, according to store manager Nick De Vreese. "We have a lot of knowledge about our products, the service is great here, and we're involved in a lot of community events," he said. The store sponsors many of the public races from Nite Moves to most of the -athalons in town. Most of the shoes fall in the range of $85-$135, he explained, but the best part of S.B. Running is that the staff takes time to measure your feet carefully and find the best way to keep your tootsies in the running.
FINALIST: Big 5 Sporting Goods
Diving Shop
Anacapa Dive Center
22 Anacapa St., 963-8917
"I don't know who is voting for us, but we're unbelievably grateful," said Jeff Baker, assistant manager of Anacapa Dive Center. "I'll bet it's someone who has taken a class from us, because I've never heard anybody complain about any of our teachers." Anacapa offers training from the most basic level to courses that essentially certify teachers, he explained. "We have great instructors, great equipment, and very competitive prices," said Baker.
FINALIST: Blue Water Hunter
Whale-Watching Tour
Condor Express
301 W. Cabrillo Blvd., 882-0088
People like to escape paradise all the time. They hike off into the backcountry, fly away to greater promised lands like Hawai'i, or simply go to the movies. But many of us forget to get in a boat and see what the world looks like from over the bounding main. Mainly it's infested with all sorts of leviathan, from playful dolphins to massively awesome blue whales. The Condor Express has 30 years of experience tracking down the life passing through our channels, and its constantly modernizing fleet can take a crowd out to the islands before you can say "Queequeg's harpoon." The pleasures of just getting out on the ocean might be enough, but Condor Express offers a free "whale check" guarantee if you don't see a cetacean. That means you can escape paradise twice.
FINALIST: Double Dolphin
Golf Course
Glen Annie Golf Club
405 Glen Annie Rd., Goleta, 968-6400
Maybe it should be renamed the Phoenix Golf Course for its proven ability to rise from its own ashes. Slated to close last July 6, Glen Annie got a huge reprieve and a new owner, never missing a day for the duffers. Course Manger Rich Nahas is mindful of the double pleasure-surviving a closure and getting the readers' nod. "I think what people really like about this place is that it's all about friendly service," he said. "When we first opened, we thought this would be mainly for tourists, but we quickly realized we needed a concerted effort to get our neighbors to come, and we have. We have great programs, and the restaurant is open to golfers and non-golfers. The people living around us have been very supportive."
FINALIST: Sandpiper Golf Club