Sports
S.B. International Marathon
Ambitious Athletic Event Comes to Town
On Sunday, December 6 at 6:30 a.m., under a gibbous moon in a dimly lit sky, Goleta and Santa Barbara will begin to experience one of the most ambitious athletic events in the history of the region.
Upward of 2,500 runners will start the first Santa Barbara International Marathon on Hollister Avenue near Ellwood School. They will pour across the freeway bridge at Winchester Canyon and be heading east on Cathedral Oaks Road when the sun rises over the hills. A right turn on Los Carneros Road will lead them around the Camino Real Marketplace and back to the starting line-almost nine miles behind them, 17½ miles to go.
The runners will return to Cathedral Oaks and follow it for seven miles to Turnpike Road. They will go south over the freeway and across Hollister to the bike path at the edge of Hope Ranch. The path will take them to Modoc Road, which they will ply for two miles. At Las Positas Road, they will head toward the coast. After almost 24 miles of running, a formidable hill on Cliff Drive will confront them. But then the course will be level to Shoreline Drive, and the last 1½ miles will be a sweeping downhill curve with a glorious view of the Pacific Ocean to the finish line at Leadbetter Beach.
It should take around 2½ hours for the fastest runners to complete the 26.2-mile course-some of the 200 relay teams may finish ahead of them-and the cutoff time for official finishers will be 6½ hours.
Along the way, the marathoners will encounter an army of volunteers who will monitor their progress, offer them water, energy drinks, and first aid. Diverse musical groups (bagpipers, a jazz band, a symphonic ensemble, and Brazilian drummers) will try to lift their spirits in the latter stages of the race. Thousands of residents who live around the course will watch them and encourage them-or at least, the organizers hope, tolerate them.
Inspiration and History
The inaugural Santa Barbara International Marathon has been almost four years in the making. Soon after Rusty Snow moved here from the East Coast, where he had run a number of marathons, he envisioned the classic distance race along this picturesque and climatically blessed community. He wanted to include the rural ambience of Goleta and the stunning Santa Barbara waterfront. June Snow, his wife, put together a business plan, and they went to work to make it happen. They had to defy numerous naysayers. "I just kept pressing," said Rusty, a self-employed physiotherapist and running coach. "I learned to be stubborn from running marathons."
Rusty and June Snow, co-directors of the marathon, brought in Rusty's old coach, Dan Campbell, as technical director. Campbell was their point man in obtaining permits from local jurisdictions. They held informational meetings with residents last year, and in January, they starting signing up runners. Select Staffing came on board as the presenting sponsor.
It is a mammoth undertaking in comparison to the erstwhile Santa Barbara Marathon, which had a 20-year run from 1965 to 1984. When it was launched by a hardy band of distance runners-considered freaks in those days-there were only five other annual marathons in the United States (now there are more than 300). Twenty-seven men started and 17 finished the first race from UCSB to Santa Barbara City College. In 1966, both the start and finish were moved to SBCC, with a turn-around point in Goleta. There were no official aid stations in the early years, even though the race was held in early autumn, when Santa Ana conditions could push the temperatures into the 90s. The runners had to share the roads with cars and trucks.
At its peak, the marathon had 354 finishers in 1977. Santa Barbara athletes set the course records-four-time winner Robert Hollister the men's mark of 2 hours, 23 minutes, 59 seconds; Elaine Campo, the women's best of 2:54:21. Participation was declining when race director John Brennand decided to drop the endeavor. New marathons were popping up all over with easier courses and more perks.
In order to tout the Santa Barbara International Marathon as a world-class event, the Snows realized they would have to make it much bigger and better than its predecessor, and they would have to muster strong community support.
The Helpers
Anita Ho's reputation as an organizer (Special Olympics, Solstice Parade) preceded her when she showed up at a marathon planning meeting. "I thought I'd hand out water to runners," she said. "They flattered me, and all the sudden, 'Oh, great, I'm in charge.'" Ho was appointed the SBIM's volunteer coordinator. The success of the race depends on volunteers willing to show up as early as 5:30 a.m. to monitor the course.
"Most marathons have 10 percent first-time runners," Ho said. "This one has 33 percent running a marathon for the first time. We have to make sure they're taken care of." Ho divided the course into eight segments of three-to-four miles and appointed a captain or co-captains for each one. They, in turn, recruited 30 to 60 volunteers for each section. Another set of managers is responsible for the 13 water/aid stations. "They're great, great, great people," Ho said of her captains, who have assembled a force of 1,000 volunteers.
John Brennand performed one of the most grueling and necessary tasks in preparation for the race. He measured the course with an exactitude that would merit its certification by USA Track & Field. It entailed his riding over the course several times with a bicycle wheel that's calibrated before and after each measurement.
"The authorities who set the rules are anal about this," Brennand said. "There's a requirement that the course be measured one-tenth of 1 percent longer [than the official distance of 26 miles, 385 yards]. That's an extra 130 feet. It's called the 'short course prevention factor.'" There may be no person better qualified for the job than Brennand, a retired engineer who headed the team that measured the course for the 1984 Olympic marathon in Los Angeles.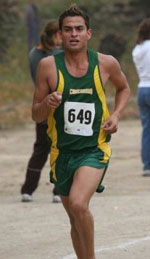 The Elite
Carlos Handler of Pomona won Riverside's Mission Inn Half Marathon on November 8 in a speedy 1:06:07-a pace of five minutes per mile. The 27-year-old made his 26-mile debut at the 2008 Twin Cities Marathon and finished 17th in a time of 2:23:44. He hopes to improve on that and post a 2012 Olympic Trials qualifying time.
Also hoping to make a big jump is Tennessee's Robby Cherry, a 23-year-old Westmont College graduate who clocked 2:29:41 at the 2008 NAIA Championships. Tim Strand, 42, one of the runners trained by Snow, "could run 2:47," more than 10 minutes faster than his personal record.
Among the women, Jennifer Derego, 30, of Brentwood boasts a PR of 2:41:26 from the 2004 Olympic Trials. In 2007, she placed fourth at the L.A. Marathon with a time of 2:46:16.
Santa Barbara has a platoon of resilient running mothers. Chrystee Bradley, 39, and Michelle McToldridge, 35, both will be going for sub-three-hour times, according to Snow. He expects even greater things of Andrea McLarty, 32, who has been outstanding in area races for the past two years.
"She's naturally very tough and persevering," Snow said. McLarty won the Santa Barbara Half Marathon in 1:22:12 early this month despite feeling fatigued from her 80-miles-a-week training. "Her legs were heavy and she felt awful," Snow said. "She could have a great day in the marathon."
McLarty, a Texas native and graduate of Yale, has a strong competitive streak. After running her last marathon in Austin in 2000, she swore she'd never run another one. She stuck to shorter races. She lived in New York when her son Lachlan was born "and I either ran pushing a stroller or picked the baby up to breast-feed right after a race."
She was excited when her husband Robb got a job in Santa Barbara. "I once did a trail run in Boulder (Colorado), and I gasped, 'This is the most beautiful place to run,'" McLarty related. "This guy said, 'That's true:except for Santa Barbara.'"
McLarty hooked up with Snow's training group a year ago. "They're so infectiously sweet, nice and fun," she said. "I've never run as well as I am now."
Dealing with her two children-Lachlan is now 4, Isla 2½-has intensified McLarty's work ethic. "There are no off days, no sleeping in, no lying cozy in your pajamas," she said.
She recently ran the last 13 miles of the SBIM course from Stow Park to the finish line. "It's a surprisingly fast course," McLarty said. "You have a lot of gentle downhills before you go up the Cliff Drive hill."
The Pluggers
Most of the 2,200 individual runners who have signed up for the SBIM will be running at a moderate pace. Times have slowed considerably in the last three decades, according to data compiled by Running USA. The average marathon time in 1980 for men was about 3:30, and for women, four hours. Today, the averages are 4:16 for men and 4:43 for women.
Many of these runners are doing it for charity. Michael Salsbury of Santa Barbara used to put his foot on the gas-he ran a 2:48 marathon to qualify for Boston almost 30 years ago-but Sunday he is going to take it slow and easy with his son Nicholas, 19. They are raising donations for Hospice of Santa Barbara.
"Hospice guided our family through the darkest of the dark, three times over," Salsbury said. He and his wife Gabriella had three daughters, each of whom died in the first year of her life from a rare genetic neurological disorder, since identified as "vanishing white matter disease." It prompted the Salsburys, who have a healthy daughter, to set up the Three Little Angels Pediatric Neurological Foundation. "I used to run a marathon to race," Salsbury said. "Then it was to finish. Now it's to survive."
The SBIM's relay division-for two- three- or four-person teams-gives runners who aren't ready for a full marathon a chance to participate, and many of them will be raising awareness of charitable causes. United Cerebral Palsy/WORK Inc. will have Team Womble doing the relay. Phil Womble, a much beloved crusader for people with disabilities, will accompany the team's runners in the last 30 yards to the finish line.
Running in the marathon relay will be a huge accomplishment for Mark Mitchell, a country radio deejay from San Luis Obispo. A year ago at this time, he weighed 373 pounds. "I was a lazy junk food addict," he said. "One day at Frank's Hot Dogs, I spent $55 on food, and the most expensive thing on the menu was $5.99-the Double Dare, a hot dog wrapped in bacon."
But one day he realized that he might be dead in 10 years if didn't do something about his condition. "Walking up the stairs," he said, "I was out of breath." He found out about lap-band surgery, and he had Dr. Paul Cirangle perform the procedure on him in San Jose on December 12, 2008.
"It gave me a reason to exercise," Mitchell said. "With lap-band, you have to be accountable." He started on exercise bikes and dropped almost 100 pounds in the first six months. Then a representative of St. Jude's Children's Research Hospital, the beneficiary of a radio-a-thon conducted by Mitchell's station, suggested he try to run. He put together a marathon relay team, Morecowbell, with radio colleagues Niki Kozak, Stacey Green and Wanda Toro-three women whose combined weight was exceeded by Mitchell's former poundage.
Dan Campbell coached them. Mitchell ran his first mile on June 28 in a Santa Maria park. It took him 12 minutes. "It was painstaking," Mitchell said. "Dan said, 'Congratulations. You are now an athlete.' Sticking with it is the best thing I've ever done."
Mitchell has gotten his training runs up to eight miles-his leg in the marathon relay will be 6.4 miles-and his weight was down to 209 a few weeks ago. "I want to be 199 on race day," he said.
Kozak is amazed at his transformation. "I didn't know how he was going to do it," she said. "[Lap-band surgery] is not a miracle cure. He changed his whole lifestyle. The marathon gave him a purpose. He doesn't want to let his trainer and the team down."
Mitchell, 39, said his wife Jacque "will tell you I'm overly obsessed about running right now. Once I get past December 6, there will be more of a balance. She's happy I'm not going to die at 43. That's where I was headed."
4•1•1
Santa Barbara's marathon weekend will start Saturday with two events at SBCC-the Children's Festival (9 a.m.-2:30 p.m.), featuring a series of fun races on the track from 25 meters (for toddlers) to a mile; and the Health & Fitness Expo (9 a.m.-6 p.m.) where runners and their families can check out various exhibits. There will be a pasta dinner, benefiting the Juvenile Diabetes Research Foundation, from 3 to 8 p.m. at the Campus Center Cafeteria. For more information, visit sbimarathon.com.