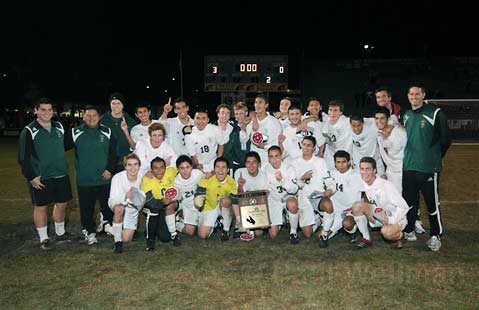 Santa Barbara High's soccer team was at home on the range — the wide expanse of Meredith Field at UCSB's Harder Stadium. The undefeated Dons pushed the ball around with the skill of grandmasters working on a chessboard and scored a 3-0 victory over the Dos Pueblos Chargers in the CIF Division 2 championship game Friday night.
An estimated at 8,000 to 9,000 fans streamed into the stadium, but many of them missed the goals — all three scored in the first half — because of heavy congestion at the ticket booth. SBHS athletic director Nan Verkaik said 7,000 tickets were printed up for the match, and most of them were gone when the decision was made to admit hundreds of spectators for free at halftime.
The size of the crowd, unprecedented for a high school soccer match, rivaled some of the largest turnouts for the UCSB Gauchos, who led the NCAA in attendance.
"We knew the atmosphere would be electric," Dons Coach Todd Heil said. A social studies teacher at the school, Heil said he observed that the soccer players were "pumped up all day. They were jittery and antsy." But once the game started, they settled into a comfortable rhythm. "We were able to control the tempo," Heil said. "This field suits us perfectly."
Senior defender Brian Joseff scored the first goal after Dos Pueblos was unable to clear a corner kick by Alex Santana. Joseff hit a low shot that trickled out of DP goalkeeper Chris Castillo's grasp. Fernando Alvarado made it 2-0 on a point-blank shot minutes later, and Spencer Pritchard scored the third goal on a rocket from 18 yards out.
"We came to play," Joseff said. "Every game we come out passionate and intense."
The Dons' quick start took the steam out of Dos Pueblos. "You go into the game thinking you're going to pull an upset, then they [Santa Barbara] do what they do best," said Chargers midfielder Danny Rowell. "They're the best passing team in the league. They make you run, make you tired, especially on this field. That's why they're undefeated."
The Dons are 29-0-1 — they had a scoreless tie with Dos Pueblos in Channel League play — and they are expected to host a State Regional Division 2 playoff game at Peabody Stadium on Tuesday.
Dos Pueblos (15-6-7) may have seen its season end, but at least it was in a memorable fashion. "It was amazing to play in front of this crowd," Rowell said. "I may never get an experience like this the rest of my life."