Sports
Big West Basketball
UCSB Men's and Women's Teams Battle Rivals for Championship
Even though Disneyland is across the street from the Anaheim Convention Center, site of this week's Big West Men's and Women's Basketball Tournament, none of the teams want to go there. They want to go to the Big Dance, aka the NCAA tournament, and the only way there is to win every game. For the losers, there is no Tomorrowland.
UCSB's teams face two different roads—one short but steep, the other long and winding. The Gauchos already have a berth in the men's semifinals at 6:30 p.m. Friday (March 12) because they finished on top of the regular season standings. The Gaucho women finished in fifth place and had to play Pacific in a first-round game Wednesday, and if they win that one, they will take on fourth-place Long Beach State at 2:30 p.m. Thursday, the winner advancing to the semis Friday afternoon. The televised championship games will be Saturday, the women's at 1 p.m. and the men's at 5 p.m.
If you're counting, that's two games the men will have to win to see Santa Barbara's name come up in the NCAA's selection show Sunday, while the women will have to win four times on consecutive days—something that has not been accomplished since the conference began awarding byes to the top four teams in 2004.
Yet in a teleconference this week, the Big West coaches named five or six teams of each gender that have the ability to win the tournament. It's good news for the Gaucho women, potential spoilers, but a scary prospect for the men, potential spoilees. And a lot of fun for every fan with a sturdy cardiovascular system.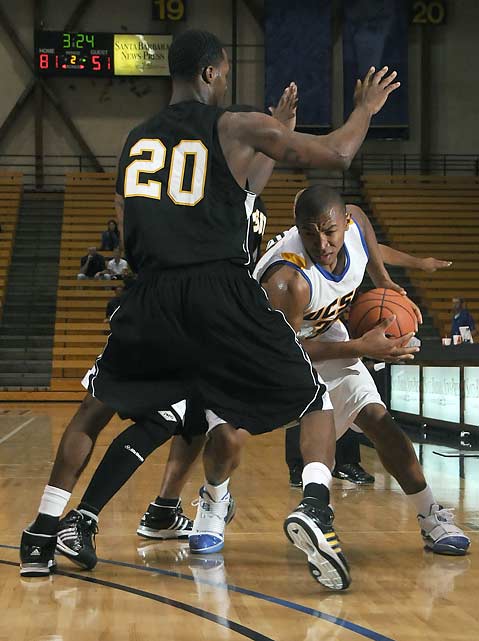 The Gaucho men's greatest asset psychologically may be their youth. Five of their top seven players are sophomores, including 6′5″ guard Orlando Johnson, their high scorer (18 points per game) and the Big West Player of the Year. "Orlando is very deserving," said Bob Williams, who was named Coach of the Year for leading the Gauchos to the top spot. "He's made a ton of big shots and big plays. He's tough to guard because he can shoot the three or take it inside."
James Nunnally made the all-conference second team. He's another sophomore who does not have any of UCSB's past setbacks at Anaheim in his memory bank. The Gauchos have hung tough in close games—hair-raising victories over Pacific (68-67), Long Beach State (64-62), Cal State Fullerton (85-80 in overtime), and UC Irvine (77-74) come to mind. Santa Barbara's wild card may be senior guard James Powell, who has been stroking the ball well from beyond the arc and is a clutch free-throw shooter.
The Gauchos have made the Big West final just once—in 2002, when they upset Utah State—in Williams' 12 seasons as their coach. Win or lose, this year's team will get additional postseason experience, because the regular-season championship entitles it to a National Invitation Tournament (NIT) bid. But it's much cooler to cut down a net while the fans chant "N-C-A-A."
That has become the usual climax of the tournament for UCSB's women—they have won 11 of the past 13 titles and were finalists the other two years—but this season they had their worst finish in the standings since 1990. They did take a five-game winning streak to Anaheim, however, and it was telling that Fox Sports announcer Patrick O'Neal, who will call the championship game Saturday, had some questions for UCSB coach Lindsay Gottlieb about her team this week, just in case he sees them again.
The Gaucho women have two second team all-leaguers—6′4″ junior center Mekia Valentine and sophomore guard Emilie Johnson—and senior guard Ariana Gnekow received the "Best Hustle Player" award by vote of her peers in the conference. "That's very cool," said Gnekow, known for her tenacity in pursuing rebounds and loose balls. "I always try to bring energy to the game. I love that award."
Gnekow came to UCSB from Santa Ynez High without a scholarship. She hustled to earn her place on the roster, and this season she is one of the Gauchos' captains. She has started their last 12 games. "We've come together as a team," she said. "We are a lot tougher now. There's nothing more exciting than tournament play. Any game could be your last."
If you cannot catch the excitement in Anaheim, the Gaucho women's games will be broadcast on 990 AM and the men's on 1490 AM in Santa Barbara.
WARRIORS TO THE END: A special shout-out to the Westmont College women's team, which took the NAIA's third-ranked team, Vanguard, down to the last second of the Golden State Athletic Conference championship game Monday night. Vanguard won 68-66. Westmont's three seniors—Jessica Case, Alisha Heglund, and Amber Stevens—combined for 46 points, 15 rebounds, and 13 assists in their final game.