Arts & Entertainment
Ruby Suns Teach Us to Fight Softly
Ryan McPhun's Indie Pop Outfit Goes Electro with New Record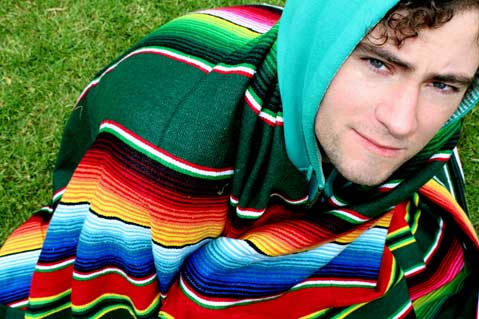 Long before those Brooklyn babes in Vampire Weekend came along, there was Ryan McPhun. The Ventura native, onetime New Zealander, and current Auckland transplant has become known for his expressive fusion of Afro beats and indie pop, and his latest, Fight Softly, is no exception. From its washed out, atmospheric opening track, the album moves through a world of synthesized noises, syncopated beats, and borderline trippy arrangements. The result is a disk that draws on McPhun's psychadelia-inspired back catalogue, but also moves the Suns in a whole new direction.
As a whole, Fight Softly carries that worldly flair that the Ruby Suns have always been known for, but with a harder electronic edge. Lead single "Cranberry" mixes blaring marching band percussion with maracas, marimbas, and a whole lot of Men at Work-style synth. Elsewhere, the album is meticulously flavored with didgeridoo, finger snaps, and computer-generated symphonies that sound both contrived and movingly sweeping. Its sound is a surprisingly easy to swallow mix of Animal Collective, Ladysmith Black Mambazo, and Talking Heads that's also far more engrossing than anything McPhun's imitators have attempted.
This Friday, the Ruby Suns venture stateside for a show at Jensen's Mainstage with fellow electronic wizards Toro y Moi. We recently caught up with McPhun via email to discuss the new record and upcoming tour.
Where did the title Fight Softly come from and how does it relate to the material? It was a joke at first, but then the title stuck. That phrase could mean lots of different things. One of those meanings could reference some of the lyrics, depending on how you look at it.
You've acknowledged that this record is more bass-heavy, more meticulously produced, etc. than previous Ruby Suns albums. What prompted you to go in this direction? I just wanted to do something different. The change was also a reflection of what I was listening to over the last few years. I've reconnected with all the music I listened to as a kid — all the pop stuff, like Michael Jackson, Phil Collins, Hall & Oates, etc. I wanted to let that influence show through, while still trying to push myself sonically.
"Two Humans" especially sticks out to me as one of the more resonating — and possibly more "electro-sounding" — tracks on the album. How did it come about? It was Fleetwood Mac that gave me the initial [idea]. I'd been listening to Tango in the Night heaps, and some of Christine McVie's tracks on that album resonated the most with me, [especially] the track "Family Man." I wanted to make "Two Humans" a little bit more sparse and simple, while also making it build into something big at the end. It was a challenge.
Sea Lion drew a lot of comparisons to surf pop icons like the Beach Boys. Do you feel like you looked to any specific musical touchstones for Fight Softly? I suppose each song had a specific touchstone, indirectly or not, that created the impetus for it. Fleetwood Mac provided the initial inspiration for "Two Humans," where as Phil Collins inspired parts of "Olympics on Pot," etc.
Now that the album's done, what are you listening to? One of my favorite albums right now is Rodante by Chancha Via Circuito. Also, Four Calendar Café by Cocteau Twins.
You and fellow tourmates, Toro y Moi, are going out in support of some pretty sonically ambitious albums. How do you approach recreating some of these songs live? It's sort of difficult sometimes, but we just try to combine live instruments with electronic sounds, so all the iportant stuff is presented.
What does the Ruby Suns setup look like for this outing? We're three people; basically, guitar, bass, and drums, but with each person doing heaps of other stuff too.
After the extensive amount of touring you did for Sea Lion, are you approaching these bouts of travelling any differently? Hmm, not really. I'll probably try to travel a little lighter than before!
What can't you travel without? My Beyer headphones, my laptop for movies and T.V. shows, an iPod, and a book of some description.
4•1•1:
The Ruby Suns play an all-ages show at Jensen's Mainstage (2905 De la Vina St.) on Friday, March 12, at 9 p.m. and is open to all ages. Call 563-3200 or visit clubmercy.com for tickets and information.