Arts & Entertainment
Orchestre Philharmonique de Radio France
CAMA Presents an Evening of Ravel at the Granada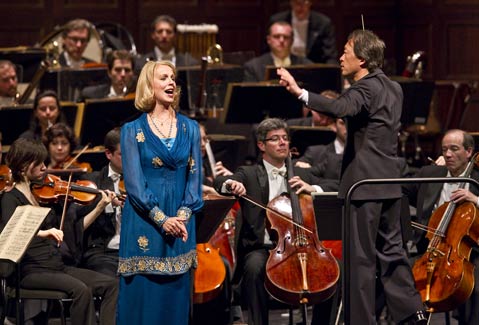 Due to the wildly popular Bolero and a handful of other famous compositions, Maurice Ravel's music is among the best known in the world. The Orchestre Philharmonique de Radio France gave the audience at the Granada an opportunity to delve into the depths of Ravel's oeuvre with this massive and moving all-Ravel program. The addition of soprano Anne Sofie von Otter not only made the occasion that much more special; it also brought out yet another side of this artist's stupendous output. There can be no question that this was one of the orchestral highlights of the year in Santa Barbara, rivaling the most impressive performances of the Los Angeles Philharmonic and the Shanghai Symphony.
The evening began with Ma Mère l'Oye, a ballet seven parts. As with any great ballet music, there were achingly beautiful ensemble sections designed to bring out the best in the players and the heights of emotion from the dancers and the audience. The section designated as the "Conversation of Beauty and the Beast" was particularly exciting, with the great narrative arcs of the high and low themes gradually resolving into a single statement. Conductor Myung-Whun Chung creates a dynamic image on the podium, clearly exulting in the freshness and sophistication with which his players execute Ravel's challenging orchestration.
Next up was the song cycle Shéhérazade, featuring von Otter. She's among the most assured and natural of singers, and the ease with which she navigated this otherworldly piece of Orientalism brought an intimacy to the music that was palpable. It's hard to imagine a subtler or more convincing marriage of orchestra and singer than was achieved in this sequence.
After the intermission, the orchestra returned breathing fire for the final three numbers. The Suites Nos. 1 and 2 from Daphnis and Chloe are Ravel's greatest work, bolder and more richly detailed than nearly any comparable music from this most fertile period (1909-1912) of European composition. The orchestra made the most of its beautiful burbling brook music, and then pulled out all the stops for the final bacchanal. After nearly an hour of Daphnis and Chloe, La Valse nevertheless came as yet another revelation: dark, sophisticated, and crashingly rhythmic in its astounding finale.