Dance
Spring Arts Preview: Dance
2010 Spring Dance Offerings in Santa Barbara
Just last month, we marveled at the spectacle of the Winter Olympics opening ceremonies. Now there's a chance to see some of those performers live when ScrapArtsMusic comes to the Granada on Friday, March 26. The show features dynamic physicality and musical instruments made from scrap metal. For something completely different, head over to SOhO that night or the next to catch the sassy, provocative Pin-Down Girls. Saturday, March 27, is also the second annual Santa Barbara Drum Day (dancingdrum.com) at Chase Palm Park Pavilion, which promises to be a dance free-for-all.
In April, college students bring their dancing talents to the fore. At UCSB's Hatlen Theatre (theaterdance.ucsb.edu), Move Move Move runs Friday, April 9-Sunday, April 11, and features choreography and performance by students and guest artists. Westmont College's Fringe Festival of contemporary theater and dance runs Tuesday, April 20-Saturday, April 24, and includes stage design, writing, acting, and directing by faculty members and students.
For those who want to be more than spectators, New York choreographer Larry Keigwin offers an opportunity to get on stage and strut your stuff. Keigwin's month-long DANCEworks residency begins with an open casting call on Monday, March 29, at the Lobero Theatre and culminates with performances on Friday, April 23, and Saturday, April 24. No dance experience is required for participation. Saturday, April 24, is also Dance Day (sbdancealliance.org)—look for dancers performing in unusual spots downtown. That same evening, the Granada hosts 101 Years of Broadway, which brings back classics like Phantom and Fiddler on the Roof, accompanied by a live New York band.
The junior company of Spain's Compañía Nacional de Danza has performed in Santa Barbara before, but the main company visits town for the first time on Tuesday, April 27. They'll be at the Granada courtesy of Arts & Lectures for an unmissable night of world-class modern dance under the direction of Nacho Duato.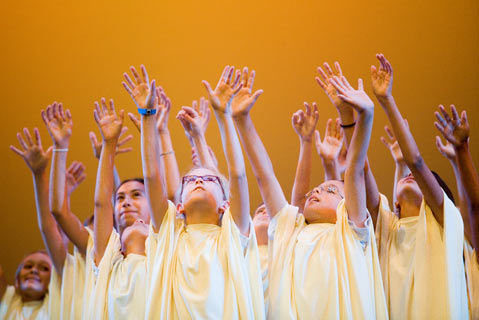 The month of May is rich with community dance offerings, beginning with the Children's Traveling Dance Theater performing at the Fair and Expo on Sunday, May 2. The performance art showcase NECTAR continues with an evening of works on theme of birth, Saturday, May 8, at Yoga Soup. The dancers of State Street Ballet show their own choreography at Evenings, held at the Gail Towbes Center for Dance Saturday, May 15, while teen choreographers present their work at the Santa Barbara Dance Alliance's annual show On the Verge, Saturday, May 22, at the Marjorie Luke Theatre. Also at the Luke the following day, the Santa Barbara Dance Institute presents Miguel and His Cell, featuring 280 public elementary school students as well as special guest performers from the community.
On Thursday, June 3, and Friday, June 4, the UCSB Juniors' Concert takes place at the HSSB Ballet Studio Theater. Friday, June 4, is also opening night for Infinite Movement Ever Evolving at the Lobero. They'll also perform Saturday, June 5, and they'll be back again Friday and Saturday, July 9 and 10.