Columns
Springtime for Goleta
Let the Fun Begin!
During wintertime, and rainy season, we hibernate, like bears, in the depths of our caves.
Don't get me wrong. I not only enjoy the rain, I also recognize its benefits: It was very much needed to replenish our water reserves and to tame our land's thirst, particularly after soaring fires ate everything in their paths. Now the rainy season's blessings are displayed in all the pretty shades of green in our mountains, the young leaves on the trees, the wildflowers, the smells of early spring on the California coast.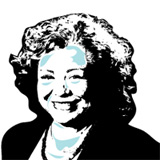 Spring also brings warmer weather and lengthening days. The time has come for all of us to leave our cozy nests, and enjoy all that our city has to offer—though after long weeks of going from home to work and straight back home, it feels like two days at the end of each week are not enough to enjoy our good land and relax!
What follows is a comprehensive list of fun activities to pursue in any season.
Family Activities:
Bowling at Zodo's
Horseback riding
Books, music, and story time at Borders Books and the Goleta Library
Watching sports at UCSB and Dos Pueblos HS
Camping at El Capitan and Refugio state beaches
Enjoying an Easter egg hunt at Girsh Park
Attending Summer Concert Series at El Capitan Canyon, Stow House, and Girsh Park
Savoring the Lemon Festival
Shopping at the Farmers Market on Thursdays on Calle Real, or Sundays at Camino Real Marketplace
Having some ice cream at Cold Stone Creamery, or yogurt at Yo-Yo-Yum!
Eating delicious pastries at Anna's Bakery
Taking an art class at Michael's Arts & Craft
Parents and babies: Catching a movie at 10 a.m. every first Tuesday of the month at the Fairview and Camino Real theaters
Taking small hike at the Ellwood Bluff
Riding the bike path between Goleta and Santa Barbara
Admiring monarch butterflies at Ellwood Reserve
Swimming in the ocean at Goleta Beach
Building castles in the sand
Going to UCSB's Marine Science Institute's touch tanks
Learning about the history of Goleta at the Goleta Historical Society and the South Coast Railroad Museum
Dining out at restaurants in Old Town Goleta, Fairview Shopping Center, and Camino Real Marketplace
Shopping in those same areas
Taking a day trip by train from Goleta to Carpinteria and spending the day there
Swimming at the Olympic-size pools open to the public at UCSB
Especially for Children and Teens:
Girl Scouts and Boy Scouts
Girl's Inc. after school
Goleta Valley Community Center classes
United Boys & Girls Clubs
Isla Vista Teen Center
Summer, spring, and winter camps
School campuses for after-school classes including dance, martial arts, sports, music, gymnastics, and swimming
Girsh Park for soccer, baseball, softball, basketball, and volleyball.
Fairview Gardens for fresh produce, gardening, and cooking classes
Stow Grove, Goleta Beach, and the Isla Vista for parks with playgrounds
Lake Los Carneros for ducks to feed
Now, think about it. If anyone were to do one of these activities per month, it'd take them practically three years to do'em all. Not bad at all for a town our size.
Next time your children ask, "What are we doing today?" I'm sure you won't be at a loss for ideas.