Arts & Entertainment
The Morning Benders Bring Big Echo to Jensen's
San Francisco Indie Rockers Return to Santa Barbara with New Record
We first caught wind of the Morning Benders in late 2008. The wide-eyed, baby-faced Berkeley quartet were fresh out of college, touring in support of their quietly released debut, Talking Through Tin Cans, and headed to UCSB's Lagoon for a free noontime gig, courtesy of AS Program Board. The concert was a promising, if slightly under-attended, endeavor that signaled big things for the band and its boyishly earnest lead singer, Chris Chu.
Flash-forward to the present, where the Benders have become one of the most blogged-about groups of the moment, thanks to their tireless tour schedule and newly acquired deal with Rough Trade Records. Their recently released sophomore effort, Big Echo, is easily the band's most ambitious, and it features a lush and layered soundscape that plays off of Chu's signature vocal stylings and the band's penchant for '60s harmonies even as it moves the Benders in a whole new musical direction.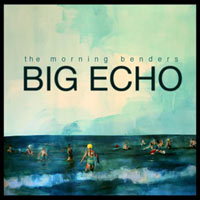 "We went into the studio with a really free mindset," explained Chu, via phone from a tour stop in Alabama. "We didn't want to be too conscious of what we sounded like on the first album or anything like that. We wanted to really use everything from all different eras of music and all different styles of music, just throw it all together and see what happened."
What he got in return was the loosely conceptual Big Echo, which Chu describes as a sonic space you can "go to and check out for a while." Like their more prolific indie contemporaries (we'll get to that in a minute), the Benders' Big Echo succeeds in the details. Songs like the unassuming "Hand Me Downs" start with jarringly distorted guitar, then give way to thumping drum beats, hauntingly ambiguous lyrics, and just enough vocal power and reverb to make the whole thing, well, echo.
"After we recorded the album, we started playing with a lot of ideas about space in recording," recalled Chu. "There was just a big, echo-y sound to it, so it made sense to call it such. Thematically, the record deals with the concept of time and growing older and how your memories are sort of these big echoes that stick with you all the time and bounce around in your head; things that affect you forever."
A producer and sound engineer himself, Chu points to the recording and mixing techniques when asked to articulate Big Echo's very big sound. "We recorded it in the Bay Area in this huge warehouse-hangar-type studio called The Hangar, actually, and then we mixed it at a church, so we had two really cool, unique spaces to make the record in," he said. "We were very conscious of wanting to make that apparent on the recordings and not try to clean it up too much. We really wanted to make the record true to the spaces; make it sound like listening to us play in this weird world that this big echo inhabits."
Perhaps another reason Big Echo feels so comfortably rich can be found in its liner notes. Following the Benders' recording stint at The Hangar, the band relocated to Brooklyn to mix and produce their new baby with Grizzly Bear's personal knob-twiddler, Chris Taylor. As a producer, Taylor put his stamp on the past three Grizzly LPs, as well as Dirty Projectors' Rise Above and 2008's beautifully haunting release from Department of Eagles, In Ear Park.
"I wrote Chris like two years ago, probably, when I first heard Yellow House," Chu recalled. "I was just getting into recording and production, and I was kind of taken aback by that recording and his style in general; he just shared a lot of similar ideas that I wanted to explore."
"He ended up going above and beyond what you would think of as mixing; actually crafting sounds and re-effecting some stuff," the singer continued. "In the outcome, I think he ended up doing a great thing with it. It was kind of a dream come true."
4•1•1
The Morning Benders play an all-ages show at Jensen's Mainstage (2905 De la Vina St.) with openers Miniature Tigers this Sunday, March 28, at 8 p.m. Call 563-3200 or visit clubmercy.com for details.