Visual Arts
Art Seen: The Power of Influence
Elizabeth Schwyzer Checks Out Art Around Town
GARMENT INDUSTRY: The dress looks made to fit a six-year-old girl, yet on its pedestal it stands at head height. With its layers of starchy ruffles, its intricate prints and cutout patterns, its wide butterfly sleeves, and its delicate highlights of metallic purple and green, it is sumptuous to behold. Closer inspection reveals it isn't made of fabric at all, but rather paper and foil that's been cut, stamped, dyed, printed, and glazed. It's a dress, but not a garment, and the result is both beautiful and somber. "Sister Dress" is a gown without a wearer, and there is something almost funerary about its emptiness. Its maker, Margaret Matson, once worked in circus and theater, and the drama and spectacle of those art forms come through in this piece. Despite its silent solemnity, "Sister Dress" is a visual marvel that draws the viewer in from across the room, demanding attention.
You'll find this single piece of Matson's work on display at Frameworks/Caruso Woods (813 Anacapa St.) through the end of April. Also on display in the gallery during the same period are paintings and mixed-media works by Matti Berglund. Raised in Norway by parents who worked in the garment industry, Berglund incorporates the textures and patterns of cloth in her work. For starters, there's "Scroll," a wide strip of canvas that hangs from the gallery's rafters all the way to the floor. On it, Berglund has painted oversized fleur-de-lis in pink and turquoise hues, dotted with flecks of gold leaf and interspersed with text from ancient manuscripts. It's Rococo for the 21st century, a romantic tapestry of color and symbol.
The rest of Berglund's works are textured oil paintings, most of which feature regal female figures or couples embracing. The fleur-de-lis theme returns in "Blue Lady," in which the subject sits side-on, her head turned to face the viewer, the expression on her face a mixture of curiosity and calm superiority. In "Lace," two figures stand nose-to-nose, their bodies obscured beneath looping white lines as if they've been woven into the surface of the canvas. Call 965-1812 or visit carusowoods.com.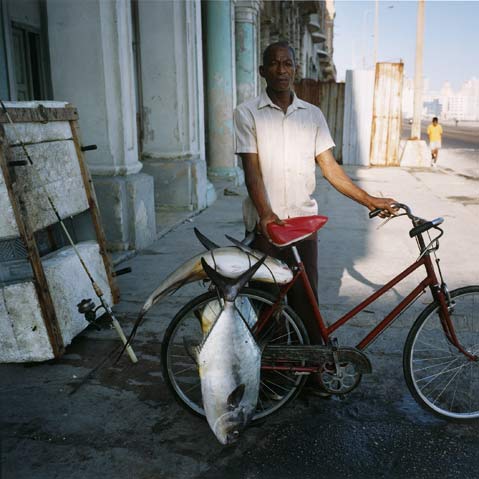 INSPIRING BY EXAMPLE: Every year, The Arts Fund gives a select group of teenagers the opportunity to apprentice with master artists. On view at The Arts Fund Gallery (205C Santa Barbara St.) now through May 15 are works by those accomplished adult artists who serve as mentors for the Teen Arts Mentorship Program. Among them is Nell Campbell, who's heading up the black-and-white film photography aspect of this year's program. The three works she has chosen to show are large-scale color prints. The most immediately arresting is "Fisherman on the Malecón," in which a sad-eyed man gazes steadily at the viewer. In front of him, his bicycle is loaded with his Havana catch of the day: enormous fish strapped to the bike rack in an unlikely configuration, like something out of a Dr. Seuss illustration. Despite the whimsy of the scene, there's a quiet melancholy here. It shows up again in "Calle Teniente Rey y Cuba," a shot of rusty car bodies moldering away in a dim warehouse lit by cinematic shafts of dusty sunlight.
Also participating in this year's Teen Mentorship Program is Colin Gray, whose "Industrial Detritus Graffiti" sketches are presented in triptych—though his subjects are far from divine. In them, metal pipes tagged with spray paint twist themselves into tangled masses like fleshy snakes. The pipes suggest gas and oil—prime symbols of American excess—a metaphor that's helped along by their fleshy, swollen appearance. Between the political overtones and the street-art aesthetic, it's easy to see why Gray's work has teen appeal. Call 965-7321 or visit artsfundsb.org.