Dance
Move Move Move at the Hatlen Theatre on Friday, April 9
UCSB Students and Faculty Present New Work
Every year, UCSB's dance department puts on two fully staged productions showcasing choreography by students and faculty members. If you follow these shows throughout the years, you'll notice trends as they emerge and subside and patterns of growth and change in the department. In recent years, the level of technique demonstrated by these students has been consistently high, and this show was no exception. What's new is an emphasis on the theatrical. From circus antics to silent dramas, ironic plot twists to vocal delivery, Move Move Move was not, as its title suggested, a showcase of pure movement. The majority of these pieces demanded of the performers dynamic stage presence and full commitment to characterization—not easy tasks for any dancer.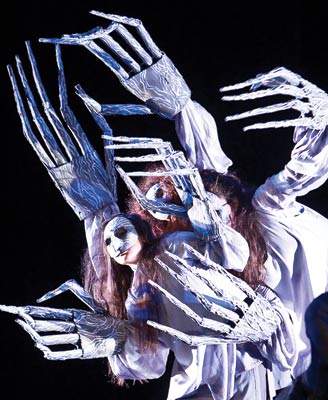 The show opened with "Regret to Inform," a quintet by senior Catri Grisso that moved from relative abstraction to overt images of war and death. An explosive male trio made good use of the dancers' athletic ability.
Fellow undergrad Brittany Castillo followed with "What the Water Gave Me," a startlingly original work that began in darkness, with four female figures approaching the stage from the aisles, their heads draped in red cloth, flashlights illuminating their fabric cocoon. From a meditative opening, the piece evolved into a series of frenetic struggles and odd unions. One woman carried a cloth-draped body on her hip, while two others ran in circles, clapping their hands. Next came "Shift," an impressionistic group work by University of Houston professor Teresa Chapman set to the soaring double bass music of Francois Rabbath. Mira Kingsley, a new addition to the department faculty, choreographed "the earth is lovely too," a trio that moved from earnest drama to surreal satire, calling on the full range of the performers' abilities.
After the intermission came department grad Bradley Lundberg's aptly titled "Sweet Suite"—a visual expression of Nina Simone's music. It was in the show's final two pieces that the flair for the theatrical hit its zenith. Faculty member Christina McCarthy presented the ambitious "Love, Petrushka," based on the 1911 Russian ballet Petrushka and featuring spectacular costumes by Ann Bruice and McCarthy. Three dancers played the role of the magician. They grasped and clutched at the other characters with giant, withered fingers as a tragic love triangle played out.
It was a wise choice to save undergrad Rachel Greenblat's group work for last. "The Secret Lives of Aquarium Creatures" was a flat-out crowd-pleaser, with dazzling costumes by Rosie Lubianker and underwater antics from a cast of nine. As the sea stars, Brittany Amoroso and Sean Nederloff stole the show, cartwheeling around the stage before suctioning their bodies against the rocks. It looks like Greenblat's got a future in the entertainment industry.