Books
Environmentalist Bill McKibben to Speak at USCB
Author Discusses Our Changed Planet
TIMES THEY ARE A-CHANGIN': Bill McKibben has been talking about global warming since before it was cool. He was examining climate change in print back in 1989, when his first book (and New Yorker serial) The End of Nature rang alarms across the planet. But it seems that effort, and McKibben's series of popular books on sustainability and the environment that followed, didn't stir up quite as much concern as he'd hoped. According to his new release, Eaarth: Making a Life on a Tough New Planet, humanity has let things slide so far that we're more or less on a different planet than the one we started with.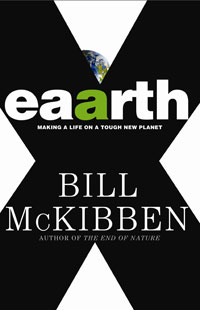 Hence the book's unusual title: We were living on Earth, but now we're living on "Eaarth." McKibben doesn't argue that Eaarth is so terribly inhospitable or that its conditions put our extinction dead ahead, but he does believe that the changes are irreversible and demand no small amount of adaptation on our part. That his warnings of two decades ago weren't heeded as carefully as they might have been hasn't discouraged him. In fact, he seems to have counterbalanced it by taking on a busier publishing, touring, and speaking schedule than ever. In addition to his ongoing writing for the New Yorker, he's founded the well-known worldwide climate control campaign 350.org and regularly spreads his message in lectures like the one he'll give at UCSB's Corwin Pavilion on Saturday, April 24, at 3 p.m.
How and when did the original dangers of global warming and these now-immutable alterations to our planet become clear and present? "Twenty years ago, what we didn't know for sure was timing," McKibben wrote in an email exchange with The Indy. "How fast would this stuff happen? Faster, as it turns out, than anyone could have guessed. That's been becoming clearer for quite a while, but summer 2007 and the rapid melt of Arctic sea ice probably made it most clear. Since then, one physical phenomenon after another has pointed in the same direction, and we've been measuring things we never even bothered to calculate before. The rapid change in the chemistry of sea water (30-percent more acid), for instance, came as a great surprise."
Given these worsening environmental problems, McKibben and those of a similar mindset have advocated a scaling-down of the kind of production, consumption, and destruction mankind has gotten used to performing on a daily basis. Many of his books—the sustainable-lifestyle searching Hope, Human and Wild, the biotech-wary Enough, and his previous release, Deep Economy: The Wealth of Communities and the Durable Future, among them—concentrate directly on the human imperative to scale back such ever-growing ambitions.
This may be the best time ever to make that shift. In the developed world, environmentalism has entered the vogue; it's now cool to minimize your food-miles, to watch your trash, and to limit your carbon footprint. Is the relatively newfound taste on the part of the citizens of Earth—or Eaarth—to consume in ever more sustainable ways a substantial contributor to the solution, or is it more of a social prompt, a psychological preparation for the greater degree of behavioral change that all mankind must undertake?
"'Social prompt' is a very good phrase," McKibben replied. "We've started slowly down these paths that we will have to hasten down in the decades to come. And that will only happen when legislative action around the world puts a stiff price on carbon. When that happens, we'll all be going to the farmer's market, because the 3,000-mile tomato will be financially obsolete, as well as ecologically unwise (not to mention tasteless)!"
Though it's an immense challenge we face as a planet, it sounds as if we nature-appreciating, environmental lecture-hosting, Farmers Market-going Santa Barbarans are unusually well prepared for life on Eaarth.
4•1•1
For more information on Bill McKibben's talk, call 893-3535 or visit artsandlectures.sa.ucsb.edu.