Arts & Entertainment
Coachella Valley Music & Arts Festival
Year 11 Brings Bigger Crowds, Better Camping, and Jay-Z to Indio
If you felt like everyone you knew was in Indio this past weekend, it's probably because they were. Literally. In its 11th year, the annual Coachella Valley Music & Arts Festival somehow managed to concoct the mother lode of all concert lineups, featuring headliners and younger acts that spanned both genres and generations. And with it came fans—75,000 of 'em, in fact. In addition, the sold-out, three-day party in the desert ushered in a new ticketing system and camping policy by 86-ing single day passes and encouraging folks to stay the night con coche, making for a veritable playground of a camping area (with deejayed swing sets and a late-night roller rink, no less) and a whole lot more stinky concertgoers.
Still, Coachella is and remains much more than a weekend of music. In between the awe-inspiring art installations and the copious amounts of reckless partying, the event creates an extra special place for music lovers and music makers to cohabitate for a few hot days of aural magic in a mirage-like locale. Below you'll find our day-by-day breakdown of this weekend's who-what-where-and-when.
Friday
Boasting the coolest temps and the hottest headlining performance of the weekend (we'll get to that later), Friday proved itself a stellar day to kick-start Coachella 2010. Early on, North Carolina's own Avett Brothers battled midday heat and a flurry of tech troubles to put on an earnest show at the Outdoor Theatre, which found the band hitting its stride with the achingly sweet "January Wedding." From there, it was on to the all-too-packed Mojave tent to catch electro-rockers Yeasayer do their thing. Despite the crowds, the guys dished up a deliciously synth-filled set list that peaked with the drum flurry of "Sunshine" and the tripped-out dance beats of "Ambling Alp." Meanwhile next-door, fellow new wavers Hockey benefited from the Yeasayer spill over and banged out a short-but-sweet mix of tunes to a sea of elated fans, sans the squish and sweat.
Our first disappointment of the fest came pre-sundown on Friday, when actress-cum-indie crooner Zooey Deschanel hit the Outdoor Theatre with mentor and bandmate M. Ward. As She & Him, Deschanel was expectedly adorable and Ward hunkered in the shadows, making for a set of throwback, folksy tunes that never really got off the ground. Next door, ska icons The Specials revved things back up with a lively collection of oldies, including the grooving "It's Up to You." Chaos ensued for Passion Pit's high-pitched outdoor set, and Grizzly Bear delivered one of the most moving performances of the weekend in the Mojave tent, while Vampire Weekend redeemed themselves with a high-energy and hit-filled show on the Outdoor stage that featured new ("Cousins") and old ("Oxford Comma") dancey jams.
Still, it was the late-night one-two punch of LCD Soundsystem and Jay-Z that absolved any daytime disappointments. LCD frontman James Murphy proved hilariously chatty as he swigged from a bottle of champagne and joked about the fact that he was the "vegan side" to the night's Thanksgiving feast of music. Similarly, the 10-plus-minute speak-sing genius of "Losing My Edge," dedicated to fellow Coachella performer Gil Scott-Heron, nearly brought the place to its knees.
Not long after, Jay-Z rose from the floor of the main stage to a cacophony of screams and raised arms. He flawlessly delivered hit after hit (from newbies like "Run This Town" to classics like "Jigga What, Jigga Who"), he sampled Oasis, he gave a 15-minute-long personalized shout-out to members of the the crowd, and nearly he lost his voice by the end of it all. The highlight: a tail-end mash up of every old Jay-Z track you probably almost forgot about, spanning from "Big Pimpin'" and "Hard Knock Life (Ghetto Anthem)" to "Money Ain't a Thing." Oh, and Beyoncé showed up to belt out the set-closing "Young Forever." And with day one done, it was on to the next.
Saturday
Day two was a delightfully slow starter, thanks to the volcanic eruption and flight cancellations that put the kibosh on Frightened Rabbit's 2:45 set. With a wee bit of extra time on our hands, we got to check out a smidge of the Temper Trap (good) and secure a spot for Beach House (great). Against a wall of tinsel-covered piñatas, frontwoman Victoria Legrand ruled over her vintage keyboard kingdom, delivering mellow, dreamy numbers like "Silver Soul" and "Gila." Of course, it wasn't long before things got turned back up to 11, thanks to the circus-like set from Edward Sharpe & the Magnetic Zeros. Atop the Outdoor stage, frontman Alex Ebert hung out in the crowd, accidentally whacked a photog on the head, and at one point even ushered a friend's baby onstage. Despite it all, the tunes (namely "Om Nashi Me," "40 Day Dream," and "Home" ) were almost sermon-like, and fans ate it up.
Later in the day, The Gossip's Beth Ditto led her band of misfits through a set of sweaty dance rock, which included "Four Letter Word" and a shout-out to earlier "performer" and pulp icon John Waters. Dirty Projectors delivered an appropriately artsy mid-evening collection, and The xx drew a huge crowd to their dreamy dinnertime show at the Outdoor Theatre. Come nightfall, electro wizards Hot Chip finally got out of the tents and onto the Outdoor stage, turning the polo fields into a dance party by way of lively reworkings of tracks like "Thieves in the Night" and "Over and Over." Meanwhile, Faith No More's big reunion kicked off one stage over, and Mike Patton's guttural screams started to bleed to pretty much every surrounding stage. By 9 p.m., Brooklyn's MGMT had hit the Outdoor Theatre, delivering a less-than-lively reinterpretation of songs like "Time to Pretend," "Weekend Wars," and the newly-penned "Brian Eno." The biggest letdown of the day: "Kids" was nowhere to be heard.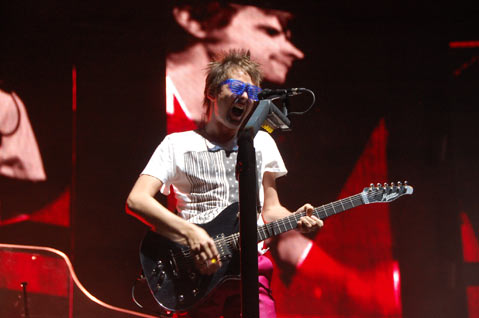 And, surprising no one, Muse delivered a face-melting, late-night set on the main stage that was part speed rock, part electro light show, and all awe-inspiring. Despite his diminutive size, frontman Matthew Bellamy's huge voice and bombastic prog-y riffs were hands-down some of the most impressive we'd caught all weekend. He also managed to steal the weekend's title for best costume change with a near-imperceptible mid-set pants switch. As for show highlights, "Supermassive Black Hole" and the set-starting "Uprising" packed the most powerful punch.
Sunday
Thanks to late-late Saturday night sets from Tiësto and Devo, crowds stayed relatively thin for the first part of Sunday's festivities. By 2 p.m., it was L.A.'s Local Natives who were ruling the Gobi tent with some fine harmonies and drum builds. Our yearly surprise came by way of violinist Owen Pallet, whose midday orchestra-fueled set at the Outdoor Stage put fellow symphonic rockers (cough cough, Beirut) to shame. Later in the day, Deerhunter proved to be another sneak attack of greatness, while Florence and the Machine provided a so-so set and Matt and Kim cranked out some buoyant indie pop next door. Later, Strokes frontman Julian Casablancas covered his own band ("Hard to Explain" and "I'll Say Anything Once") during his solo set, and a be-masked Miike Snow wowed fans with a dazzling mix of electronica ("Sylvia") and pop ("Animal") goodies.
Midday, Yo La Tengo and Spoon mixed things up on the Coachella Stage, while Sigur Rós frontman Jónsi gifted us with what was probably the day's most impressive and moving collection of tunes. Together with a team of multi-instrumentalists (including boyfriend Alex Somers), the Icelandic native moved through symphonic numbers off his recently released Go, including the swirling "Boy Lilikoi" and "Sinking Friendships," and it left everyone — including the band — speechless.
Come sundown, lo-fi trailblazers Pavement went head to head with Phoenix's dance rock, giving us two sets that were almost impossible to choose between. We waited things out for Thom Yorke and his new supergroup and were treated to a stellar live listening party for all the tracks off his solo effort The Eraser, as well as the overwhelming and stripped-down version of Radiohead's "Everything in Its Right Place." And while the beauty of the music was a given, the dance moves busted by Yorke and Red Hot Chili Pepper Flea were some of the most entertaining we'd seen all night. To similar effect, cartoon rockers Gorillaz closed things out with a fantastic live-meets-animated show on the main stage that saw special guest appearances by some of Friday's unsung musical heroes, Little Dragon, who donated guest vocals to the recently released "Empire Ants" and "To Binge". And though I didn't personally catch it, word on the street was Sly Stone's eventual stop at the Mojave Tent was the hands-down musical mess of the weekend. The Rock and Roll Hall of Fame-er reportedly showed his face (and not much else) some 30 minutes after his rescheduled start time, mumbled nonsense through most of it, and ended his stay with a brief onstage lie down, and a none-too-covert flop into the photo pit. Yikes.
The verdict: Coachella may be getting older, might be getting wiser, but it certainly hasn't forgotten how to have a good time.