Courts & Crime
Sheriff Announces Capture of Simpson's Accused Killer
Former Stabbing Suspect Rudy Gallegos Released; Adrian Robles in Custody for Hendry's Beach Homicide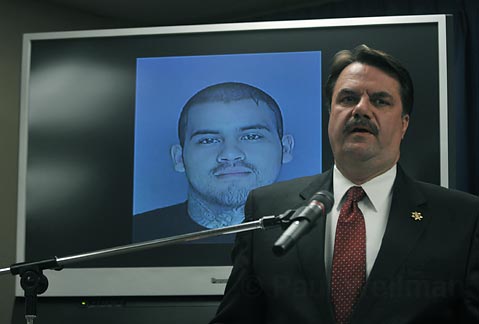 After a week of speculating, reporting, and commenting on what may or may not have occurred at Hendry's Beach on April 15, Sheriff Bill Brown emerged at a press conference Thursday afternoon to bring the public up to speed on what his detectives think really happened to Robert Simpson who was killed near the beach in a tragedy that has not only struck the community as a whole, but also the community that loved the man some knew as Rob and others knew as Bobby I.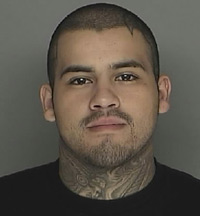 Most importantly, the sheriff revealed his detectives are confident they have the man they believe murdered Simpson — 21-year-old Adrian Robles, a known gang member, according to Brown.
And equally important, Brown said a man originally implicated in the homicide, 21-year-old Rudy Gallegos, was released from Santa Barbara County Jail after officials determined he was not involved in the murder.
What they believe did happen was a physical confrontation between Gallegos and Simpson behind the Boathouse restaurant off of Hendry's Beach, a scuffle that started out amicably, Brown said, but escalated to words and then physical exchanges. While it isn't clear what the altercation was about, alcohol was a factor on both sides, Brown said, but to what extent it was a factor isn't clear at this point. That exchange had come to an end, however, when Simpson was allegedly attacked by Robles, who used a "cutting instrument of some type," Brown said, to fatally injure Simpson. Simpson died shortly after from a wound to the neck. Brown said physical evidence had been recovered, but wouldn't say if the weapon was among the evidence collected.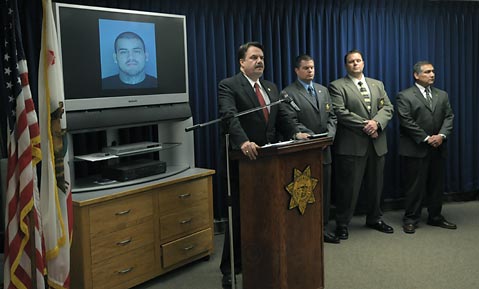 According to Brown, Robles ran from the scene, got into a car with two females, and as they were leaving Gallegos jumped in as well, the four of them leaving together just as they had come to the park together. Almost immediately, the vehicle was identified and Gallegos was as well. The vehicle was allegedly found to belong to Brittany Weiler, and by 10:48 that night, had been located. She was arrested the next day and has been charged with accessory to murder after the fact. Weiler, who also has a pending misdemeanor charge for allegedly bringing her cell phone into the county jail visitation area, had a court hearing Thursday morning, but it was continued.
The next day, Saturday, around 10 p.m., a 17-year-old female was also arrested for accessory to murder. Over the course of the next few days, detectives would interview more than 70 witnesses, including 40 extensively. It was "like putting a jigsaw puzzle together," Brown said.
Authorities had surveillance on Gallegos since the night of the incident, arrested him around 3:15 p.m. Sunday, and conducted a search warrant at his home shortly thereafter. After interviews, Gallegos was booked into jail.
Detectives were able to track down additional leads on Robles in the days following him, and early Wednesday morning, at around 12:15, he was arrested at the home of friends in Ventura County, friends who authorities don't believe knew of Robles's alleged involvement in the Santa Barbara murder. Today detectives conducted a search of his residence on Cook Avenue in Santa Barbara.
Wednesday afternoon, according to Brown, detectives took Robles and Gallegos and placed them in a few physical lineups. Witnesses "identified Gallegos as being in a fight, but Adrian Robles as the suspect who stabbed the victim," Brown said. The decision was made shortly after to not charge Gallegos, a mutual decision made Wednesday night by sheriff's department personnel and investigators in the District Attorney's office along with Senior Deputy District Attorney Hilary Dozer. Gallegos, whose mother earlier in the day Wednesday had insisted that not only was her son innocent, but that he had turned his back on the gang lifestyle, was released late Wednesday night.
At the same time news reports were naming her son as a possible killer, noting potential past ties to gangs and as online news commenters vilified Gallegos, his mother, Lupe, said her son had begun attending church at the urging of a friend, had been attending Bible studies, and had enrolled in Santa Barbara City College, where he wants to give it a shot at playing football. He also planned to get his tattoos removed. "The news is making him to be a horrible person that he's not," Lupe Gallegos said. She said when she talked to him he had been at peace.
As for Robles, criminal charges have yet to be filed. Dozer had not received a report from the sheriff's department as of Thursday afternoon, and was anticipating it coming to him sometime Friday. Any charges he will file against Robles, who has one felony charge in his past, wouldn't happen until after that. But Brown said the investigation showed clearly who was behind the death of Robert Simpson. "We're very confident we have the person who committed this crime," Brown said. He noted the impact the crime, done in a very public and popular place and in a "senseless nature," had already had on the community. But Brown said this case sent a clear message to criminals: "We will hunt you down, we will arrest you, we will take you to jail, and we will take you to the bar of justice."