Arts & Entertainment
Avett Brothers at Arlington Theatre
Folk and Rock Collided for Wednesday Night Show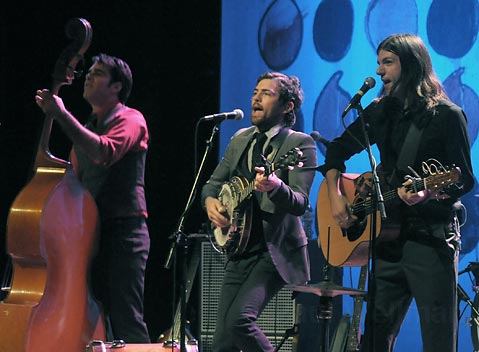 Less than two weeks after struggling through their sun-soaked set at the Coachella Valley Music and Arts Festival, the Avett Brothers reclaimed their spot at the top of the alt-folk heap with an impressive and carefree showing at the Arlington on Wednesday night. On the set list front, the night brought a healthy smattering of new cuts, as well as a bevy of oldies and rarities. And the fans? They were just as joyous and appreciative as the band describes them to be: respectful, dance-y, and more than happy to sing along when needed.
But what stood out most from Wednesday night's concert components was just how much darn fun the Avett Brothers seem to be having. The actual brothers Avett, Scott (vocals, guitars, banjo) and Seth (vocals, guitars, keys) led their musical cohorts through nearly two hours of tunes that were peppered with warm smiles, inside jokes, and a whole lot of genuine "aww shucks" gratitude.
At the start of the set, the newly penned "January Wedding" worked as an open-armed musical hug of sorts, with Seth warmly sharing his ode to his new wife to intimate effect. After that, the quintet (with bassist Bob Crawford, cellist Joe Kwan, and drummer Jacob Edwards) made quick work of hard rockers "Laundry Room" and "Kick Drum Heart," as well as oldies "Paranoia in B-Flat Major" and "Yardsale."
While the Brothers played an impressive game of vocal jockeying and instrument swapping throughout the set, it was the night's quieter moments that seemed to resonate the loudest. In one such instance, Scott and the audience kicked off "Go to Sleep" with a series of "la la"s that slowly built into the song's opening chords. Similarly, the night hit its emotional crest with longtime fan favorite "Salina," which found Seth plucking away at the keys as Scott crooned his way across the States, name-checking cities before arriving back at their home, North Carolina.
By night's end, the Brothers dished up an all-too-apropos cover of Roger Miller's "Where Have All the Average People Gone" to dizzying perfection, then followed it up with the wistful "I and Love and You," resulting in a one-two punch of Southern comfort and pop sensibility that swelled under the Brothers' handling—and reminded us why the Avett Brothers remain so (rightfully) beloved.