Arts & Entertainment
Avi Buffalo at Jensen's Mainstage
Sub Pop's Latest Sign Provides Short but Sweet Thursday Show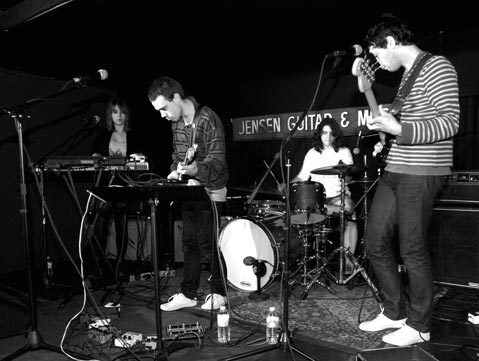 If you believe youth is wasted on the young, you've obviously never caught Avi Buffalo in concert. Despite having a mean age of just 19, the Long Beach four-piece—and recent Sub Pop signees—put on an impressively showy little concert during their Thursday-night stop at Jensen's Mainstage, and observed their curfew, to boot.
Opening up the night were Santa Barbara music scene staples Watercolor Paintings and former Coral Sea frontman Rey Villalobos, who recruited old bandmates Eric Ahlgren (keys) and James Van Arsdale (guitar) for accompaniment. In front of a small, obediently seated crowd, Villalobos quietly strummed and plucked through a collection of recently penned solo tunes, which found the singer taking a quieter, more minimalist approach to music-making. Case in point: "Kiss Me Like It's the '50s," a meandering little piano-and-guitar number whose lovelorn message relies on Villalobos's hushed, lilting vocals.
As the night's headliners, Avi Buffalo made quick work of taking the stage, and plugged in to churn out a number of cuts off their recently released, self-titled debut. On record, it's easy to forget how young the Avi clan actually is, their song-crafting abilities and arrangements far surpassing their years. Still, live and in person, one can't help but note frontman Avigdor Zahner-Isenberg's short stature, keyboardist Rebecca Coleman's adorably nervous twitches, or drummer Sheridan Riley's sometimes awkward demeanor behind the kit. Appearances aside, the quartet proved to be much more than a novelty act, thanks in large part to Zahner-Isenberg's dazzling turns on the guitar.
For instance, it was set-closing "Where's Your Dirty Mind?" that stood out as one of the night's many highlights, with Coleman and Zahner-Isenberg sharing some sweet-then-spitting lyrics against a sizzling wall of guitars and cymbals. Alongside Zahner-Isenberg's quieter guitar parts, Coleman cooed and gestured from behind her Nord before the pair instinctively swapped roles, making way for a psychedelic and show-stopping axe solo that resonated beautifully against Jensen's padded walls. Yet by 10:30, the foursome was already closing down shop, leaving many wondering whether it was long drives or early bedtimes that cut our fun sadly short.