Arts & Entertainment
Charlie Hunter Gets Paid to Play
Seven-String Guitarist Brings New Record to SOhO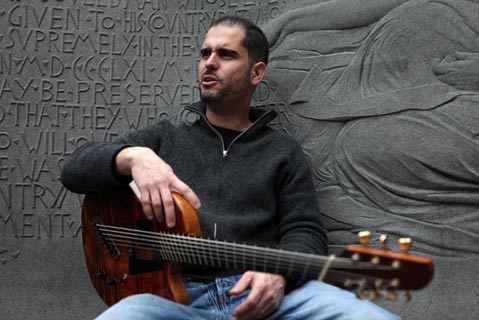 For the casual music appreciator, jazz can often be the toughest pill to swallow. Sure, it's interesting, intelligent, and often times great to dance to, but it also often comes with an air of pretentiousness that's ingrained way deeper than any damage Bono can do to rock 'n' roll. But when seven-string guitar great Charlie Hunter rolls into town this Sunday for a show at SOhO, you can bet the place will be packed with all walks of music lovers.
Since 1993, the 42-year-old Hunter has recorded and released no less than 17 albums, launched his own indie label, and made a name for himself as one of the most virtuosic shredders in the States. Stylistically, Hunter's gained acclaim for playing mostly seven- and eight-string guitars, by which he can hold down both bass and rhythm simultaneously. As for the live show, Sunday night finds Hunter back in trio mode, performing in support of his most recent release, Gentlemen, I Neglected to Inform You You Will Not Be Getting Paid. The album delivers a subtle dose of post-bop with a solid and infectious mix of acid jazz, funk, swing, and Hunter's beloved blues, which manages to flow together thanks to the guitarist's long heralded, arguably untouchable, style.
And if you still need good reason to check him out live, Hunter's current backing band is a veritable roster of crazy talent. Along for this leg of touring, he's got drummer Eric Kalb (Sharon Jones and the Dap Kings, John Scofield) and trumpeter Shane Endsley (who's played with everyone from Ani DiFranco to Josh Roseman and Ravi Coltrane).
I recently chatted with Hunter about the new disc and tour and future shredders of America.
This record differs a lot from the stripped-down style you've been exploring. What were your thoughts going into this project? I just wanted to make a really, really good record for very little money. [Laughs.] And I did that by recording live, which I always do anyway; I never do any overdubs. So we recorded live to half-inch tape mono, which means no mixing, and I had a great engineer—Dave McNair—who hooked all the mixing up on the fly, and we had great musicians to play, so we just went in there and knocked it out in a couple days.
Other than the cost, what do you get out of recording to analog? Well, mixing costs a lot of money because it takes a lot of time, and we know how to play, so … [laughs]. Most nights a year, we're playing, so for us to go into a studio and just play means we don't have to worry about having a net. It became all about recording to tape and just how good that sounds, and all the analog gear and how much better, generally, that sounds than digital. For just recording a band straight up that knows what they're doing, there's just no substitute for tape and tubes, you know?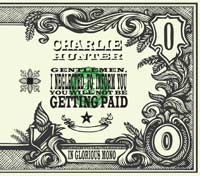 Can you tell me a bit about the album title, Gentlemen, I Neglected to Inform You You Will Not Be Getting Paid? [Laughs.] It's a quote from an old musician. I can't say his name or I'll get into a lot of trouble. … But I can relate to it. If you're a musician, you're at the bottom of the pile in this industry. You're the very last person to get paid, and if there's anything left, you'll get that.
How do you approach playing some of these bigger-band pieces live with a trio? Well, we've been doing the trio for so long that we just kind of do it however we can. But it's great. Every one of those songs has its own, different vibe, and a trio is great because you can get a big sound, but you're still able to maneuver. Having three individuals communicating onstage is much quicker. The problem with the five-piece is that it sounds great, but it's just too expensive.
You're getting close to having 20 albums under your belt. Do you have a preference between recording and playing live? Oh always with an audience, because that's what we do. We're improvisers, and we play live. The studio is fun, and great, and it's a necessary thing—when I practice, I always tape myself practicing and listen to it back because it's great to have that instantaneous feedback—but playing in front of an audience, that's the fun part of it.
What kind of advice do you give to young players looking to make a career out of jazz guitar? Well, if you love it so much that you're ready for a life of pushing the van uphill with the brakes off and everybody going the opposite direction looking at you like you're out of your mind, and you're willing to put in all the insane work that it takes while working a job that you hate, then go for it. If not, okay, there's nothing wrong with you, just don't do it. If you want to just play and enjoy, that's great. Music is great and, I think, should be enjoyed by everyone. But if you're going to pursue it as what you want to do exclusively, it's a hell of a ride.
And you made the right decision? Oh, of course! There's no doubt in my mind this is exactly what I need to be doing. I feel lucky that I discovered early in life what my calling was and what I really like to do, what I love to do, because a lot of people don't have that luxury.
4•1•1
Charlie Hunter plays SOhO Restaurant & Music Club (1221 State St.) this Sunday, May 9, at 8:30 p.m. Call 962-7776 or visit sohosb.com for tickets and info.